At least one person was wounded after shots were fired and protesters threw objects at police in Milwaukee late Sunday night, a day after violence erupted overnight in the wake of the fatal shooting of a man by police, authorities said.
Police said they were deploying armored vehicles to protect officers and to rescue a shooting victim, who was rushed to a hospital. At midnight Monday, police declared the protest an unlawful assembly and announced that they would begin making arrests.
The National Guard was activated Sunday, but Mayor Tom Barrett said they wouldn't be deployed unless police deemed that they were needed. "I'm hopeful that that will not be necessary," Barrett said. "But if it is necessary, we will do so."
Barrett urged parents to keep their children home Sunday night.
"This is still a volatile situation. I don't know what's going to happen tonight," he said, adding that a curfew would be enforced if needed. At least 150 specially trained officers will be patrolling in pairs Sunday night, police said.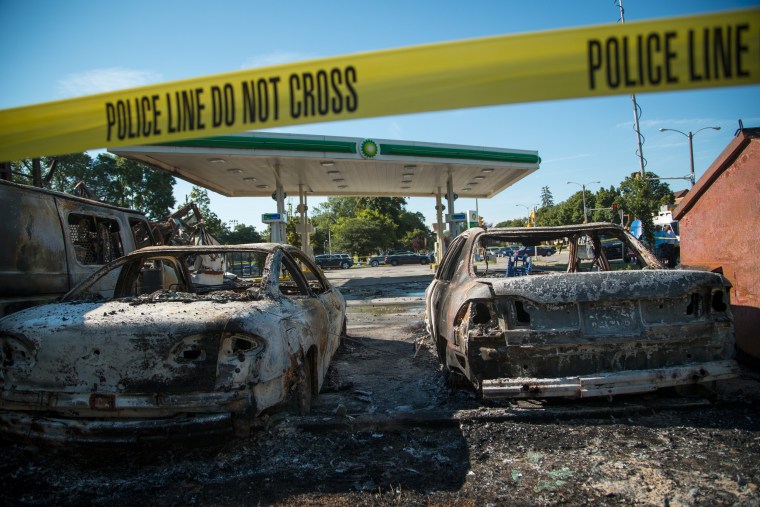 The state is investigating the shooting, which killed Sylville K. Smith, 23, after he fled a police traffic stop on foot. Milwaukee Police Chief Edward said body camera video that hasn't been released shows that there was a "credible threat" to the officer, who has been identified only as a 24-year-old African-American man.
At some point during the brief chase, Smith turned toward the officer with the gun in his hand, Flynn said, citing the video. Smith had a "lengthy arrest record" and 23 rounds in his gun, authorities said.
The officer has been placed on administrative duty pending an investigation. He has also left town in light of threats against him and other police officers, Flynn said.
Volunteers spent Sunday morning sweeping and picking up debris from the chaos of the night before — including bricks, bottle and bullet casings — after about 100 protesters clashed with a couple of dozen officers in a predominantly black north Milwaukee neighborhood.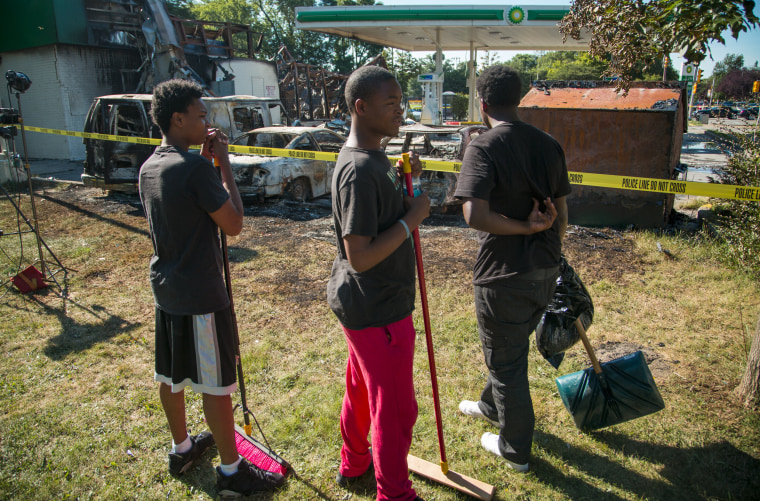 "I commend the citizens who volunteered in clean-up efforts this morning," Wisconsin Gov. Scott Walker said. This act of selfless caring sets a powerful example for Milwaukee's youth and the entire community. I join Milwaukee's leaders and citizens in calling for continued peace and prayer."
Four businesses were destroyed or burned badly, seven squad cars were damaged, and four officers were injured in the chaos Saturday night. Seventeen people were arrested, and 48 shots or series of shots were fired, according to police. A teenage girl was injured by a stray bullet, police said.
Officials said no shots were fired by police, and there have been no reports of use of force by officers.
"Last night was unlike anything I have seen in my adult life in this city," Barrett said. "I'm very proud of the way our police officers and firefighters responded."
The protesters were largely black, and Alderman Khalif Rainey — who represents the district — said early Sunday that the city's black residents are "tired of living under this oppression."
"This entire community has sat back and witnessed how Milwaukee, Wisconsin, has become the worst place to live for African-Americans in the entire country," Rainey said at the end of a news conference at which Barrett pleaded for calm. "Now this is a warning cry. Where do we go from here? Where do we go as a community from here?
Related: Slew of Controversial Police Encounters Precedes Latest Shooting in Milwaukee
Milwaukee was beset by protests and calls for police reform after an officer fatally shot Dontre Hamilton, a mentally ill black man, in 2014. In December, the U.S. Justice Department announced that it would work with Milwaukee police on reforms.
Flynn had asked for what's known as a collaborative reform process after the federal government said it wouldn't pursue criminal civil rights charges against the officer.