FORT MYERS, Fla. — A nationwide search was underway Monday for a grandmother accused of murder in two states — who police said befriended a look-alike to steal her identity.
Lois Riess, a 56-year-old mother of three adult children and at least one grandchild, had a history of gambling problems, according to police.
"She smiles and looks like anyone's mother or grandmother," Lee County Undersheriff Carmine Marceno told NBC on Sunday night. "And yet she's calculated, she's targeted and an absolute cold-blooded killer."
Riess, described as a 5-foot-5, 165-pound woman with brown eyes and blonde hair, was already accused of fatally shooting her husband, David, in Minnesota last month — then going on the run across the country. Police say she eventually ended up in Fort Myers, in Lee County on Florida's Gulf Coast, where she found Pamela Hutchinson, 59.
The two, seen together at a Fort Myers Beach restaurant, became friends.
"This stone-cold killer was smiling like anyone's mother or grandmother when she approached our victim," Marceno said.
But authorities said Riess had an ulterior motive — planning all along to steal Hutchinson's identity because the two women looked so similar.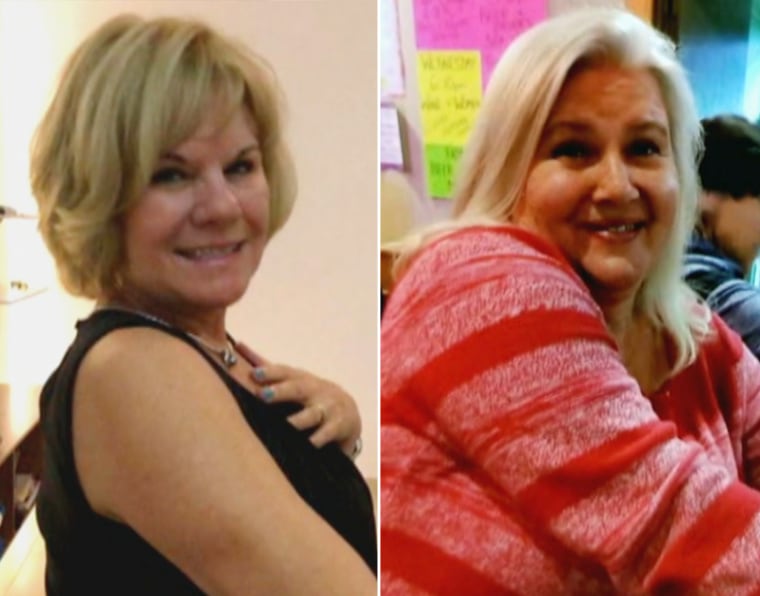 "This is the first time in my career that I've seen someone steal someone's identity and target them for the way they look, in order to murder them," Marceno said.
Investigators said that surveillance video shows Riess at Hutchinson's condo and that after killing her, Riess took Hutchinson's credit cards and driver's license and stole her white Acura, which was spotted in Louisiana and Texas, according to police.
"The Dodge County Sheriff's Office and Dodge County Attorney's Office are preparing second-degree murder charges against Lois Riess for the March 2018 murder of her husband, David Riess," the Minnesota Bureau of Criminal Apprehension wrote in a Facebook post. "Investigators believe Pamela Hutchinson may have been killed with the same firearm used to murder David Riess."
Authorities said Riess is considered armed and dangerous, warning that her killing spree may not be over.
"At some point in time (she) will have no resources," Marceno said. "And she will become more desperate and may kill again."