For the second day in a row, thousands of protesters took to the streets across the country Thursday even as President-elect Donald Trump and President Barack Obama sought to set an example by striking a more conciliatory tone in their first meeting since the election.
New Yorkers took to the streets in droves asking the country to "join" them. While demonstrations were peaceful for the most part, scattered arrests were made in California and Chicago.
In New York City's Union Square, Iris Reyes, 50, comforted a woman named Debbie, who was beginning to tear up. The woman said she was worried about her husband, who is Muslim, and how he would be treated.
Related: Trump Tweet Bemoans 'Unfair' Nationwide Protests
"We are going to be with this guy for four years, and it's very devastating for me," Debbie said. "I've been crying for the last two years, you know, and now …"
In other cities Thursday:
Thousands of people marched to a vigil for the LGBTQ community at a park in Portland, Oregon. The state Transportation Department closed highways in the region Thursday night, including Interstates 5 and 84, NBC station KGW reported.
Later in Portland a demonstration was declared a "riot" by police, who said they made the declaration "due to extensive criminal and dangerous behavior." Aerial footage showed people marching in the street, and at least one rear windshield of a car at a lot was smashed. Police said some in the crowd were breaking windows of businesses.
"The president believes that's a right that should be protected. It is a right that should be exercised without violence," White House press secretary Josh Earnest said. "There are people who are disappointed."
But Thursday night on Twitter, Trump himself blamed the demonstrations on "professional protesters incited by the media."
That created new backlash:
Earlier, Obama called Trump's recent tone during their meeting at the White House "reassuring," but some Americans don't seem to feel that way.
"We've seen a rash of hate crimes, of hate rhetoric, racist graffiti in campuses around the country. We have seen Klan literature drops, we have seen that suicide hotlines are ringing off the hook, and we are hearing of very extensive bullying in and around schools," said Mark Potok, a senior fellow at the Southern Poverty Law Center, a nonprofit civil rights activist group. "It's really very extraordinary."
The anti-Trump protests also sparked a backlash among supporters of the president-elect, who called demonstrators "sore losers" who are throwing "temper tantrums" and "whining" because things didn't go their way.
"The reality is they are a bunch of spoiled crybabies," former New York Mayor Rudy Giuliani, a prominent Trump supporter, said on Fox News' "Fox & Friends."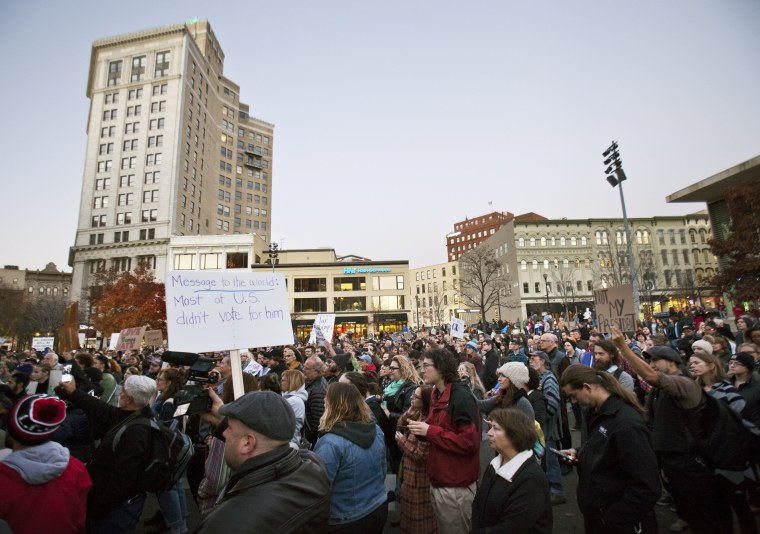 But the protests are much deeper than simply not accepting a presidential outcome, said Mark Anthony Neal, professor of African and African American Studies at Duke University in North Carolina who said it's the manifestation of true fears and concerns many have with a Trump presidency.
Especially for those who felt attacked during his campaign.
"Trump ran his campaign on very hateful and racially divisive rhetoric that is very worrisome for a lot of people," he said.
When his campaign capitalized on the isolation and fears of half the country, it came at a cost of alienating and demonizing the other half, cultural commentators said.
Less than 36 hours after the election: Swastikas juxtaposed with Trump's name along with the Nazi phrase "Hail Victory" were spray-painted on a Philadelphia building, and "build a wall!" was chanted in front of Latino students by students at a middle school in Michigan. In Wellsville, New York, the phrase "Make America White Again" appeared on a wall near a softball field.
It's those images that trouble minorities.
While Trump garnered a slightly larger share of the the minority vote than Mitt Romney did in 2012, according to the NBC News Exit Poll, two-thirds or more of Asian, black and Hispanic voters have deep reservations about Trump as the next president. More than two-thirds of blacks and 45 percent of Hispanics said they were "scared" about a Trump victory.
Trump ran a polarizing campaign, and many young people are deeply disturbed that his polices will turn back the clock on their civil rights, said Alvin Tillery, an associate professor of political science at Northwestern University in Evanston, Illinois, near Chicago. "That's something to protest."
"We are a nation of protesters, and critics need to remember that," he said. The idea that people will immediately accept and normalize Trump is naïve, he said.
"While the numbers suggest a certain mandate, you are not just the president of the people who voted for you, or the people who voted. You are now president of entire nation of people," Neal said.