A South Dakota school district apologized to a Native American graduate who was forced to remove an eagle feather from his mortarboard during commencement.
Miles Livermont was lining up with classmates to receive his diploma on Sunday when Brookings High School Principal Paul von Fischer spotted the eagle feather and told him to take it off, the student and his mother said Thursday.
Livermont, 18, gave the feather to a school employee for safe keeping until after the ceremony.
"Eagle feathers are very sacred," said Livermont, who is of the Oglala Sioux tribe. " "It's meant to honor someone going through something important."
His mother, Tasiyagnunpa Barondeau, said her family was saddened but resigned to seeing Livermont graduate without his feather.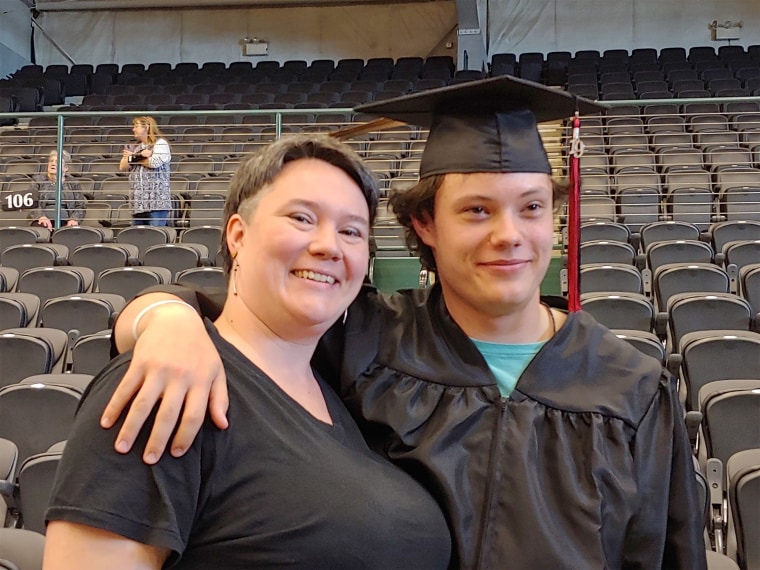 But then a security guard approached Barondeau and handed the feather back to her. That's when the mother took matters into her own hands and personally put the plume back in its original spot, her son's mortarboard.
"I just walked up and touched his shoulder and said `I'm putting it back on,'" Barondeau said.
Livermont said his mom's bold action was in character.
"Honestly not surprised," said Livermont, who will be studying at Dakota State University in the fall. "My mom is a rebellious human being by nature. It didn't shock me much."
As Livermont prepared to cross the stage in his again-feathered cap, von Fischer pointed at it and said, "I see what you did there," the student recalled.
And as it turned out, von Fischer didn't have authority to tell Livermont to pluck the feather, the school district said.
A state law enacted last year bars schools from prohibiting "any person from wearing traditional tribal regalia or objects of cultural significance at a school honoring or graduation ceremony." The statute specifically lists an eagle feather as an example of protected tribal regalia.
"On behalf of the Brookings School District, I want to offer a sincere apology for events that transpired at the graduation ceremony for the class of 2019," Brooking School District Superintendent Klint Willert said in a statement to the Argus Leader newspaper.
"The Brookings School District honors and respects the significance of the sacred eagle feather and pledges to equally respect the law which protects tribal regalia and objects of cultural significance to be worn at a school honoring or graduation ceremony," Willert said.
He added: "On behalf of all involved in this matter from the Brookings School District, I offer my sincere and heartfelt apology. We know that graduation often marks the final experience in our school district for students and, unfortunately, Miles last experience was not as joyous as it might have been. For that, we are truly sorry."
The student and his mom met with district officials Wednesday and suggested they better train educators on the state law and tribal regalia.
"We want to see policy changes and leadership by the school board so this doesn't happen again," Barondeau said. "I just want to make sure we don't break state laws again."
Yet Livermont stuck up for his principal, telling the Leader the administrator had no ill intent and had helped him along in his academic career.
The new grad plans to major in cyber operations.