Three men were acquitted of terrorism-related charges Friday in what police alleged was a plot to bomb the 2012 NATO summit in Chicago.
But Brian Church, 22, of Fort Lauderdale, Fla.; Jared Chase, 29, of Keane, N.H.; and Brent Vincent Betterly, 25, of Oakland Park, Fla. — known as the "NATO 3" — were convicted of lesser mob-action and arson charges after two days of deliberations in Cook County Circuit Court.
After an undercover operation, the men were accused of plotting to bomb President Barack Obama's campaign headquarters, Chicago Mayor Rahm Emanuel's home and various police stations during the defense meetings in May 2012.
It was one of the first U.S. terrorism cases to be tried outside a federal courtroom after many states passed anti-terrorism laws following the Sept. 11, 2001, attacks.
Prosecutors portrayed the men as cold, calculated would-be killers who intended to spread terror, playing undercover recordings in which they appeared to threaten that "the city doesn't know what it's in for."
But the defense painted the men as simply drunk stoners who were too dumb to pull off a plot like that. Defense attorneys argued that the trio were egged on to build four Molotov cocktails out of gasoline and empty beer bottles by police eager to show that they could be tough on terrorism.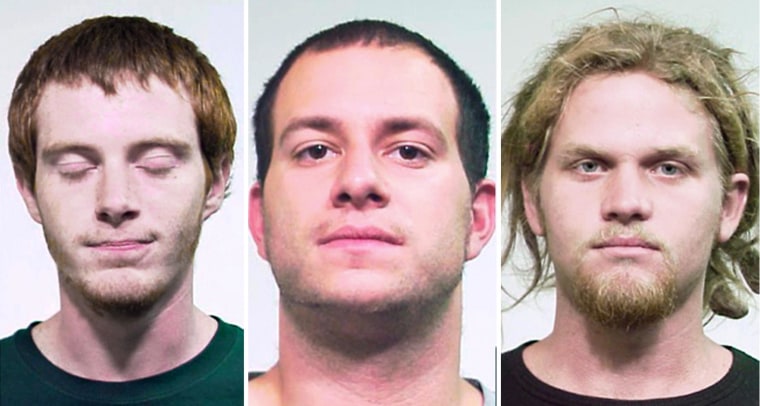 In the end, the jury found the three not guilty of conspiracy to commit terrorism and of providing material support for terrorism. It found them guilty of mob action, solicitation to commit arson and possession of an incendiary device.
The men could still face as long as 30 years in prison on the arson convictions when they're sentenced Feb. 28.