The Navajo Nation's leaders began sounding the alarm about the coronavirus in February. They broadcast radio bulletins to their tribal members, dispatched community health representatives to far-flung homes on the reservation and translated COVID-19, the disease caused by the virus, into the Navajo language: Dikos Ntsaaígíí-Náhást'éíts'áadah.
But it was not enough.
Two weeks after the tribe reported its first confirmed case of COVID-19 on March 17, there have been at least 213 others who tested positive and seven deaths in Navajo communities in Arizona, New Mexico and Utah, the three states where the reservation sprawls across dusty deserts and pine-covered plateaus. The tribe, with roughly 175,000 residents, has more cases than five states.
Full coverage of the coronavirus outbreak
Overwhelmed by the spread of the disease and fearing it could ravage a population already grappling with insufficient health care and generational poverty, the tribe secured the help of the Federal Emergency Management Agency and the Arizona National Guard, which set up a 50-bed medical facility in the community of Chinle, where staffing remains inadequate.
Navajo leaders say they welcome the assistance, which began streaming in last weekend.
"There are not enough beds, all over the Navajo Nation and all over the country, as you know," tribal President Jonathan Nez told NBC News. "Here, on the Navajo Nation, we don't have the best health care."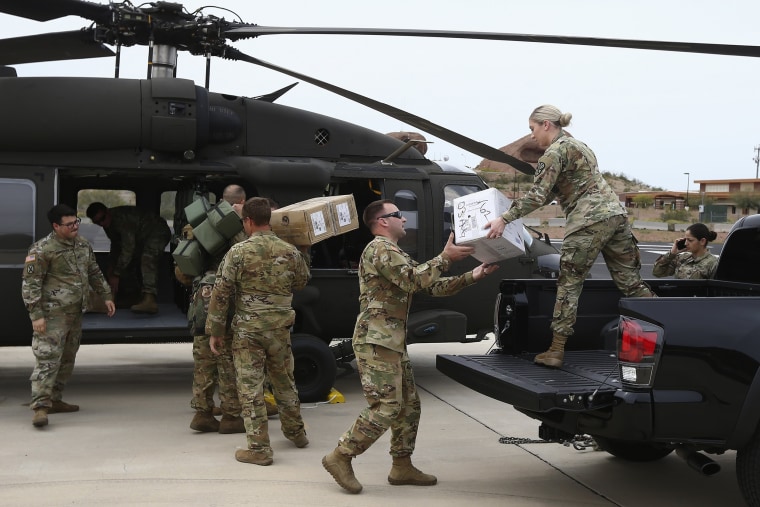 "We shouldn't be the last to get equipment," he added. "We are the first citizens of this country, our nation. And we just got to remind our federal partners out there that we are still here and we're resilient and we'll overcome this."
In addition to Chinle, the National Guard flew in two Blackhawk helicopters to Kayenta, where there's a clinic, to distribute 300 sets of personal protective equipment, or PPE, including gloves, gowns and masks. The guard also deployed a medical go-team to Tuba City, east of Grand Canyon National Park, where medical aid and PPE are essential at an Indian Health Service facility after it was deemed that there were "more patients that needed acute care than staff available," Gen. Michael McGuire, director of the Arizona Department of Emergency and Military Affairs, told reporters Monday.
"This is a war on this virus," Arizona National Guard spokesman Maj. Aaron Thacker told NBC News. "We plan on doing more and more for the Navajo Nation. We just need to make sure we have provided them the essential resources."
Download the NBC News app for full coverage of the coronavirus outbreak
Tuba City is the reservation's only true hospital in the region, and a plan is developing to move patients who require the most care to other facilities.
"We'll take whatever we can right now," Nez said, "and we're even trying to purchase those PPEs from outside the country as well, so we do need help."
The tribe's relationship with FEMA became necessary after a winter storm in February 2019 dumped about 2 feet of snow in northern Arizona, requiring federal emergency assistance.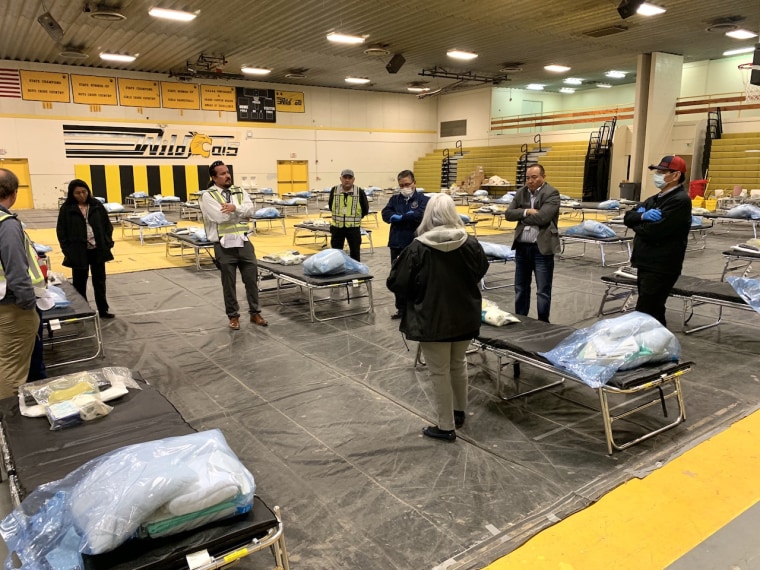 The Navajo, like other Native American tribes, have been waiting for funding from the federal government to help combat the coronavirus since the beginning of March. According to Indian health officials, more than $1.5 billion has been set aside by Washington for health care as part of the $2 trillion stimulus package, but there's been a lack of distribution of funding, which could pay for more equipment and testing. The Indian Health Service, a federal agency, has historically been underfunded.
"Most Tribal health facilities are already operating on a slim budget, so this funding is vital to Tribes' ability to respond to the COVID-19 outbreak safely and effectively," said Victoria Kitcheyan, the chairperson of the National Indian Health Board, which advocates for all 574 federally recognized tribes. "Tribes need this money now," she added.
Myron Lizer, the vice president of the Navajo Nation, which controls the largest Native reservation in the United States, said he's worried that all of Indian country will be "jockeying" to get money first.
"We don't want the federal government to pin us against one another. Sometimes it becomes a competition," Lizer said.
Like other tribes, Nez added, the Navajo has a significant elderly population, as well as higher rates of diabetes and cardiovascular disease. Staving off diseases is made even more difficult since the more isolated corners of the reservation lack running water and electricity.
In 2009, amid the H1N1 flu outbreak, Native populations died at a rate four times all other racial and ethnic groups combined, according to a study by the National Institutes of Health.
"When you think of medicine on reservations, think of third-world type medicine," said NBC News medical correspondent Dr. John Torres, who served numerous Native American populations while in practice in Albuquerque and Chama, New Mexico. "You'll have some good facilities with good care, but these reservations are huge. They don't have the outreach they need. They have a lack of providers and lack of equipment, and they have chronic health conditions they need to take care of."
Nez is determined to keep this pandemic from ravaging his tribe.
"This is a serious public health emergency on the Navajo Nation, and we're doing everything we can to get the message out to our folks to stay home," he said.
The tribe experienced an outbreak in early March after reports of a church gathering where at least one person who later tested positive was in attendance. The reservation has also been a popular tourist destination, and operates four casinos that have been shuttered.
Leaders have stressed the need for social distancing, instituted a shelter-in-place order March 20 and began a curfew this week from 8 p.m. to 5 a.m., which is being enforced through road blocks.
Tribal health officials have warned that a peak in cases may not hit until mid-May, but with more effort by residents, that could arrive sooner at the end of April, Lizer said. If that happens, he added, that would mean people are adhering to the leadership's message.
"We're hoping for the best," Lizer said, "but fearing the worst."