Ten sailors missing after the USS John S. McCain collided with a tanker ship were named by the U.S. Navy on Thursday. The desperate rescue mission has now become a grim search for bodies in the flooded compartments of a damaged destroyer and surrounding waters.
"After more than 80 hours of multinational search efforts, the U.S. Navy suspended search and rescue efforts for missing USS John S. McCain (DDG 56) Sailors in an approximately 2,100-square mile area east of the Straits of Malacca and Singapore," the Navy said in a statement.
"U.S. Navy and Marine Corps divers will continue search and recovery efforts inside flooded compartments in the ship for the missing Sailors."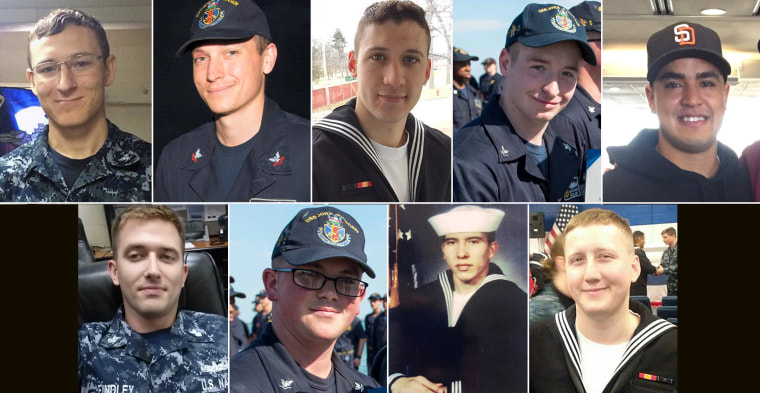 The statement served as grim acknowledgement that they don't expect to find any of the unaccounted sailors alive.
The Navy also announced its divers had recovered and identified the remains of Electronics Technician 3rd Class Dustin, Louis Doyon, 26, of Suffield, Connecticut, during their search Thursday night. Two days earlier, the remains of several sailors — among them 22-year-old Electronics Technician 3rd Class Kenneth Aaron Smith of Cherry Hill, New Jersey — were found in the sealed compartments of stricken Navy ship.
Still missing, according to the Navy, are:
Electronics Technician 1st Class Charles Nathan Findley, 31, of Amazonia, Missouri
Interior Communications Electrician 1st Class Abraham Lopez, 39, of El Paso, Texas
Electronics Technician 2nd Class Kevin Sayer Bushell, 26, of Gaithersburg, Maryland
Electronics Technician 2nd Class Jacob Daniel Drake, 21, of Cable, Ohio
Information Systems Technician 2nd Class Timothy Thomas Eckels Jr., 23, of Manchester, Maryland
Information Systems Technician 2nd Class Corey George Ingram, 28, of Poughkeepsie, New York
Electronics Technician 3rd Class John Henry Hoagland III, 20, of Killeen, Texas
Interior Communications Electrician 3rd Class Logan Stephen Palmer, 23, of Decatur, Illinois
Named after the father and grandfather of Arizona Sen. John McCain, the 8,300 ton destroyer had finished patrolling the South China Sea and was heading to Singapore when it collided Sunday with a much larger 30,000-ton ship named the Alnic MC.
Related: Remains Found of Some U.S. Sailors Missing in Warship Crash
It was the second time this year a destroyer based at the 7th Fleet's home port of Yokosuka, Japan, was involved in a collision at sea — and the fourth mishap this year involving a Navy vessel in the Pacific.
In the aftermath, Vice Admiral Joseph Aucoin, the commander of the U.S. Navy's 7th Fleet, was relieved of his post. And Chief of Naval Operations Adm. John Richardson ordered that Navy operations around the world be paused on Wednesday so a full safety review could be done.
Richardson also ordered Admiral Philip Davidson, who leads the Fleet Forces Command in Norfolk, Virginia, to investigate how the Navy trains its forces to operate in the Pacific.