The U.S. Navy pulled its support for a Florida museum after a nearly two-year-old video reemerged that seemed to show SEALs training attack dogs to go after a man in a Colin Kaepernick jersey.
In January of last year, an Instagram user posted footage purportedly capturing a K-9 unit attacking, on command, a Kaepernick-clothed trainer during a fundraising event at the independently operated Navy SEAL Museum in Fort Pierce, Florida.
That footage was taken down before those two clips resurfaced Sunday on the Twitter feed of noted documentary film director Billy Corben.
The moviemaker has nearly 90,000 followers and the U.S. Navy responded directly to him saying it is investigating the video. And by Monday night Navy brass had seen enough.
"Each and every one of us serves to protect our fellow Americans - ALL Americans. Even the perception that our commitment to serving the men and women of this nation is applied unevenly is destructive," Rear Admiral Collin Green, who heads the Naval Special Warfare Command, said in an email to his forces.
Green, though, left the hatch open to renewing ties to the museum at a later date.
"We will revisit our relationship with the Museum when I am convinced that they have made the necessary changes to ensure this type of behavior does not happen again," he wrote.
The Navy has said no active-duty personnel or assets were involved in the dog video, but still promised to investigate.
"The inherent message of this video is completely inconsistent with the values and ethos of Naval Special Warfare and the US Navy," according to the Navy statement. "We are investigating the matter fully, and initial indications are that there were no active duty Navy personnel or equipment involved with this independent organization's event."
A representative for the museum, which has no formal ties to the Navy, did not return multiple telephone and email messages Monday and Tuesday seeking the institution's comments.
Kaepernick, 32, is the former San Francisco 49ers quarterback who drew national attention for kneeling during the national anthem at football games in 2016, in hopes of drawing attention to systemic racism and police brutality.
He drew widespread condemnation of his silent protest, most notably from President Donald Trump.
Kaepernick, who had led San Francisco to two NFC title games and one Super Bowl, became a free agent after that 2016 campaign and hasn't been signed by any team since. He settled lawsuit against the NFL, claiming he was the victim of collusion by team owners.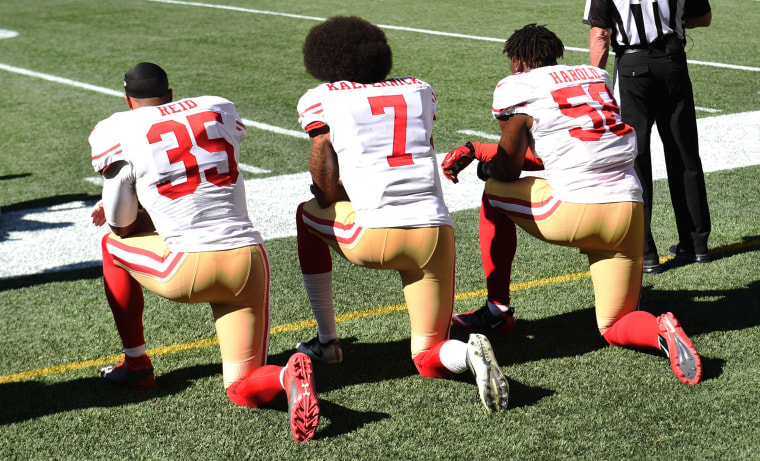 The death of George Floyd while in police custody earlier this year in Minneapolis, has sparked worldwide protests against systemic racism.
Kneeling in silent protest has been embraced by hockey players, basketball teams, baseball coaches and players, police and even high school student-athletes in Iowa.
In the second clip posted by Corben, the dogs are called off the Kaepernick-jersey-clad trainer, who was groaning and said, "Oh man, I will stand." Onlookers laughed and armed camouflaged personnel moved in on him.
The video clips caught the eye Teresa Kaepernick, the player's mother, who along with her husband Rick adopted Colin Kaepernick and raised the future quarterback.
"There are no words to convey my disgust and disappointment," Teresa Kaepernick tweeted about the video on Monday.
The Kaepernicks, who are white, raised their family in Fond du Lac, Wisconsin, and Turlock, California. Their adopted son was a 4.0 student in both high school and college.