Editor's Note: This story was co-published with The Virginian-Pilot and the Investigative Reporting Program.
More than 20 years ago, with efforts already underway to begin retiring its Sea Dragon helicopters, the Navy disbanded a specialized training squadron where sailors learned how to fly and maintain the U.S. military's only minesweeping aircraft.
Two decades later, with still no firm plan to replace the Cold War-era helicopters, the Navy resurrected the old training unit Thursday, part of a high-level effort to reinvest in an aircraft that has remained in service many years beyond original plans.
"This day, this moment, this second, we are saying that our commitment to fly, fight and win applies to every community in naval aviation," said Rear Adm. Kevin Scott, speaking during a ceremony in Norfolk, Virginia Thursday marking the rebirth of Helicopter Mine Countermeasures Squadron 12, or HM-12. "Today is about much more than reestablishing a squadron."
Click Here to Read the Original NBC News Report on Sea Dragons
The ceremony, which drew dozens of former pilots and crew members from across the country, was symbolic of the Navy's long-term commitment to the aging helicopter program, said Scott, who flew the Sea Dragon when it first entered service in the 1980s.
"Today is about a reaffirmation of our commitment" to the helicopter, he said.
Click Here to Watch the Original NBC News Report on Sea Dragons
The Sea Dragon –- the only U.S. helicopter powerful enough to pull equipment through the sea to find and destroy underwater mines – is the oldest and most maintenance-intensive Navy helicopter in service.
Problems with the aging aircraft came to a head a few years ago, culminating in a series of accidents that cost sailors' lives and exposed maintenance and training shortcomings. The Navy has spent millions of dollars since then to upgrade the helicopters, hire more maintenance workers and improve training.
Many of the Sea Dragon's struggles can be traced to a single point: The Navy intended to retire them a decade ago, but plans to replace the aircraft with smaller helicopters fell through. Now, with no other viable option for quickly sweeping for underwater mines -– an increasingly crucial mission in the Middle East – the Navy must keep the Sea Dragons in service through at least 2025.
Click Here to Read the Virginian-Pilot's Coverage of Sea Dragons
"Things didn't go quite as planned with what we were going to do to replace the Sea Dragon, so we're having to adjust fire," said Capt. Pat Everly, the commander of Helicopter Sea Combat Wing Atlantic. "Yes, it's probably going to take us a while to adjust step and get where we need to be, but I'm confident we have the right people in place and the sailors have the right attitude."
Top-ranking military officials in Norfolk and Washington are paying close attention to the helicopter's progress, Everly said.
Since February, following a Virginian-Pilot, NBC News and Investigative Reporting Program report on lingering maintenance issues, most of the Navy's 28 Sea Dragons have been grounded while crews worked to repair thousands of potentially dangerous fuel lines and electrical wires – the same safety issue that led to a deadly crash off the coast of Virginia in 2014.
Eight months after the wiring issue came to light, most of the helicopters have been repaired and returned to service, though a few remain grounded –- a delay compounded by the fact that some parts suppliers stopped making components for the Sea Dragon years ago.
To help with the parts shortage, the Navy this year purchased two decommissioned Sea Dragons from Japan, the only other country that operated the minesweeping aircraft. Japan began retiring its fleet several years ago, replacing it with a smaller, more efficient Italian-built helicopter.
The training squadron won't do anything to fix age-related mechanical problems or improve the parts supply system, but the Navy hopes it will help reinvigorate the program and better prepare pilots and aircrew, Everly said.
Related
"More work is needed," he said. "We're far from done, but today is a significant step in keeping this program moving in the right direction."
HM-12, disestablished in 1994, once again will serve as a fleet replacement squadron, where new pilots and crew members learn how to fly their designated aircraft. The Sea Dragon has long been the only Navy aircraft without a separate training squadron.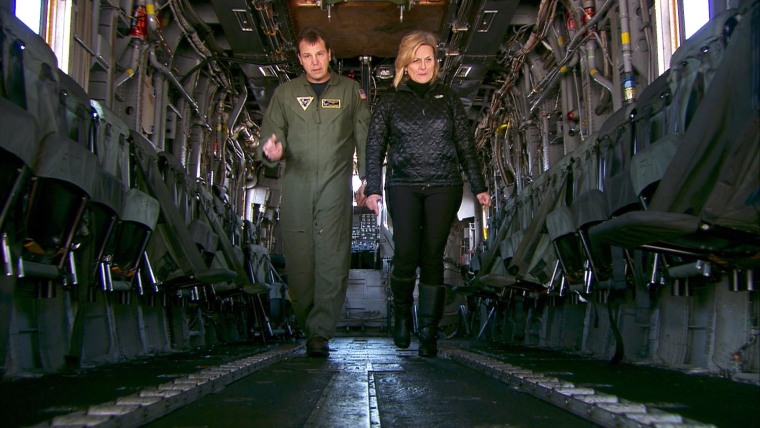 For almost a decade after HM-12 was shut down, new Sea Dragon pilots and crew were sent to the same squadron that trains Marine Corps pilots to fly CH-53E Super Stallions, a similar helicopter used for a much different mission.
Initial Sea Dragon training in recent years has been handled at HM-14 -– an operational squadron that flies minesweeping missions in Norfolk and in South Korea –- in conjunction with Airborne Mine Countermeasures Weapon Systems Training School. Under that arrangement, HM-14 provided helicopters and equipment; the school provided instructors.
The re-established HM-12 takes command of five helicopters from HM-14 and will be fully staffed with its own command staff, instructors and aircraft maintainers.
That's important, said retired Navy Capt. Bill Arnold, who attended Thursday's ceremony. Arnold, who was among the first pilots to fly the Sea Dragon, commanded a squadron in 1989, back when the Navy was still building the aircraft.
Bringing the training squadron back "establishes a place where everything is taught the same and everybody learns all the basics in the same place," Arnold said. "It's a big statement for the Navy to re-establish this squadron."
This story was originally published in The Virginian-Pilot and was reported in partnership with the Investigative Reporting Program at the University of California, Berkeley, as part of an ongoing collaboration.