MOBILE, Ala. — Former U.S. Rep. Gabrielle "Gabby" Giffords of Arizona had a Navy vessel named in her honor during a ceremony at a Mobile, Alabama, shipyard Saturday afternoon.
Giffords joined others including Jill Biden, wife of Vice President Joe Biden, as the USS Gabrielle Giffords was christened in coastal Alabama. The 419-foot ship was built at the Austal shipyard and is the Navy's 10th littoral combat ship designed to operate in shallow waters near the coast.
Giffords was badly wounded in a 2011 shooting that left six dead and 13 injured in Tucson. The Democrat left Congress and later founded an organization that supports gun control.
"In congress I was proud to support our armed forces. I love the Navy — I even married a sailor," Giffords said as she kissed her husband Mark Kelly, a retired Navy captain and astronaut who stood by as she addressed the crowd. "Thank you to all who built this ship. She's stealthy; she will defend freedom around the world."
Giffords was chosen as the vessel's namesake because of the characteristics she exemplified after the attack, officials said.
"Courage comes in many, many forms — physical, mental, spiritual and political. Gabby has truly modeled courage and resilience," said Vice Admiral Philip Cullom, deputy chief of Naval operations for fleet readiness and logistics.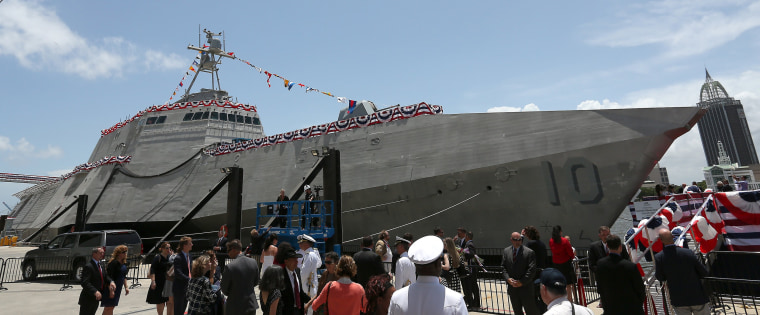 Biden was the ship's sponsor and Cullom said her spirit will guide the vessel while it is in service. Biden called the ship a feat of engineering excellence.
During his speech, Kelly paused to thank Biden for attending the ceremony as she mourns the death of her stepson former Delaware Attorney General Beau Biden. Biden, a Delaware National Guard major who spent a year in Iraq and was awarded a Bronze Star, died May 30 after a two-year battle with brain cancer.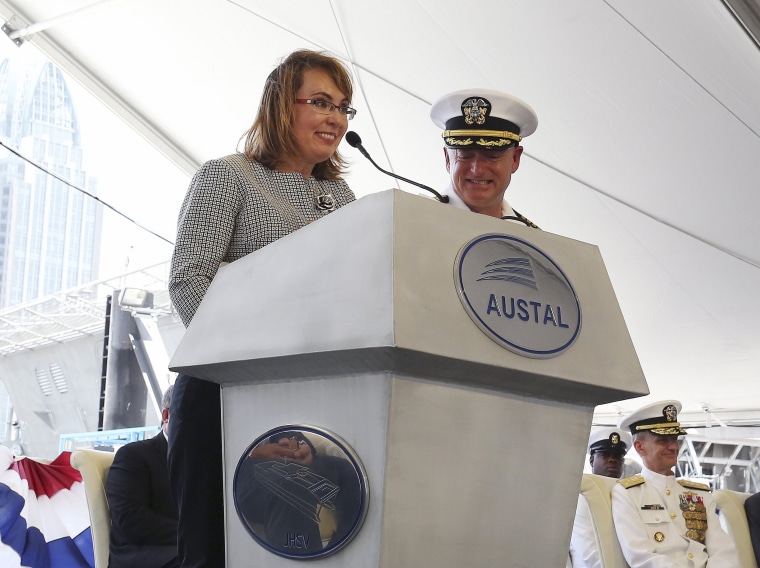 "Know that Beau was the kind of person that made us all deeply hopeful for our country's future. He did that for Gabby and for me," Kelly said.
"As a military mom, there is no one I would rather be with than you here today, the ones who stepped up to serve," Biden said, also adding, "Gabby represents the same qualities the Navy embodies."