A Navy Poseidon surveillance plane overshot a runway approaching a Marine Corps base in Hawaii on Monday, ending up in Kaneohe Bay, a base spokesman said.
None of the nine people aboard the Poseidon plane were injured in the incident, which happened just before 2 p.m. Hawaii time (7 p.m. ET), Marine Maj. Jordan Fox said.
"All nine passengers aboard the aircraft at the time of the incident are accounted for, and no injuries are reported," Fox said.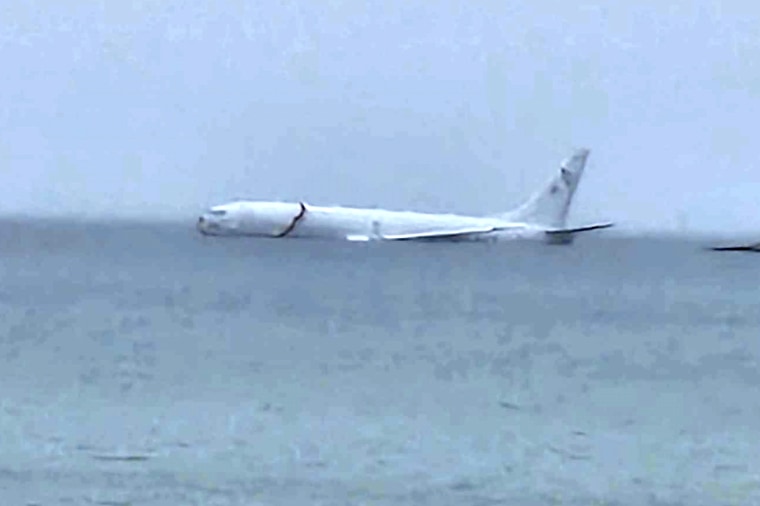 The plane was on its approach to Marine Corps Air Station Kaneohe Bay, which is on Marine Corps Base Hawaii, on Oahu, Fox said.
A photo from the scene broadcast by NBC affiliate KHNL showed the aircraft in the water.
A spokesman for the Navy's Third Fleet said those aboard the plane evacuated after it went into the water.
The crew is assigned to the Whidbey Island, Washington-based VP-4 squadron, the Skinny Dragons, and it was "on a detachment in support of maritime homeland defense," Navy Lt. Mohammad Issa said.
Booms were placed around the scene to prevent the spread of hazardous materials. Divers have found no evidence of any fuel leaking from the aircraft, which is structurally sound, the Third Fleet said in a statement Tuesday.
"The Navy will convene an investigation to determine the cause and contributing factors of the mishap," the fleet said.
Aboard the P-8A Poseidon were three pilots and six crew members, it added.
The Poseidon is a long-range patrol and reconnaissance aircraft, according to the Navy's website. It has two engines and is a little more than 129 feet long.