The NBA playoffs will resume Saturday following a player walkout over systemic racism and Jacob Blake's shooting in Wisconsin, the league and union announced Friday.
The Milwaukee Bucks, who play their games just 40 miles away from where Blake was shot in the back by Kenosha police, sparked the protest on Wednesday, with all games since then postponed.
"We had a candid, impassioned and productive conversation yesterday between NBA players, coaches and team governors regarding next steps to further our collective efforts and actions in support of social justice and racial equality," according to the statement.
As part of the restart agreement, every team that controls its home arena has been told to work with local election officials in hopes of turning those buildings into polling places for the Nov. 3 election, according to a a joint statement from NBA Commissioner Adam Silver and NBA Players Association Executive Director Michele Roberts.
The NBA players were among athletes in a wide cross-section of sports — basketball, baseball, hockey and tennis — who have been protesting after Blake's shooting this week.
Los Angeles Clippers Coach Doc Rivers praised the players and the league for agreeing to efforts to boost the league's civic engagement.
"At the end of the day, it's not the NBA's job to solve the world," Rivers told reporters shortly after the agreement was reached. "It's NBA's job to be part of the world."
The NBA pact with the players union also called for the league to team up with its broadcast partners to include more advertising spots that highlight social justice initiatives and voter turnout efforts.
"These commitments follow months of close collaboration around designing a safe and healthy environment to restart the NBA season, providing a platform to promote social justice, as well as creating an NBA Foundation focused on economic empowerment in the Black community," the joint league-union statement said.
If the schedule picks up as it was set earlier for Saturday, then those first slate of games inside the NBA bubble near Orlando would be the Dallas Mavericks vs. the L.A. Clippers, the Utah Jazz against the Denver Nuggets and the Boston Celtics playing the Toronto Raptors.
The WNBA lost regular season games Wednesday and Thursday, but plans to be back in action on Friday.
Also on Friday, more than 300 NBA staffers didn't show up to the office, walked off the job or logged off from their remote workspaces in a coordinated effort to back players and pressure the league to do more for social justice, employees said.
"We believe the NBA, its leadership and the Board of Governors unequivocally have the leverage to do more to directly address and combat police brutality and systemic racism in this country," staffers said in a letter, obtained by NBC News, to the commissioner.
Silver wrote back and promised employees the league will do more.
"I understand that some of you feel the league should be doing more," he wrote. "I hear you - and please know that I am focused on ensuring that we as a league are effecting real change both within our organization and in communities across the country."
Earlier on Friday, University of Mississippi football players marched in protest against racism and Blake's shooting.
The Ole Miss athletes chanted "No justice, no peace" and one held a sign "End Police Brutality" as they marched to a town square.
The players gathered at a Confederate statue that has stood in front of the county courthouse in the Oxford Square, the cultural and economic center of the small college town, since 1907.
Despite rampant protests and calls for its removal by local faith leaders, the Lafayette County Board of Supervisors — all white men — voted unanimously to keep it in place last month.
Local resident Tracey Williams, 51, rushed out to Oxford Square as soon as she heard about the players' march.
"I went out to show support and solidarity," Williams told NBC News. "Some of the players know who I am ... so I wanted them to see me and to also be comfortable in whatever situation that you're involved, they can always feel free to talk to me."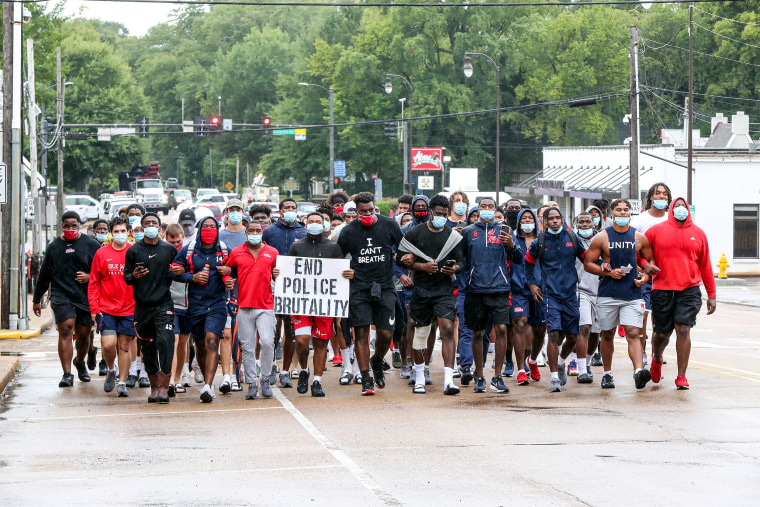 Ole Miss Coach Lane Kiffin said players had his backing to march.
"I met with our leadership council last night and asked how they wanted to make their voices heard. It was good discussion, and this morning, the team decided to march in unity and use their platform to send a message," Kiffin said in a statement released by the school.
"I'm proud of our players coming together for justice and change. We are going to continue to work together to improve the world around us for everyone."
The Rebels kick off their coronavirus-delayed college football season on Sept. 26 at home against the University of Florida.
The university in Oxford, Mississippi, occupies a prominent spot in the history of America's civil rights movement.
Segregationists infamously rioted at Ole Miss in fall 1962 when state and federal authorities escorted James Meredith on to campus as the school's first Black student.
This latest round of national protests were sparked by video on Sunday that showed Blake walking away from police when one officer opened fire at close range, striking him seven times in the back, officials said. The officer has been identified as seven-year veteran Rusten Sheskey, and he has been placed on administrative leave.
Blake remains hospitalized and is currently paralyzed from the waist down, family members and lawyers have said.