NBC News has severed its relationship with senior political analyst Mark Halperin, the network confirmed on Monday, following multiple reports that Halperin sexually harassed women while working for ABC News.
NBC News did not issue a statement, but simply confirmed that after suspending the journalist late last week he would not be returning to the company. Halperin did not return an email for comment.
In a statement released on Friday, Halperin apologized for his actions which he says were limited to his time at ABC News, where he left in 2007.
"For several years around my departure from ABC News, I had weekly counseling sessions to work on understanding the personal issues and attitudes that caused me to behave in such an inappropriate manner," he wrote. "Those who have worked with me in the past decade know that my conduct in subsequent jobs at Time, Bloomberg, NBC News and Showtime has not been what it was at ABC."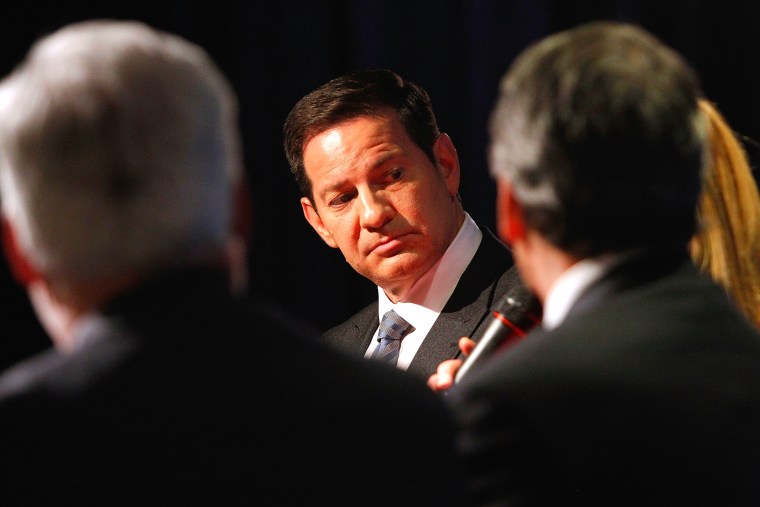 Halperin, an influential figure in the political media world with several book deals and projects at both HBO and Showtime, has been stripped of his livelihood after the accusations became public. In addition to NBC News, Penguin Press, HBO and Showtime have also ended their associations with him.
A frequent guest on MSNBC's "Morning Joe," Halperin was suspended on Oct. 26, after a CNN report alleged that he had harassed five women while working at ABC News, more than a decade ago. Since the first report, other women have stepped forward, and CNN reported that a dozen women had accused the "Game Change" author of harassment, including attempts to kiss them or pressing his body on another.
Many of the women say he offered to help them break into the news business but instead used private meetings to harass them. On Oct. 27, former ABC News executive Lara Setrakian wrote about her experience in an opinion column published in the Washington Post. She wrote that when she got to the office for a chat about politics, "he kissed me and touched me inappropriately. I left that room shaken," she wrote.