A Republican Party office in North Carolina was firebombed overnight and a nearby building was scrawled with graffiti warning "Nazi Republicans" to "leave town or else," authorities said Sunday.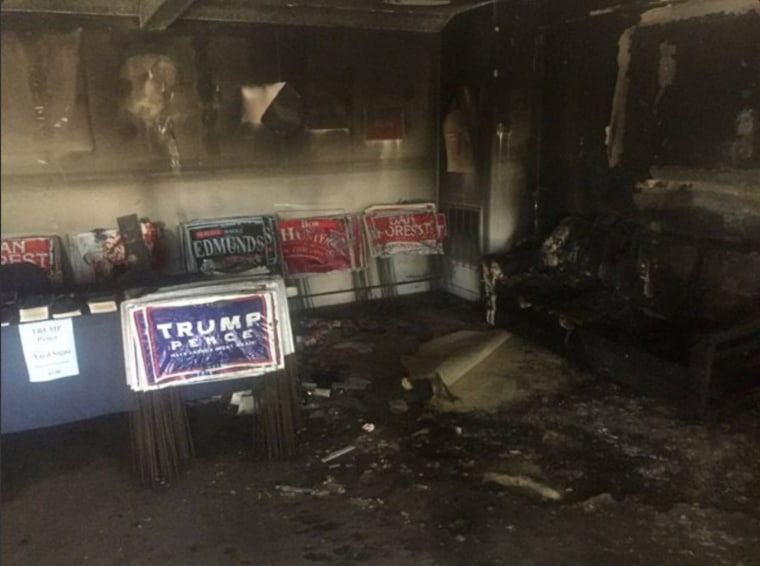 In a statement, authorities in Hillsborough, northwest of Durham, said that no one was injured in the apparent attack on the Orange County Republican Party headquarters.
A bottle containing a flammable substance was thrown through a front window, where it ignited and damaged furniture and the office's interior, the statement said, adding that the fire went out on its own.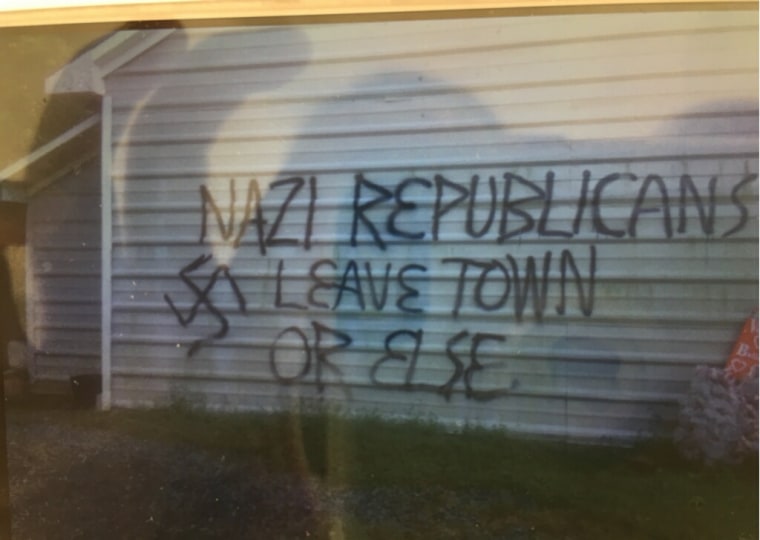 The graffiti, which included a swastika, was painted on an adjacent building, the statement said.
A nearby business owner discovered the damage at 9 a.m. Sunday.
"This highly disturbing act goes far beyond vandalizing property," said Hillsborough Mayor Tom Stevens, according to the statement. "It willfully threatens our [community's] safety via fire, and its hateful message undermines decency, respect and integrity in civic participation. I believe I speak for the overwhelming majority of people who make Hillsborough their home: Acts like this have no place in our community."
Both the Bureau of Alcohol, Tobacco and Firearms and the FBI were assisting local and state authorities, Stevens said in a joint statement with Hillsborough Police Chief Duane Hampton.
North Carolina Republican Party spokeswoman Emily Weeks told NBC News that the office is totally unusable and that materials inside may have been destroyed. The state party said completed absentee ballots were not stored at that office.
She said the office had received no threats prior to the bombing.
In a statement, state GOP Executive Director Dallas Woodhouse called the incident a hate crime and said "all Americans should be outraged" by this "violent attack against our democracy."
Hillary Clinton's campaign also condemned the incident as "horrific and unacceptable," adding their gratitude that no one was hurt.
Republican presidential candidate Donald Trump weighed in as well, describing those behind the incident as "animals representing Hillary Clinton and Dems in North Carolina." (Authorities had not identified any suspects.)
They "firebombed our office in Orange County because we are winning," he said on Twitter. (An NBC News/Wall Street Journal/Marist poll conducted last week found Clinton leading Trump by four points in the state. Nationally, Clinton leads Trump by 11 points, according to an NBC News/WSJ poll released Sunday.)
Additional security would be requested for all GOP offices and events around the state until Nov. 8, Woodhouse said.
CORRECTION: A previous version of this article quoted a party official as saying completed absentee ballots might have been destroyed in the attack on the Orange County Republican Party office, which was incorrect. The North Carolina Republican Party and its county organizations do not collect completed absentee ballots.