Nearly 300 students and employees at two Los Angeles universities were under quarantine Thursday after possible exposure to measles, a disease declared eliminated nearly two decades ago but which has seen a resurgence, the schools said.
The University of California, Los Angeles said that 76 students and six faculty members remained in quarantine Thursday afternoon after a student with measles attended class three days this month.
UCLA said that the last possible exposure at the university was April 9, and the highest risk for developing measles has already passed.
UCLA said that the quarantine was expected to last between 24 and 48 hours for most, but a few may need to remain in quarantine for up to seven days.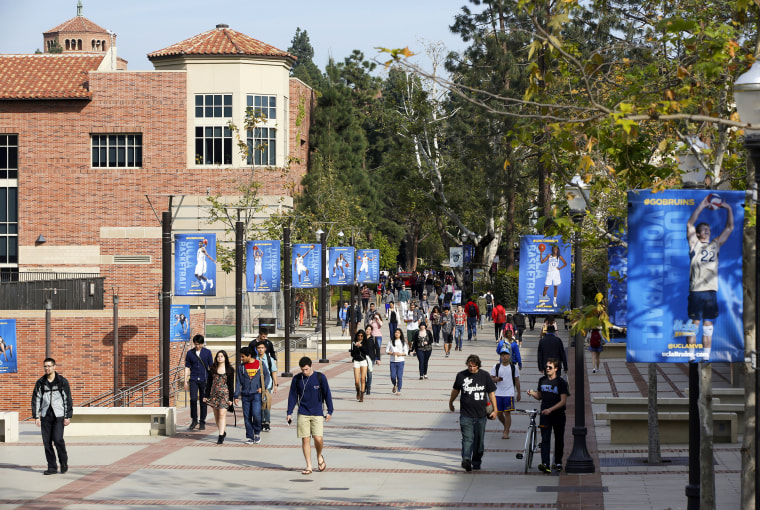 California State University, Los Angeles also reported that a potential measles exposure may have occurred in a library April 11, and a spokesman said that 127 staff employees and 71 student employees were sent home under quarantine orders.
In all, 280 from the universities were under quarantine Thursday.
"I know there is concern about measles, particularly among the very small percentage of our community who have not been vaccinated," UCLA Chancellor Gene D. Block said in a statement. "Please be assured that we have the resources we need for prevention and treatment, and that we are working very closely with local public health officials on the matter."
Measles was declared eliminated in the United States in 2000, thanks to vaccines developed beginning in the 1960s, according to the Centers for Disease Control and Prevention.
But the disease has made a resurgence, and on Wednesday the CDC said that there are more cases in the U.S. today than there have been since it was declared eliminated in 2000. The agency reported 695 cases in 22 states, an outbreak that CDC Director Robert Redfield called "deeply troubling." Most of the measles cases are in unvaccinated children, although some adults may be at risk.
The CDC urged health care providers to assure patients that the vaccine is safe and effective and said "vaccination is the best way to protect against measles."
UCLA said that a student with measles attended classes on campus on April 2, 4 and 9 while contagious and that more than 500 students, faculty and staff who may have been exposed were notified.
Most of those were cleared, the university said, but Wednesday, 119 students and eight faculty members were quarantined by the county health department until their immunity could be established. As of Thursday afternoon, some of those had been released and 76 students and six faculty members remained under quarantine, the university said.
The university said it has arranged for students to be cared for at UCLA while under quarantine.
"We expect the trend to continue as more people provide proof of immunization or are shown by tests to have immunity to measles," UCLA said.
Measles is a highly contagious virus that affects the respiratory system and can be spread by coughing and sneezing.
Health and Human Services Secretary Alex Azar said in a statement Wednesday that "measles is not a harmless childhood illness, but a highly contagious, potentially life-threatening disease" and he said that vaccines are safe and highly effective.
Before the vaccine was developed, there were around 450 to 500 deaths each year from measles, the CDC said. The last death from measles in the U.S. was reported in 2015, the CDC said in 2018.
"With a safe and effective vaccine that protects against measles, the suffering we are seeing is avoidable," Azar said.
There are five measles cases among Los Angeles County residents, the Los Angeles County Department of Public Health said Monday. All those cases are linked to international travel, it said.
The department said Thursday that it had also confirmed that one person with measles flew in and out of Los Angeles International Airport while infectious. That person arrived at a remote gate in the Tom Bradley International Terminal and left at Terminal 3 on April 18, the health department said.
The health department said in the statement there is no known current risk of measles at LAX, and people who were possibly exposed on the flights have been contacted. People who are free of symptoms for more than 21 days are considered no longer at risk, it said.