One of two "dangerous" inmates who escaped from a Nebraska prison was caught hiding in a Lincoln storm drain Saturday, more than 24 hours after he was last seen, authorities said. But a second escapee remained at large.
Police used dogs and a robot to track down Lincoln Correctional Center inmate Armon Dixon, 37, inside the storm drain and he left the drain and was arrested at around 2:10 p.m., the Nebraska State Patrol said.
Authorities were still hunting for his accomplice, 52-year-old Timothy Clausen.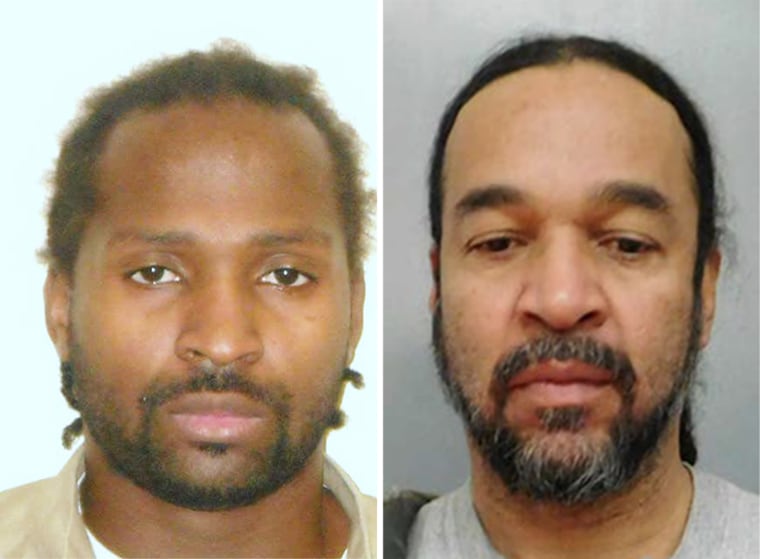 "Our work is not over," Lincoln Police Chief Jeff Bliemeister said in a statement. "Our efforts will continue until we have the second escapee in custody."
Dixon and Clausen were originally spotted Friday morning after fleeing from a stolen pickup truck that they crashed during a police chase, according to the Nebraska State Patrol.
A head count at Lincoln Correctional Center following the sighting and police pursuit confirmed that the inmates were missing, police said.
Dixon's arrest Saturday came after police responded to a report of an assault at a home, and the description given by two women who lived there led authorities to believe it may have been Dixon, the patrol said. A woman in her 60s was taken to a hospital for observation and the other victim in her 20s was treated and released, the patrol said.
At around 11:30 a.m., a man who matched the escaped inmate's description was spotted entering a storm drain system, the patrol said. He came out police using a robot found him in the drain, the patrol said.
On Friday, A man who matched the description of Dixon was spotted by an officer just two blocks from the Nebraska State Capitol, but police could not track him down, they said.
Lincoln police said before Dixon was caught that they believed the suspects may have been hiding in a home near the Capitol and warned residents nearby to call police if they see signs that their house has been broken into.
"Both are serving lengthy sentences for violent crimes and are considered dangerous," Lincoln police warned.
"We encourage residents to keep a watchful eye out and to report any suspicious activity to law enforcement immediately," said Nebraska State Patrol assistant superintendent Lt. Thomas Schwarten. "We continue to follow leads and the search for the suspects is ongoing."
Police have not said how the inmates escaped.