Israeli Prime Minister Benjamin Netanyahu's dramatic presentation on Iran's defunct nuclear program — with his claim that tens of thousands of files prove there was an effort to build and test weapons — didn't contain any big surprises for the U.S. intelligence community, two U.S. intelligence officials told NBC News.
The information unveiled by Netanyahu with great fanfare on Monday has largely been known to American intelligence agencies for years, the officials said, confirming the assessment of Washington lawmakers and private experts.
Other U.S. intelligence officials added that nothing in the documents, which Netanyhu said were smuggled out of Tehran, has changed the American intelligence judgment that Iran is living up to its agreement not to restart a nuclear weapons program, as American intelligence officials told senators Feb. 13.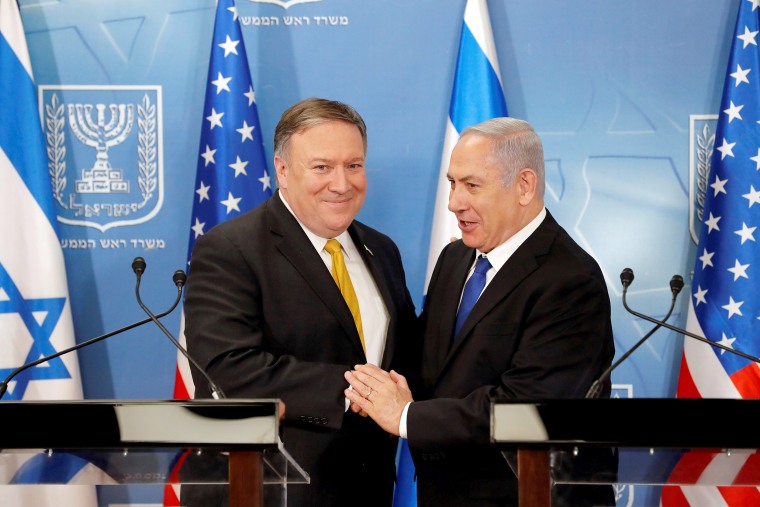 Then-CIA Director Mike Pompeo reconfirmed that assessment when asked about it on April 12 during his confirmation hearing for secretary of state. "With the information I've been provided, I've seen no evidence that they are not in compliance today," he told the Senate Foreign Relations Committee.
Outside experts were dismissive of Netanyahu's presentation.
"There is literally nothing new here," said Jeffrey Lewis, an arms control expert who favors the Obama-era nuclear deal with Iran from which President Donald Trump is contemplating an American exit.
Nothing in Netanyau's presentation suggested that Iran had restarted a secret nuclear program. He argued instead that by keeping the archive — and maintaining the position of a key nuclear scientist who once ran the weapons program — they could restart very quickly. Defenders of the deal say that is precisely why the U.S. should not give Iran an excuse to do so by exiting the deal.
Lewis' view was echoed by American intelligence officials, who told NBC News that while the documents may contains new details, the story they tell — that Iran once had an unauthorized nuclear program — is an old one.
It was largely described in a 2007 National Intelligence Estimate, which said that U.S. spies "judge with high confidence that in fall 2003, Tehran halted its nuclear weapons program."
The document added, "We also assess with moderate-to-high confidence that Tehran at a minimum is keeping open the option to develop nuclear weapons."
"It's nothing new," Sen. Bob Corker, R-Tenn., told Bloomberg Television. "This is really not groundbreaking — we've known of this for some time."
Pompeo told reporters that Israel briefed the U.S. on the documents so the Americans could authenticate them. Now, Israel is giving them to the other signatories to the Iran deal — Britain, France and Germany.
Corker said he doesn't think the Israeli presentation should effect the Trump administration calculus about whether to pull out of the deal.
But some U.S. officials fear it will, and they cite a mistake by the White House press office Monday night, which issued a news release saying that Iran "has" a "robust, clandestine nuclear weapons program."
The White House later corrected the statement on its website, but never sent out a corrected news release — blaming the mistake on a "clerical error."
Asked to respond to Corker, Pompeo, who has been critical of the Iran deal, told reporters on his flight back from the Middle East Monday night:
"Well, that's partly true. The existence of the (nuclear weapons) program that ended roughly December of 2003, January of 2004 — it is accurate to say that the knowledge of that has been known for, the fact of that had been known for quite some time. But there are thousands of new documents and new information. We're still going through it. There's still a lot of work to do to figure out precisely the scope and scale of it."
However, the International Atomic Energy Agency — the global nuclear watchdog, which conducts inspections in Iran, hunting for evidence it is violating the nuclear deal — has also concluded that Netanyahu's announcement was old news.
In December 2015, the agency reminded people in a statement, the IAEA issued a detailed report on Iran's nuclear program.
"In the report, the agency assessed that, before the end of 2003, an organizational structure was in place in Iran suitable for the coordination of a range of activities relevant to the development of a nuclear explosive device," the statement said.
Although some activities took place after 2003, they were not part of a coordinated effort, the IAEA said.
The report also concluded that the international watchdog "had no credible indications of activities in Iran relevant to the development of a nuclear explosive device after 2009."
Netanyahu said the documents he revealed, stolen by Israel's Mossad spy agency, showed that Iran has been lying for years about its nuclear program.
Damn, the Mossad is good. This would be like the CIA getting into the Kremlin and taking the files out.
That is true, U.S. officials told NBC News. It was also factored into the Obama nuclear deal, which calls for a robust inspection regime.
However, most analysts believe Netanyahu's speech — in English with giant visual aids — was not trying to persuade American analysts or diplomats. He was trying to influence an audience of one: Trump, who already has denounced the nuclear deal and expressed a desire to end it.
On MSNBC's "Morning Joe," Ret. Adm. James Stavridis said there is "less here than meets the eye." He added that his first reaction was: "Damn, the Mossad is good. This would be like the CIA getting into the Kremlin and taking the files out."
"To me this validates the need for a deal to stop them," he said.
The existence of Iran's active nuclear weapons program before 2003 was exactly why the Bush administration sanctioned Iran, the Obama White House tightened those sanctions, and the Obama team sought an agreement to contain Iran's nuclear ambitions.
At the time of the 2015 deal, Iran was believed capable of "breaking out" in as little as three months. The goal of the deal, known as the JCPOA, was to lengthen that to one year — and also to destroy advanced centrifuges, create oversight by international inspectors, and block Iran's access to fissile material to build bombs.
Netanyahu suggested that a key Iranian nuclear official is still in charge of what has been described as a peaceful program, that the knowledge of their weapons program still exists, and that it is embedded in the Iranian Defense ministry. U.S. officials do not dispute that, but say that Netanyahu revealed no evidence Iran is cheating on the deal.
The JCPOA is not a treaty, because the Obama administration did not think it could win Senate approval for one. It is a multilateral agreement negotiated by the U.S., France, Germany, the U.K., Russia, China and the European Union, under United Nations auspices.
Therefore, if Trump refuses to continue waiving sanctions on Iran next week — most likely before the May 12 deadline — U.S. sanctions would be re-imposed on Iran.
Iran could then say that the U.S. is in violation of the terms and that it is free to resume nuclear work.
European leaders spoke over the weekend about last-minute attempts to get Trump to stick with it for a while longer or at least not tear it up completely, sources told NBC News.
Diplomatic sources say that there is a small chance of a compromise but that they are fairly certain Trump will not go along with postponing a decision any longer.