As President Barack Obama's eight years in the White House come to a close and the country begins to grapple with the administration's place in history, Netflix has its own salvo in the battle to define his legacy.
"Barry," which debuted earlier this year at the Toronto Film Festival and begins streaming on Netflix on Friday, is a portrait of Obama's formative years at Columbia University in the early 1980s, where he further developed his political consciousness while struggling to gain acceptance as a biracial transplant with an unconventional background.
"This is an incredibly unique American story and it's stranger than fiction," the film's director Vikram Gandhi told NBC News. "When we think about Barack Obama's story — it's about what it means to be an American."
Gandhi, a Columbia grad himself, became interested in the project after reading the president's best-selling memoirs. And while he never set out to "make a political movie," he believes his film will be "therapy" for Obama supporters who may feel like they are currently in the political wilderness.
"He was to the world a symbol of 'this is our future.' There is a little bit of everybody in this story," Gandhi said.
Devon Terrell, the 24-year-old Australian-born actor who plays Obama in the film, came up idolizing the soon-to-be former president. And as the product of a mixed race coupling himself, he could relate to the challenges of feeling like a cultural outcast.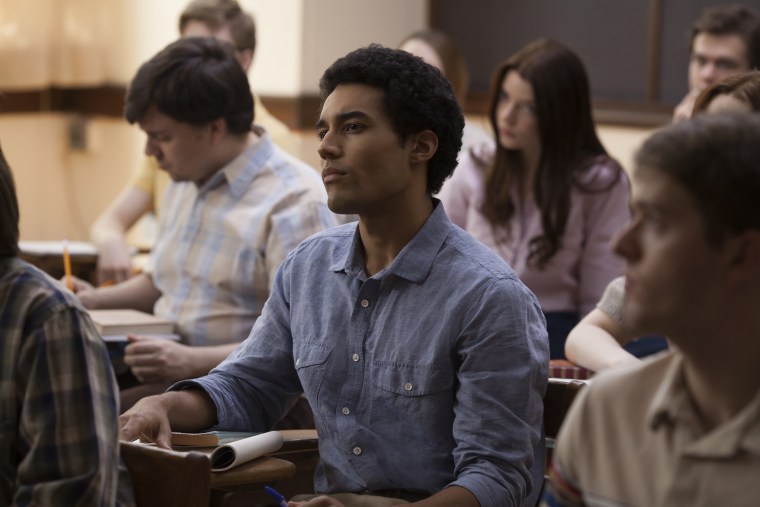 "What he went through I think every person goes through. And he got through it in the end," Terrell told NBC News. "I'm very exited to show audiences a different side of him, a human side in jeopardy."
In the film, we see a Holden Caulfield-esque Obama ("I fit in nowhere," he declares) at an existential crossroads, symbolically reading Ralph Ellison's seminal "Invisible Man," navigating an occasionally awkward interracial relationship and largely turned off by politics. He finds himself without a sense of purpose, thrust into a New York City that is teeming with multicultural tension and creativity.
Related: 'Southside With You' Provides Fresh Insight Into the Obamas
"It's good to remember that he was a guy named Barry who grew up in Hawaii," said Gandhi. "His mother was a bit of hippie, he didn't know his father. The guy is incredibly relatable. What drew him to make these big leaps into becoming a leader just came from a drive to make sense of everything."
With President-elect Donald Trump's general election victory in November — which some have interpreted as a rebuke of Obama and his politics — the prospects for "Barry" with potential audiences is an open question.
August's "Southside With You," a feature film which re-created the president's first date with future first lady Michelle Obama, was a disappointment at the box office, despite strong reviews. But Gandhi is undeterred.
"This is a necessary film and I'm happy to have made it. I think right now America needs this film." he said. "I think its a nice reminder of the hope that we felt eight years ago."