Nevada casinos made near-record Super Bowl profits from the Kansas City Chiefs' victory over the San Francisco 49ers, regulators said Tuesday.
More than $154.67 million in wagers were made in Nevada on Sunday's big game, and sports books scored more than $18.77 million in profits, the state's Gaming Control Board announced.
Since Nevada regulators began tracking Super Bowl action with the 1991 title game, only the 2014 game was more profitable for the house. Nevada books made more than $19.67 million from the Seattle Seahawks' blowout of the Denver Broncos six years ago.
Nevada's fortunes stood in stark contrast to those of the nation's second-biggest gaming state, New Jersey, where sports books lost $4.28 million after bettors made more than $54.2 million in bets on Super Bowl 54.
The contrasting Nevada-New Jersey bottom lines mirrored the action on last year's game, when the New England Patriots beat the Los Angeles Rams. In both cases, Nevada action was heavy on West Coast teams that lost.
"We're closer to California and the West Coast, so we got an influx of 49ers money," said Jeff Stoneback, director of trading operations for MGM Resorts International. "If you're a fan of a team, you're a fan of the team. You're not going to want to bet against your team."
Westgate SuperBook Vice President Jay Kornegay said Nevada books also made big money off the over-under bet, with most gamblers wagering that the two teams would score more than 53.5 combined points. Kansas City won, 31-20.
"There's no doubt the total was a bigger decision for us than the side itself," Kornegay said. "People come to Nevada to watch things happen, so they tend to bet the over."
In the wake of a 2018 U.S. Supreme Court ruling that lifted sports gambling prohibitions, seven states outside Nevada accepted their first Super Bowl bets in 2019: Delaware, Mississippi, New Jersey, New Mexico, Pennsylvania, Rhode Island and West Virginia.
Download the NBC News app for breaking news
The Chiefs closed as 1.5-point favorites in most sports books across America. And gamblers east of Nevada tended to back Kansas City, leading to book losses outside the state.
Pennsylvania gamblers made more than $3.3 million off their Super Bowl bets of a little less than $30.7 million, according to Pennsylvania Gaming Control Board records made public Tuesday.
In Delaware, fans wagered more than $2.1 million, leading to about $229,000 in losses for state bookmakers, state Lottery Director Vernon A. Kirk said.
In Rhode Island, one of the few places outside Nevada where the house was a big winner, gamblers placed $5.51 million and lost nearly $805,000, the state lottery announced.
At Mississippi's 27 state-regulated books, $6.7 million was wagered on the Super Bowl, a significant boost from last year's handle of $4.7 million, according to Allen Godfrey, executive director of the state's Gaming Commission.
West Virginia enjoyed a similar boost in action, as gamblers at three casinos and online wagered nearly $3.9 million. That's up from last year's $2.8 million, West Virginia Lottery spokesman Randy Burnside said.
Sunday's game saw first-time action in six additional states: Arkansas, Indiana, Iowa, New Hampshire, New York and Oregon.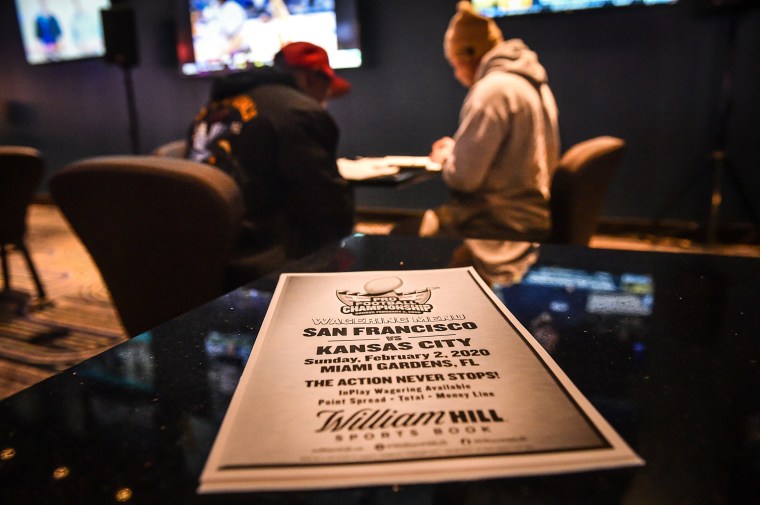 Iowa regulators estimated that bettors made more than $6.5 million in first-time Super Bowl wagers, officials said. Books in Iowa, which shares a border with the Chiefs' home state, Missouri, "lost a significant amount of money," as locals bet big on Kansas City, Iowa Gaming Association CEO Wes Ehrecke said.
New Hampshire football fans wagered about $2.31 million via a mobile app, according to state lottery officials. While New Hampshire didn't reveal whether players or the book won more money, the fantasy sports company DraftKings, which operates digital sports betting for the state, said 60 percent of money wagered on point spread bets was on the victorious Chiefs.
Arkansas accepted about $705,000 in Super Bowl wagers at three locations, according to Scott Hardin, a spokesman for the state's Finance and Administration Department.
First-time bettors in Oregon put down about $1.95 million in online wagers, and gamblers lost about $153,000, state lottery spokesman Chuck Baumann said.
Data for Super Bowl wagers in Indiana, New York and New Mexico weren't immediately available, regulators said. Indiana won't make its numbers public until March 10, while New York regulators refused to share any of their information.
Sports betting in New Mexico is done only through two Native American casinos, which aren't subject to state regulation. Representatives for both operations declined to share their Super Bowl data.