Nevada brothel owner Dennis Hof, who became a celebrity via the HBO reality series "Cathouse," is under investigation for sexual assault, a spokeswoman for the Nevada Department of Public Safety told NBC News Wednesday.
"Based on a request from the Carson City Sheriff's Office, the Nevada Department of Public Safety, Investigation Division, is conducting an investigation into sexual assault allegations against Dennis Hof," the spokeswoman said. "As this is an ongoing investigation, no further information can be provided at this time."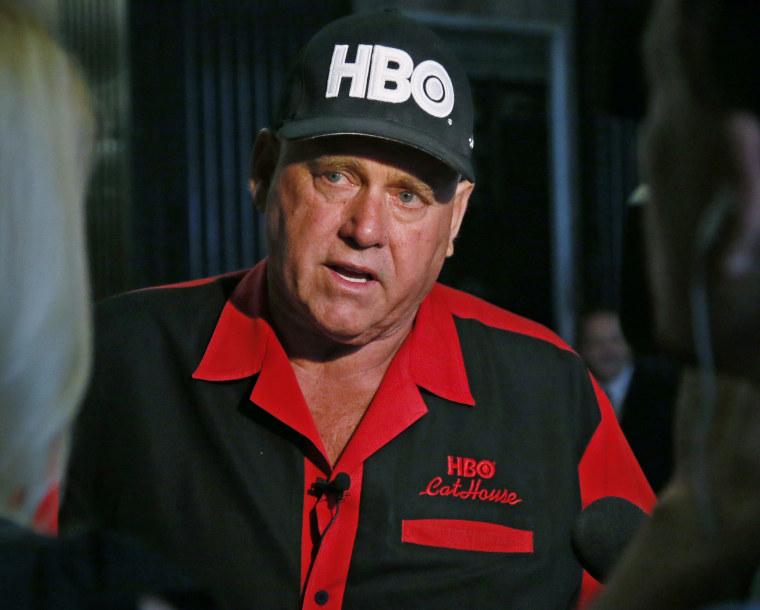 Hof is also the Republican nominee for his state legislative district, and his campaign said in a statement that the allegations have everything to do with his drive to take office.
"Mr. Hof has spoken with investigators and is cooperating fully," the campaign's statement reads. "While he has his suspicions, at this time Mr. Hof does not know exactly what the allegations are, who made them or when the alleged incident supposedly took place. Nevertheless he completely and totally denies that any such incident occurred and believes the allegations are groundless and politically motivated."
The Las Vegas Review-Journal reported that Hof was accused of raping a prostitute at a brothel he owned in 2005 and that in April two sex workers who had worked for Hof detailed sex assault allegations from encounters in 2009 and 2011. The publication said authorities lacked evidence in all those cases.
One of the accusers, Jennifer O'Kane, worked at one of Hof's brothels and publicly accused him of raping her.
It's not clear if the state inquiry is related to any of those claims.
Hof said on his website in April that the allegations amounted to dirt being thrown at him by political opponents as he vied for the Republican nomination for a state legislative district near the city of Pahrump. (During his campaign Hof has called himself the "The Trump of Pahrump.")
"They're coming at us with multiple, full-blown, scorched earth, disinformation attacks — including ballot initiatives to shut my businesses down and dredging up absolutely phony allegations of 'sexual assault' against me," he said in the statement published on his website in April.
His accusers, he said, were attempting to "try me in the media."
And Hof told the Associated Press in June that all the allegations were "totally absurd."