Thousands of Nevadans, some of them in their 50s, could soon become newly minted high school graduates after the state decided that students who completed their courses but failed required exit exams should get their diplomas, after all.
In 2013 Nevada phased out proficiency exams to graduate from high school, a policy that took effect this year. That meant that students who didn't pass the tests — going all the way back to 1982 when the test began — were denied their diplomas over a requirement today's students don't have to meet.
"The proficiency was really hard, actually," Teresa Ruiz of East Las Vegas, who would have graduated from Mojave High School in 2001, told NBC affiliate KSNV of Las Vegas.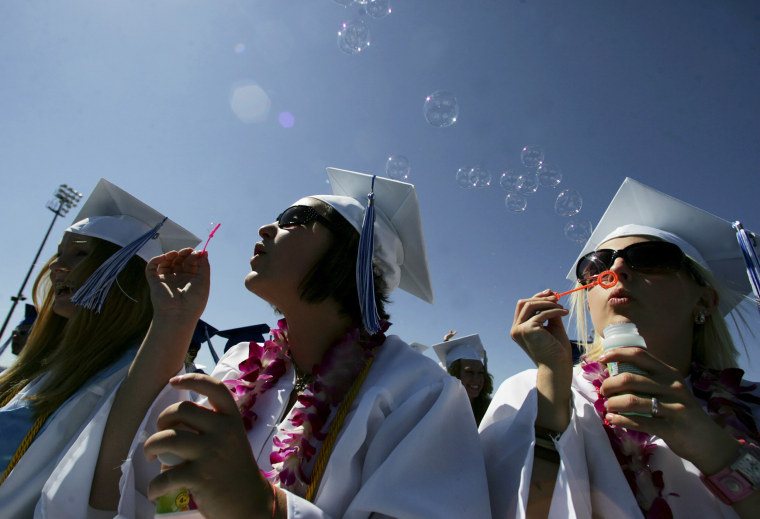 While she completed all of her studies satisfactorily, Ruiz couldn't pass the proficiency test, and as a result, "I was unable to achieve a very good paying job because of my degree I wasn't able to achieve," she said.
Kirsten Searer, a spokeswoman for the Clark County School District, estimated that the new policy could affect as many as 10,000 people. Even in her school system, Searer said, "we had to turn away some of our previous students who might have been wonderful candidates for these positions" because they couldn't get their high school diplomas.
Each school district is responsible for figuring out how to identify and certify graduation for former students in such a predicament. In Washoe County, in northwest Nevada on the California border, that process will be in place by Wednesday, Bryn Lapenta, the district's senior director for student accounting, told NBC affiliate KRNV of Reno.
Lapenta said new graduates would likely have to wait only a couple of weeks to get their diplomas.
As long as 10 years ago, research was turning against so-called exit exams. Such exams, a massive 27-year study published in the journal Educational Evaluation and Policy Analysis found in 2006, "are associated with lower public high school completion rates," a trend that "grows stronger as states become more racially and ethnically diverse and as poverty rates increase."
By 2012, little had changed, according to research by the Center on Education Policy at George Washington University, which found that passing rates on exit exams "tend to be lower for minority and poor students, students with disabilities, and English language learners."
The disparity was projected to widen as falling school budgets led some districts to devote fewer resources to fine-tuning exit tests to academic needs and others to drop opportunities for students who failed the first time to retake the tests, the organization said.
Felicia Ortiz, a member of the Nevada State Board of Education, said she was "thrilled" about the state's new policy.
"I have a friend whose son went through that — he tried five times to pass those exams but passed all his courses," Ortiz told KSNV. "And so this means the difference between him getting a job and not getting a job."