Four members of a militant white supremacist group who engaged in "street battle" at the Unite the Right rally in Charlottesville last year were arrested on Tuesday in connection with the violent marches, according to federal prosecutors.
The men, all part of the Rise Above Movement, or RAM, according to a criminal complaint, who flew from California to Virginia to take part in the rally, "assaulted an African-American man, two females and a minister wearing a clerical collar," among others, said the U.S. Attorney for the Western District of Virginia, Thomas T. Cullen.
The four men — Benjamin Daley, 25, and Thomas Gillen, 34, both of Redondo Beach, California; Michael Miselis, 29, of Lawndale, California; and Cole White, 24, of Clayton, California — have each been charged with one count of conspiracy to violate the federal riots statute and one count of violating the statute.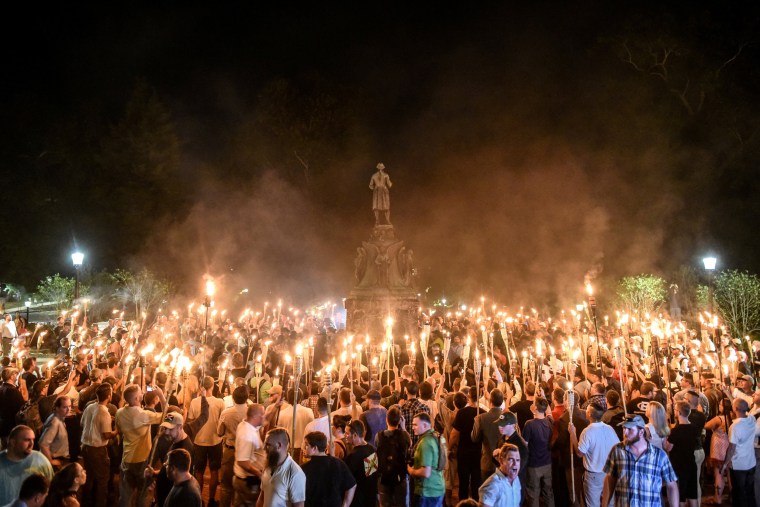 "Their actions were not only reprehensible but in violation of federal law," FBI Assistant Special Agent in Charge Thomas Chadwick said.
"Daley, Miselis, Gillen and White, while on their way to the Unite the Right rally in Emancipation Park, and with their hands taped ready to do street battle, committed multiple acts of violence including punching, kicking, head-butting and pushing numerous people," said Cullen about their alleged involvement in the Unite the Right rally in downtown Charlottesville on Aug. 12, 2017, where one person was killed.
An "incredible volume of digital evidence" helped federal prosecutors identify and charge the four men, Cullen said.
Cullen said the men had participated in acts of violence in rallies in California, and said those acts are included in their criminal complaint.
Each defendant faces up to 10 years in prison if convicted of both charges.
RAM is a Southern California-based white supremacist group with approximately 50 members and a stated intention of physically fighting those who go against its ideology, according to ProPublica.
Cullen said the four men were arrested by the U.S. Attorney's Office for the Central District of California and will appear in court in Los Angeles before a decision on bond is made. Their cases will then be transferred to Virginia, Cullen said.
It was not immediately clear if any of the four men had an attorney, and NBC News was unable to immediately contact them for comment.
The new charges were not related to the death of Heather Heyer, who was killed when a car drove into a crowd of protesters.
The Justice Department charged the man accused of driving the car, James Alex Fields Jr., 21, of Maumee, Ohio, with 30 crimes, including one count of a hate crime resulting in the death of Heyer, and 28 hate crimes involving an attempt to kill people.
The marches last year were marked by violent clashes between the white nationalists, Ku Klux Klan members and neo-Nazis attending the Unite the Right rallies and counterprotesters.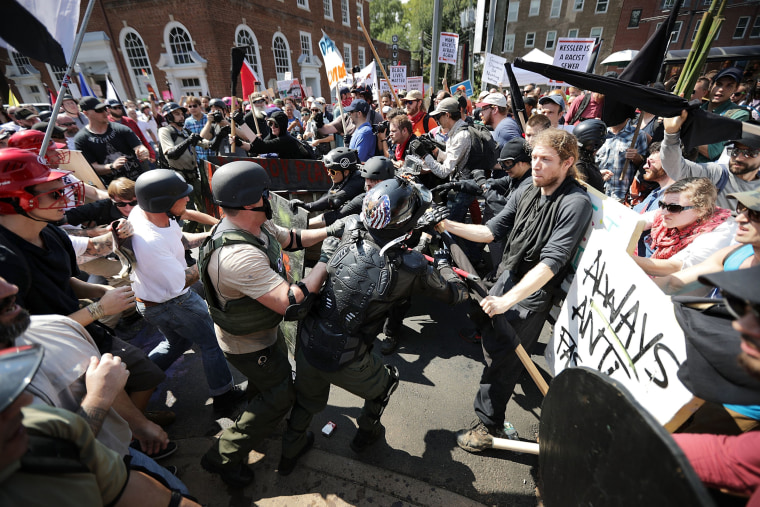 President Donald Trump added to the controversy after he took 48 hours to respond to the rallies, then saying that there was blame to be shared by "both sides" and that it was unfair to suggest that all the torch-wielding marchers at the rally were Nazis or white supremacists.
"You had a group on one side that was bad and you had a group on the other side that was also very violent," Trump said. "I think there is blame on both sides."
CORRECTION (Oct. 2, 2018, 4:05 p.m. ET): An earlier version of this article misattributed a quote about the suspects' actions. It was said by FBI Assistant Special Agent in Charge Thomas Chadwick, not U.S. Attorney for the Western District of Virginia, Thomas T. Cullen.