Another woman on Tuesday came out with accusations of sexual harassment against Fox News host Bill O'Reilly — even as protesters, including survivors of sex assault, rallied outside of the cable network's headquarters.
Attorney Lisa Bloom announced Tuesday that she is representing a new client who is accusing O'Reilly of "sexual and racial harassment."
Bloom did not reveal the identity of the new client but said that she called the hotline Fox News set up last week to investigate claims against O'Reilly.
The attorney told The Hollywood Reporter that her client was called "hot chocolate" by O'Reilly and "was afraid if she told him to knock it off she'd get fired."
She also represents Wendy Walsh, a former regular guest on The O'Reilly Factor, who said in a bombshell New York Times story that O'Reilly promised her a lucrative job in exchange for sex. The same article revealed that $13 million has been paid in at least five settlements involving O'Reilly's sexually inappropriate behavior at work.
Responding to the latest accusations, O'Reilly attorney Marc E. Kasowitz said in a statement to NBC News: "It is outrageous that an allegation from an anonymous person about something that purportedly happened almost a decade ago is being treated as fact, especially where there is obviously an orchestrated campaign by activists and lawyers to destroy Mr. O'Reilly and enrich themselves through publicity driven donations."
In follow-up statement, Kasowitz added: "Bill O'Reilly has been subjected to a brutal campaign of character assassination that is unprecedented in post-McCarthyist America. This law firm has uncovered evidence that the smear campaign is being orchestrated by far-left organizations bent on destroying O'Reilly for political and financial reasons. That evidence will be put forth shortly and it is irrefutable."
It was unclear what that evidence would be. O'Reilly in the past has said that all of the prior allegations against him have no merit.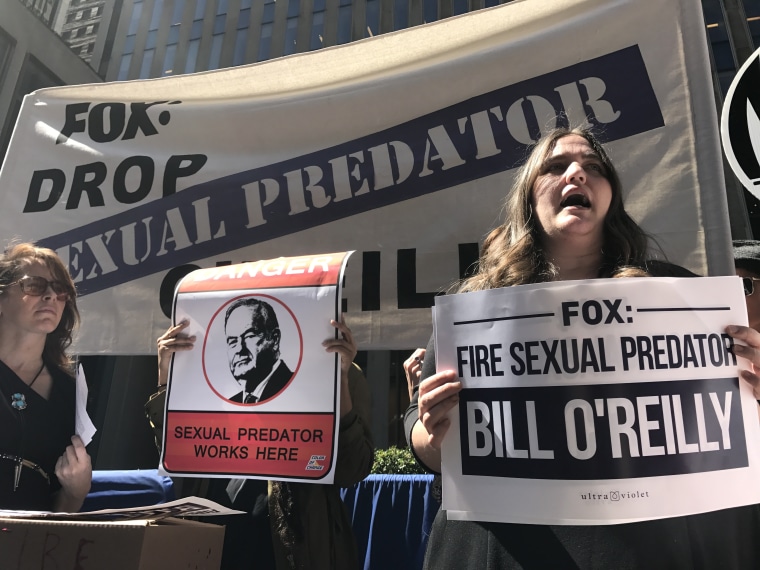 Bloom's Tuesday announcement came just 30 minutes after a protest kicked off at 1211 Sixth Avenue in Manhattan, Fox headquarters, where survivors of sexual harassment and assault stood just steps from news studios and demanded that O'Reilly be fired.
"Fox News has a problem with sexual assault — and it's bigger than just Bill O'Reilly. For years, Fox News executives have provided cover for Bill O'Reilly's systematic harassment and abuse of other Fox New's employees - making it hard to take their promises to investigate such crimes seriously." said Shaunna Thomas, co-founder of the women's rights advocacy group UltraViolet, in a statement Tuesday.
Thomas was joined at Tuesday's protest by members of the National Organization for Women, Color of Change, HerUnivercity, and New York City Public Advocate Letitia James in addition to survivors of sexual assault and harassment.
More than 300 sexual harassment and assault survivors signed on to a letter to Fox CEO James Murdoch, said speaker Jodeen Olguin-Tayler, who told the crowd that her own experiences of abuse at work inspired her to speak out against the allegations at Fox News.
"Like so many women, and dare I say most women, I've been the target of workplace sexual harassment," said Olguin-Tayler. "I was sexually assaulted at work in my 20's, in my 30's, and I've been sexually harassed at work while pregnant."
Public Advocate James addressed the crowd shortly before helping carry four petition boxes — which she said contained 480,000 signatures — to a security guard at the Fox News headquarters doorstep.
"We've come here to deliver a petition and a message to Fox," said James. "And that is: Bill O'Reilly has got to go."
Earlier in the day, Ultraviolet had commissioned a plane to fly over New York with a banner strung behind it reading "Fox: #DropOReilly, The Sexual Predator." The group also had movie-sized posters pasted around Midtown that ask "Have you been sexually harassed by Bill?"
In addition to the at least $13 million paid out in secret arbitrations, Fox has lost dozens of advertisers due to the O'Reilly scandal. By April 5, just four days after the New York Times story blew up public concern, 27 companies had pulled ads from O'Reilly's show.
A week ago, O'Reilly announced he was taking a vacation. He is expected to return to work on April 24th. Anika Collier Navaroli, senior campaign manager at Color of Change, told NBC News that protesters will be returning on Monday to greet him.