Confederate monuments are coming down across America in the wake of this month's violence in Charlottesville, Virginia — except in Alabama, where a new one went up on Sunday.
More than 500 people showed up for the unveiling of a small monument to "Unknown Alabama Confederate Soldiers" at Confederate Veterans Memorial Park, on private land in the town of Brantley, in Crenshaw County about 30 miles north of the Florida line.
Five cannons were fired as a red cloth was pulled off to unveil the monument, which is ringed by a black metal fence and is flanked by two other monuments, NBC station WVTM of Birmingham reported.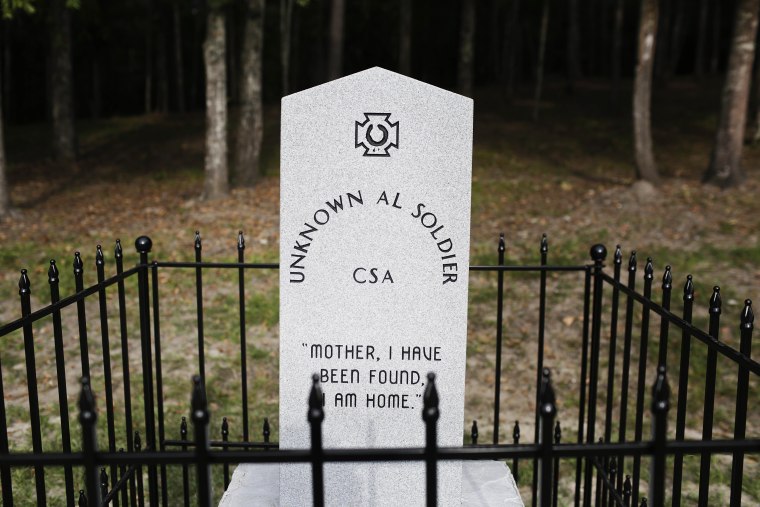 The Daughters of the Confederacy and the Sons of Confederate Veterans attended the ceremony, along with Civil War re-enactors dressed in period clothing.
David Coggins, the site's owner and developer, said he "had some concerns" about the timing of the unveiling, just 15 days after a woman was killed and 19 other people were injured when a car plowed into a group of counter-protesters at an alt-right and white nationalist rally in Charlottesville.
The Charlottesville rally was called to protest the removal of statues honoring Confederate generals Robert E. Lee and Stonewall Jackson.
"There are people who are opposed to what we do," Coggins told NBC affiliate WSFA of Montgomery. But he said the timing was a coincidence and that "our intentions are good."
"This was planned several months ago," Coggins said. "Matter of fact, the monument was ordered last year, and it's taken this long to get it in the ground and ready to unveil."
It's a contention that Benard Simelton, president of the Alabama Conference of the NAACP, wasn't buying.
"If they had to unveil it, why would they unveil it on the heels of such a tragic event that happened in Charlottesville, Virginia?" Simelton asked, WSFA reported.
In a separate statement, Simelton said: "The historical meaning, intent and outright disrespect noted in these Confederate symbols and monuments re-ignite the negative history and memories associated with them."
But Coggins insisted that the monument had nothing to do with race.
"There's nothing racist about us," he told WSFA. "We're not white supremacists.
"As a matter of fact, we have members in our organization who are black," he said. "We have Hispanic members. We have Native American members. We have members from all over and all nationalities, and they shouldn't be concerned about any sign of offense here from us, because we honor all of those veterans.
"We're color-blind as far as that goes," said Coggins, who said he plans to add more monuments.
In recent weeks, statues and monuments memorializing the Confederacy have come down across the country, from Los Angeles to New York. Even in Alabama, Birmingham Mayor William Bell this month ordered a large wood wall erected to conceal a century-old Confederate monument this month in Linn Park.