Massive wildfires continued to scorch Southern California on Sunday fueled by whipping Santa Ana winds as thousands of firefighters braced for more extreme weather in the week ahead.
Five fires covering more than a quarter of a million acres raged across California on Sunday, with 9,000 firefighters combating the flames, according to the California Department of Forestry and Fire Protection, or Cal Fire.
More than 800 homes and structures have been destroyed and 98,000 people have been forced to evacuate, according to Cal Fire. The ongoing blazes are threatening 25,000 homes.
By far the largest blaze, the Thomas Fire in Santa Barbara and Ventura counties, spanned 230,000 acres and was only 10 percent contained, authorities said Sunday night.
The Santa Barbara County Sheriff's Office issued evacuation orders on Sunday for the area spanning Buena Vista Drive to Toro Canyon Road from SR-192 north to Camino Cielo. Evacuation warnings for parts of Montecito, Carpinteria and Summerland were also expanded on Sunday.
One death has been blamed on the Thomas Fire, which broke out on Monday. The body of Virginia Pesola, 70, was discovered at a car crash site along a fire evacuation route in Ventura County on Wednesday night, according to the county medical examiner's office.
"Moderate Santa Ana winds pushed the fire last night and will continue through early this afternoon causing the fire to burned actively with significant growth in the Carpinteria area," the fire agency said on its website. "The fire continues to burn actively to the north, east, and west."
On Sunday afternoon, mandatory evacuations were lifted in the unincorporated areas east and north of Santa Paula's city limits.
The fierce Santa Ana winds were forecast to continue bringing a high fire danger throughout Southern California on Sunday, according to Weather Channel meteorologist Chris Dolce. The winds were expected to subside within the week ahead, but there was still no forecast of the rain in the immediate foreseeable future.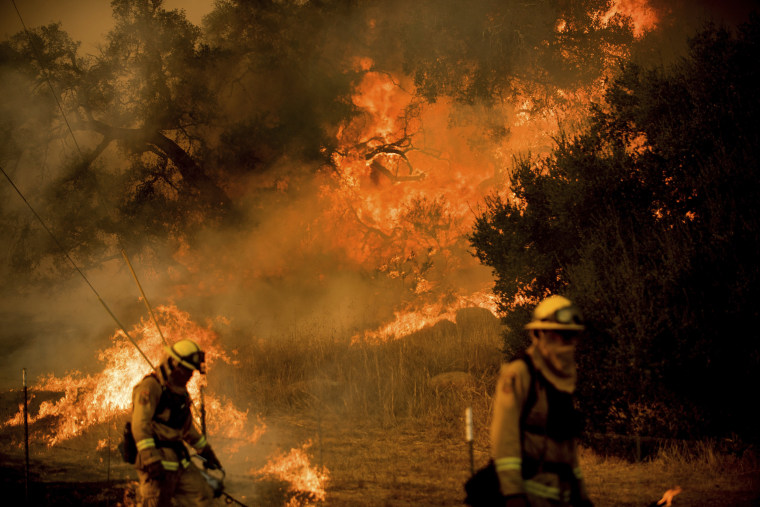 Meanwhile, firefighters were still dealing with the Lilac Fire in San Diego County, which has burned 4,100 acres and was 75 percent contained on Sunday night, according to Cal Fire. The agency said it expected to have the fire fully contained by Dec. 21.
The Creek Fire in Los Angeles County has burned 15,619 acres and was 95 percent contained Sunday night, while the Rye Fire in Los Angeles County burned 6,049 acres and was 93 percent contained, according to the fire authority.
Fire officials warned that the threat of the blazes was becoming a year-round challenge.
"It's December, and it's amazing to be able to say we aren't out of fire season," Cal Fire Director Ken Pimlott told reporters Saturday. "And this is the challenge that we face in California and certainly here in Southern California, that it is a year-round challenge that we are all in."
California Gov. Jerry Brown added that the state faces a "new normal" when it comes to wildfires that is exacerbated by climate change.
"We're facing a new reality in this state, where fires threaten people's lives, their property, their neighborhoods, and of course billions and billions of dollars," Brown said at a news conference. He called California a "very wonderful place, but a place that's getting hotter."
"We're about ready to have firefighting at Christmas," Brown said. "This is very odd and unusual."
Parts of Northern California were devastated by wildfires in October, which killed more than 40 people and destroyed around 8,900 homes and other structures.