Marine biologists had a whale of a problem on their hands Monday after a two-ton dead whale that washed ashore in New Hampshire proved to be too big for the industrial-size dumpster they tried to haul it away in, local media reported.
The whale, a 16-foot-long juvenile minke weighing about 4,000 pounds, was discovered at about dawn by a surprised visitor to Jenness State Beach in Rye, Police Chief Kevin Walsh told the Foster's Daily Democrat newspaper of Dover. Walsh said the whale was believed to have washed up overnight.
Marine biologists had hoped to whisk the whale away for a necropsy, so a bright red dumpster and a front end loader were called in early Monday afternoon.
The loader picked up the whale just fine, but when its driver tried to deposit the beast in the dumpster, it wouldn't fit, the Union Leader newspaper of Manchester reported. It "fell onto the pavement as the audience gasped," the newspaper reported.
Ashley Stokes, manager of the Marine Mammal Rescue Team at Seacoast Science Center in Rye, told the Union Leader that a bigger dumpster was brought in. "Logistics take a little bit of time to figure out how to move a two-ton animal," she said.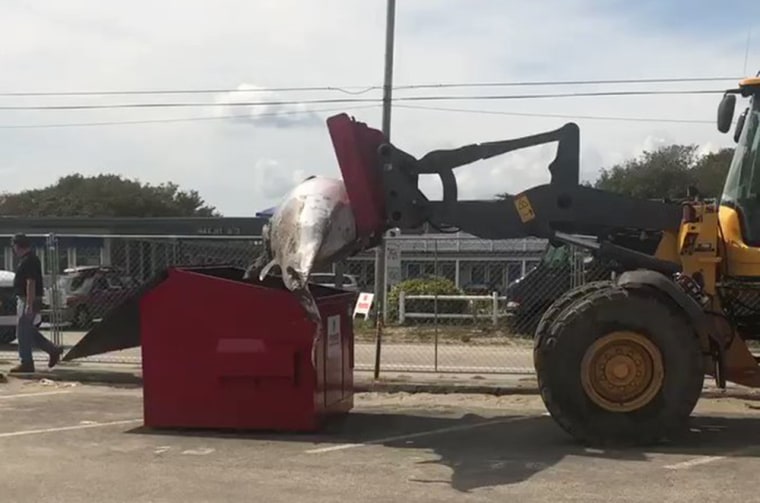 Jenn Kennedy, executive director of the Blue Ocean Society for Marine Conservation, which monitors and works to protect marine life in the Gulf of Maine, told the Daily Democrat that it's unusual for a whale to wash ashore — only two did all of last year.
She told the newspaper that said the whale found Monday was tangled in fishing gear but that it was unclear whether the it encountered the gear before or after it died and that no cause of death had been determined.