The former chief of a small New Jersey town's police department was charged this week with a hate crime for allegedly making racist remarks about black people and assaulting one young suspect whom he referred to with a slur.
Frank Nucera Jr.'s "racial animus" was captured on tape by an officer who'd been secretly recording him over the course of several months while on the job in Bordentown Township, a predominantly white community of less than 12,000 people near Trenton, according to a criminal complaint unsealed Wednesday in federal court. During that time, Nucera made derogatory remarks about other black suspects, and black people in general, according to transcripts of recordings submitted by an FBI agent.
The litany of Nucera's alleged abuses listed in the complaint include frequent use of racist slurs in reference to African Americans and the use of police dogs to intimidate black fans at a local high school basketball game and in an apartment complex where black people were present.
At one point, talking about a black suspect believed to have slashed the tires of a police car, Nucera allegedly told the officer who was secretly recording him that "n-----s are like ISIS, they have no value."
Nucera, who served as police chief and township administrator for Bordentown ─ which is 76 percent white, and 9 percent black — retired in February, after the federal investigation began. He made $151,418 at the time, and is now receiving $8,832 a month in retirement benefits, according to state pension records.
His lawyer did not immediately respond Thursday to an email or phone message seeking comment.
Bordentown's local elected leaders released a statement saying they were "deeply disturbed and saddened" by the case. They promised to cooperate with authorities and asserted that the allegations "do not represent us as a community."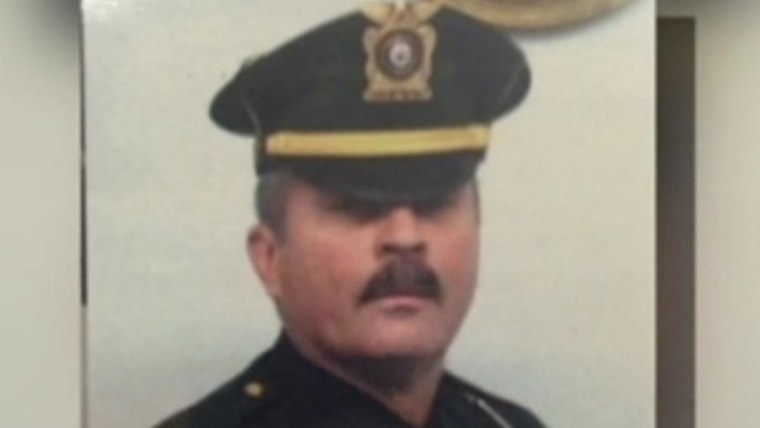 Mayor Steve Benowitz added a statement of his own, saying that the charges "are limited to one person and are not indicative" of the police force or township "as a whole."
The crux of the federal case focuses on the night of Sept. 1, 2016, when two Bordentown officers were called to a hotel on a complaint that a teen-aged couple ─ a boy, 18, and a girl, 16, both black ─ hadn't paid for their room. During questioning, the boy tussled with the officers, who pepper sprayed him and called for backup. Several other officers arrived, including Nucera and the unidentified officer who'd been secretly recording him, according to the complaint.
As officers arrested the boy and led him from the hotel to a patrol car, he stopped walking. Nucera then allegedly grabbed the suspect's head and slammed it into a metal doorjamb. When the boy complained, Nucera hit him in the head with his arm, according to the complaint.
The whistleblowing officer recorded what happened later at the police station, as the boy asked to be taken to a hospital ─ a request he later retracted ─ and later, when Nucera went an apparent tirade. Speaking about the couple and the girl's aunt, who'd shown up at the scene of the arrest, Nucera frequently used racial slurs and profanity.
Related: College Student Expelled for Harassing Black Roommate
He was arrested Wednesday on charges of committing a hate crime and violating the 18-year-old suspect's civil rights by using excessive force. The charges carry a maximum of 10 years in prison.
Nucera was released on unsecured $500,000 bond and ordered to give up all of his guns and avoid contact with any potential victims or witnesses in the case ─ except his son, who is an officer on the force.
"The nobility of police officers is rooted in their selfless commitment to protect our communities and their pledge to honor our constitutional values," William Fitzpatrick, the acting U.S. Attorney in New Jersey, said in a statement. "As chief of the Bordentown Township Police Department, the defendant dishonored the profession by doing neither."