A new lawsuit alleges that Michigan State University officials were made aware of a videotaped rape of an underage girl by Dr. Larry Nassar but covered it up, told a coach who reported it to resign, and stripped the victim of a scholarship.
The federal suit, filed in Michigan Monday on behalf of Erika Davis of California and other plaintiffs whose names were not revealed, says Davis was given a pill by Nassar during an exam in the spring of 1992, when she was 17, and raped as a video camera captured the attack.
Davis, a scholarship field hockey player at MSU who was referred to Nassar by her coach, told her coach what happened, and the coach in turn went to Nassar's office, demanded the video, and received it, according to the suit.
But when she complained about the doctor to then-athletic director George Perles, "she was forced to return the video, resign and sign a non-disclosure agreement," the suit claims.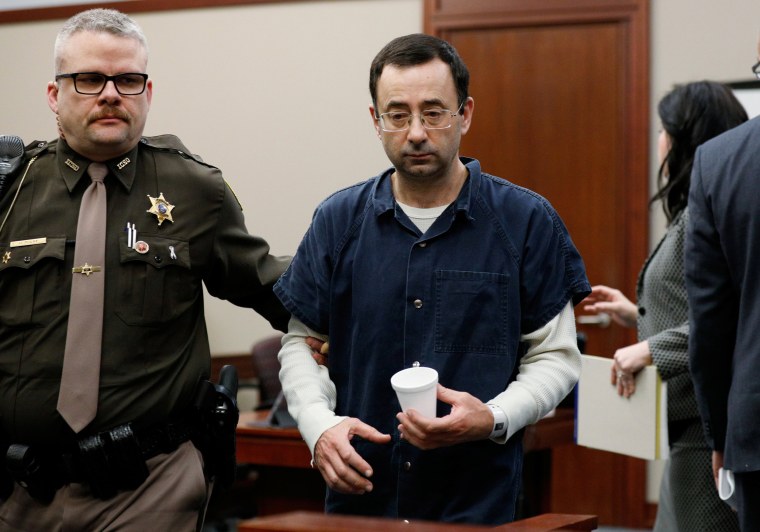 The filing says the coach retained a copy of the video. Perles is now a trustee of MSU but he was not named as an individual defendant.
Perles did not return requests for comment to NBC News and has not spoken publicly or to any media about the Nassar case since January when he and other MSU trustees apologized to victims.
"We're awful sorry for the trouble we've caused those poor women. And we will make sure to do everything in our power to make sure it doesn't happen again," Perles said at the time, according to NBC affiliate WOOD.
On Tuesday, the university apologized in general for Nassar's behavior over the years but said they were still investigating the specific allegations in the new lawsuit.
"We are deeply sorry for the abuses Larry Nassar has committed, and for the trauma experienced by all sexual assault survivors," the university said in a statement issued Tuesday. "Sexual abuse, assault and relationship violence are not tolerated in our campus community. While the protocols and procedures mentioned in this lawsuit do not reflect how sexual assault claims are handled at MSU, we are taking the allegations very seriously and looking into the situation."
Defendants in the case include the school, its board of trustees, Nassar, USA Gymnastics, former MSU gymnastics coach Kathie Klages, and other individuals and organizations for allegations that include helping to cover up Davis' claim, failing to prevent Nassar's attacks when they had the chance, and misrepresenting Nassar's professional suitability to treat young women.
NBC News reached out to multiple attorneys representing MSU, USA Gymnastics and other defendants but they did not immediately respond.
Nassar was the team doctor for USA Gymnastics, a onetime U.S. Olympics gymnastics team physician, and an MSU sports medicine doctor. More than 156 women have accused him of sexual impropriety, molestation and assault committed mostly under the guise of his medical authority, and in January he was sentenced to 40 to 175 years behind bars.
Davis was examined twice, with the first examination, videotaped by a third party, ending after Nassar fondled and licked her breasts, the filing alleges.
"During this time, the cameraman was filming Defendant Nassar's sexual abuse of Plaintiff Erika," the suit states.
Nassar asked the victim to return for a "full exam" about a week later, and that's when the rape, with the aid of an unknown drug, took place, the lawsuit claims.
"Eventually, she could not keep her eyelids open and got very woozy," it states.
Davis was a virgin, the suit says, so when she realized she was pregnant she had no doubt who had impregnated her. She eventually miscarried, the document states.
After the miscarriage she went to university police, who advised her that this was a matter for MSU's athletics department.
"Plaintiff Erika explained that the athletic department already dismissed it and the Sergeant responded that [former athletic director] George Perles is a 'powerful man,' and she should just drop it."
"Thereafter," the suit claims, "Plaintiff Erika's Field Hockey NCAA scholarship was taken away from her."
With great detail the lawsuit claims that school officials and some of the other defendants were informed of allegations against Nassar in the 1990s and beyond — including accusations by other women — and did nothing.
"Because MSU took no action to investigate the 1997 or 1998, 1999, 2000, and 2001 or 2002, and 2004 complaints and took no corrective action, from at least 1997 to 2016, under the guise of treatment, the other Plaintiffs, many of whom were minors, were also sexually assaulted, abused, and molested by Defendant Nassar," the suit claims.
The filing seeks unspecified damages greater than $75,000 for each plaintiff for allegations including sex discrimination in an educational setting, civil rights violations, negligence, assault and battery on the part of Nassar and, against USA Gymnastics, "fraud and misrepresentation that Nassar was a competent and safe physician."