Ohio State University was hit Wednesday with another lawsuit alleging that school officials and coaches failed to protect students and athletes from Richard Strauss, the deceased team doctor now accused of sexually assaulting hundreds of athletes and students.
"Dr. Richard Strauss is dead. He can't pay for his crimes," the lawsuit states. "Only his enabler is left."
With this latest lawsuit, filed in Columbus, Ohio, by Pennsylvania-based attorney Joseph Sauder and five other law firms from around the country, the number of men who are suing Ohio State has climbed to around 350.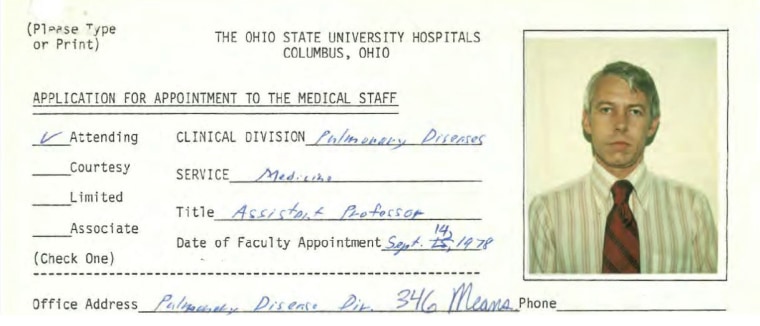 "The numbers don't lie," the suit states. "These men were repeatedly sexually abused by Strauss at different times, in different manners."
But in the complaint, the accounts from plaintiff Dr. Mark Chrystal and 48 "John Does" all appear to follow a similar pattern that an independent investigation noted earlier — Strauss used the excuse of giving physicals or medical treatment to sexually abuse hundreds of young men between 1978 and 1998. He died in 2005.
Chrystal attended Ohio State on a soccer scholarship from 1992 to 1997, the complaint states.
"The day before his exam some of the older members of the soccer team 'joked' about the physicals with Dr. Strauss, stating that he was a 'pervert' and he was 'only interested in inspecting genitals,'" Chrystal recounted in the lawsuit.
The next day, Chrystal said, he was subjected to an "invasive physical exam" during which he was subjected to "degrading and inappropriate comments."
When asked for comment, Ohio State spokesman Ben Johnson referred NBC News to a previous statement from the school saying, "The university is actively participating in good faith in the mediation process directly by the federal court."
And outgoing Ohio State President Michael V. Drake has apologized to the victims and Ohio State has stated repeatedly that it has led the effort to "expose the misdeeds of Richard Strauss and the systemic failures to respond."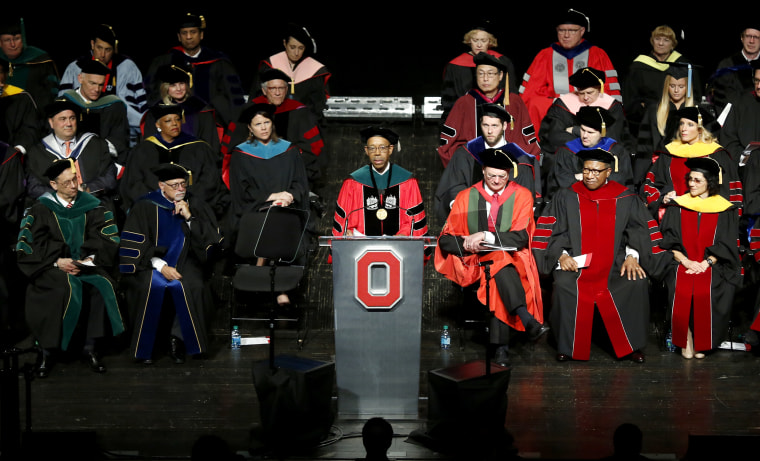 The John Does in the lawsuit are former Ohio State athletes from a number of different sports, including at least five former wrestlers who competed for the school when Russ Hellickson was head coach.
Hellickson is named in the lawsuit as one of the coaches who was allegedly aware that Strauss was preying on students.
"When you're doing weigh-ins, you're too hands on, Doc," Hellickson told Strauss after wrestlers complained, the suit states.
Hellickson declined to comment to NBC News.
Rep. Jim Jordan, R-Ohio, who was an assistant wrestling coach at the school at the time and has been accused of turning a blind eye to the abuse, was not mentioned in the latest lawsuit. He has denied any knowledge of what Strauss was doing.
A report prepared for Ohio State by the independent law firm Perkins Coie that was released in May said that what Strauss was doing was an "open secret" and that coaches and administrators at the school failed to sound the alarm or stop him. Also, a former wrestler named Dunyasha Yetts told NBC News he reported to coaches directly that Strauss acted inappropriately and a referree claimed in a lawsuit he informed the coaching staff of misbehavior by Strauss.