Whistleblowing former Ohio State University wrestler Mike DiSabato alleged in a lawsuit that a cousin of Rep. Jim Jordan retaliated against him after he went public with claims that team doctor Richard Strauss sexually abused him and dozens of other athletes — and that the congressman, who was then an assistant wrestling coach, did nothing to stop him.
DiSabato's allegations against Jordan's cousin, Matthew Finkes, are included in a Title IX lawsuit, reviewed by NBC News, filed Wednesday against the university by attorneys Michael Wright and Dennis Mulvihill on behalf of DiSabato and 36 unnamed former OSU wrestlers, football players and other athletes.
In the court papers, DiSabato said Finkes, who works for the university, posted his social security number on social media and called him a "rat" on a local radio show. He claimed the university was aware of this but did not punish him. Finkes is not named as a defendant in the lawsuit but allegations involving him are laid out in one cause of action in the complaint.
That, the suits states, "constitutes actionable retaliation under Title IX."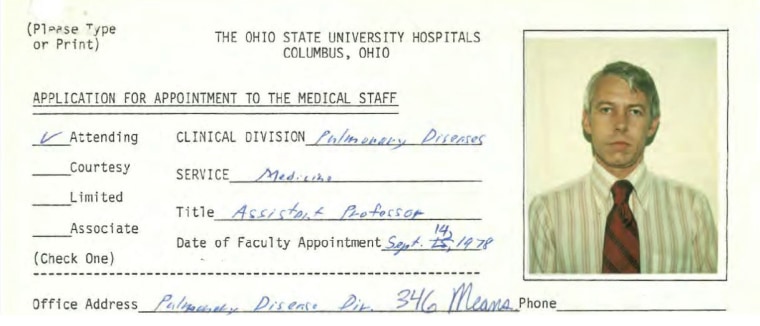 The new lawsuit comes in the wake of a blockbuster report compiled by an independent law firm that found that university coaches and athletics administrators knew for two decades that Strauss had molested 177 male athletes and students but failed to sound the alarm.
"OSU had actual notice of and was deliberately indifferent to the fact that Richard Strauss, M.D., an OSU employee, tenured faculty member, and the associate director of OSU's sports medicine program, sexually assaulted and abused hundreds of male OSU student-athletes and other male OSU undergraduates for over 19 years," the suit states. "Moreover, OSU officials aided, abetted and actively concealed Strauss' sexual predation on OSU's students."
The lawsuit states that athletes had several nicknames for Strauss, including "Dr. Drop Your Drawers," "Mr. Long Fingers" and "Mr. Touchy Feely."
Strauss worked at OSU from 1979 to 1997. He killed himself in 2005. While the university said it does not comment on pending litigation, a spokesperson did say "Ohio State has established multiple programs to address sexual misconduct and abuse in the 20 years since Strauss left the university."
It was DiSabato's complaints about Strauss that prompted the university to launch an investigation in April 2018 into the decades-old allegations.
The Strauss scandal became a national story last July when DiSabato and several other former wrestlers accused Jordan, a powerful Republican congressman, and other staff members of ignoring what Strauss was doing. Jordan coached at OSU from 1986 to 1994.
The five accusers — four have spoken to NBC News and a fifth to The Wall Street Journal — all said they respect Jordan and several described him as a "friend." One of them, Shawn Dailey, who said he donated to Jordan's first political campaign for state representative in 1994, said he participated in conversations with Jordan where the abuse was discussed, directly contradicting Jordan's claims. None of the wrestlers reached out to NBC News to share their story; they chose to speak only after being contacted by a reporter.
"I have no comment," DiSabato said, when NBC News reached out to him about the new lawsuit.
Neither Finkes nor Jordan responded to NBC News requests for comment.
However, Jordan has said repeatedly that he was not aware of what Strauss was doing and had not even heard any locker room talk about the abuse.
Finkes has stood by Jordan, telling The Wall Street Journal last year that he'd trust his second cousin with his life and that Jordan had recruited him to wrestle at OSU. Finkes wound up playing football instead.
"I would trust him with my life and with my kids' lives and the idea that he would ever put me in a situation where I would be threatened by a sexual predator is so outside the realm of possibility that it's laughable," Finkes told the paper.
Two days after the NBC News broke the story in July 2018 that said Jordan was accused by former wrestlers he coached at OSU for failing to stop Strauss, Finkes filed a report with the Columbus Police Department alleging telephone harassment by DiSabato, police records show. DiSabato was charged with nine misdemeanor counts of telecommunications harassment and was released on bond, according to court records.
Finkes, who works as a fundraiser for the Wexner Medical Center at OSU and co-hosts a local sports radio show, stated in the police report that he told DiSabato by email on July 3 "to cease all communication."
In January, DiSabato was jailed after he missed a court date related to the harassment case. Later the same month, he pleaded no contest in Franklin County Municipal Court to one misdemeanor count of telecommunications harassment and was given two years probation, ordered to pay a $250 fine, plus court costs, and to have no contact with Finkes, according to court records.
Jordan is not named in the new lawsuit, but his mentor is — retired Ohio State head wrestling coach Russ Hellickson. The suit states that Hellickson complained repeatedly about athletes being ogled by strangers at Larkins Hall, where the wrestling team worked out.
Hellickson, in a video produced by DiSabato, spoke about how he confronted Strauss directly about being too "hands on" with the wrestlers and of his habit of showering with the team.
The heavily edited 11-minute video also features wrenching descriptions of the alleged misconduct by Strauss from two former wrestlers whom Jordan coached more than two decades ago and a former student who worked with Strauss at a clinic and who says he, too, was molested by the doctor.
After Jordan and others were accused by former wrestlers of doing nothing to stop Strauss, Hellickson reached out to two ex-team members and asked them to recant, according to the wrestlers and text messages they shared with NBC News in August 2018.
After Perkins Coie, the law firm that was picked to conduct the Strauss investigation for OSU, released its report last week, Jordan said he had been exonerated.
Jordan is not named in the 180-plus page report, but the Perkins Coie investigators stated in the opening pages that "students openly discussed Strauss' examination methods or complained about his loitering presence in the shower and locker room, including in front of coaches and other Athletics Department staff."
"Many of the students felt that Strauss' behavior was an 'open secret,' as it appeared to them that their coaches, trainers and other team physicians were fully aware of Strauss' activities, and yet few seemed inclined to do anything to stop it," the report states.