Jimmy and Betty Anderson were supposed to deliver the news last weekend. Instead, the married couple from New Mexico became the story after they were stuck in a 12-foot snowdrift for a staggering 20 hours.
The opportunity to finally be freed would be a daunting and dangerous waiting game.
On Saturday night, the Andersons were unperturbed by forecasts for snow around Clovis, an agricultural community near the Texas border.
"It was kind of a little bit snowy. We didn't think it was going to hit until later in the morning," Betty, 55, later told NBC News.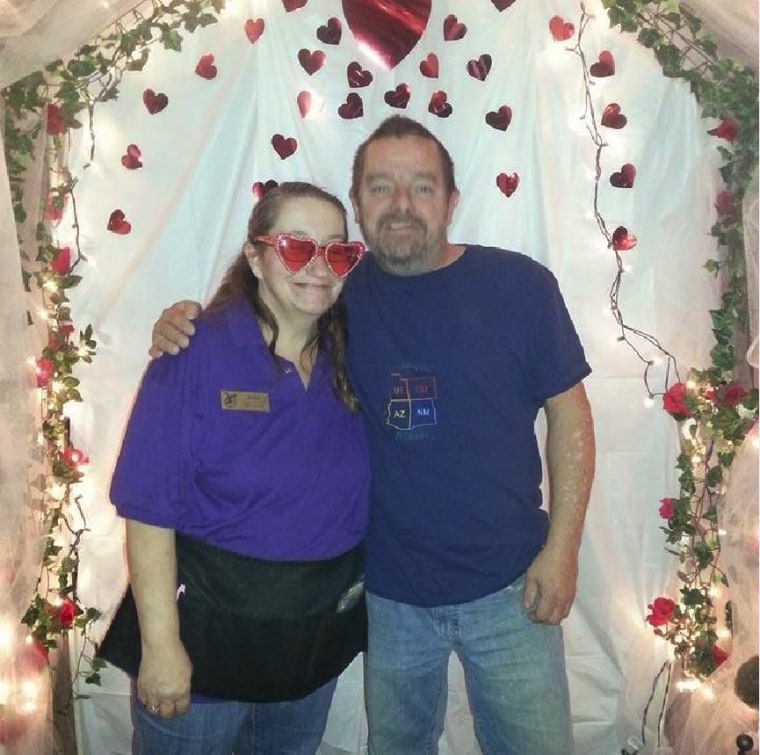 Jimmy, 54, said forecasts for the region are often reliable. So they set out around 8 p.m. local time to deliver their usual stack of about 115 copies of the Clovis News Journal's Sunday edition. The route, over a 50-mile area, normally takes about three hours to complete.
"We have a country route and a town route," Betty said. "We started on the country route and we delivered five papers before we decided it was getting bad and we should turn around and try the next day."
"It kind of dumped on us in the middle of the road," Jimmy said of the wild winter system. "Between the wind and the snow, you couldn't see a thing."
By around 8:30 p.m., the couple was stuck in the blinding snow after their Ford Fusion drifted into a ditch along Curry Road 6, a two-lane road about four miles from Clovis.
Related: Deadly Storm Threatens Northeast, Central U.S. With Snow, Floods
The Andersons weren't too worried at first. Jimmy explained that they called 911 and were told that they would be rescued in a few hours as there were other cars stranded in the snowstorm.
But conditions were treacherous. Authorities dispatched an all-terrain military vehicle to rescue the Andersons.
"They wound up getting 3/4-mile away, but the drive shaft went out on them," Jimmy said of the emergency aid. "They also sent firemen to help us, and one fireman almost got lost because he couldn't see in the snow."
Shortly after midnight, the engine of the Ford cut out on the Andersons, taking their only source of heat. "I was confident we would be OK," Jimmy said. "I was trying to keep my wife calm and not scare her."
He also stayed in touch by phone with Lt. Roger Dial of the Clovis Police Department.
Betty wasn't as certain: "I was worried. I didn't know if we could make it."
By Sunday afternoon, it was very cold. Temperatures dipped to 18 degrees in Clovis.
"To stay warm, I climbed into the passenger seat with Betty and we had a small thin blanket and tried to keep warm," Jimmy recalled.
It was the worst storm to hit the area in the past 20 years, said Bill Kshir, the assistant director of the Clovis Public Works Department.
After other attempts to reach the Andersons failed, Kshir decided to take matters into his own hands to help them: He drove his truck behind a Public Works bulldozer and a road grader, setting out around midnight.
"The road grader and my truck got stuck a few times," he later told NBC News.
"We made it up to where they were buried," Kshir said. "I was talking to Jimmy on the phone and Jimmy was telling me, 'I can hear you guys.' He guided us in by sound. But we ran the risk of running over the car."
That's because the couple's car was under about 4 to 5 feet of snow.
At one point, Kshir recalled, "Jimmy said, 'You guys are right there. You smashed out my back window and you're crushing the roof in.' That's when we knew we were there. I told our guys to stop."
However, they Public Works crew couldn't simply dig out the Andersons.
"We didn't have shovels except for the bulldozer — it was blinding snow," Kshir said. "The bulldozer would have run over it like a kitten with your car."
Kshir tried to mark the spot but his marker was soon covered over by the whipping whiteout. So he returned to his stalled truck about 100 yards away, while the bulldozer — which had become overheated — returned to Clovis.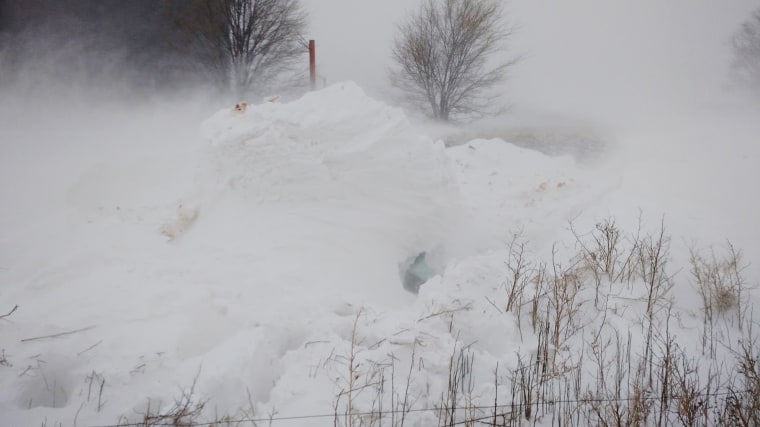 It would be an additional 6 to 7 hours before another rescue was attempted, this time helped by Ty Gonser from Ray Lee Equipment, who had been driving his massive John Deere tractor to help other trapped motorists around Clovis.
Gonser, with Kshir alongside him in the cabin, attempted another rescue on Sunday afternoon, driving in a nearby field to avoid crushing the Andersons' vehicle.
Kshir said they noticed a "strange snow formation" at one point and walked over to see a "blueish discoloration" in the snow. It was the car's windshield. They cleared off enough of the drifting snow to gouge a hole in the windshield and pull out the shivering couple.
"We heard footsteps on top of the car, and I started pounding on the windshield," Jimmy said of the miraculous moment he and his wife were rescued. "They had found us."
It was 4 p.m. that Sunday — the Andersons had been trapped for 20 hours.
After the rescue, Jimmy and Betty were treated at the local hospital. On Tuesday, they were staying with their daughter as their home remained without running water because of frozen pipes.
Jimmy said they will resume their paper route as soon as they get their hands on a vehicle. Their Ford remains stranded on Curry Road 6.