A special prosecutor filed second-degree murder charges Monday against two police officers accused of killing a mentally ill homeless man in Albuquerque last year.
The shooting death of James Boyd, 36, was captured by a police helmet camera and triggered large protests in a city where officers had killed more than two-dozen people in four years, and where a U.S. Justice Department investigation concluded last year that the Albuquerque Police Department engaged "in a pattern or practice of excessive force."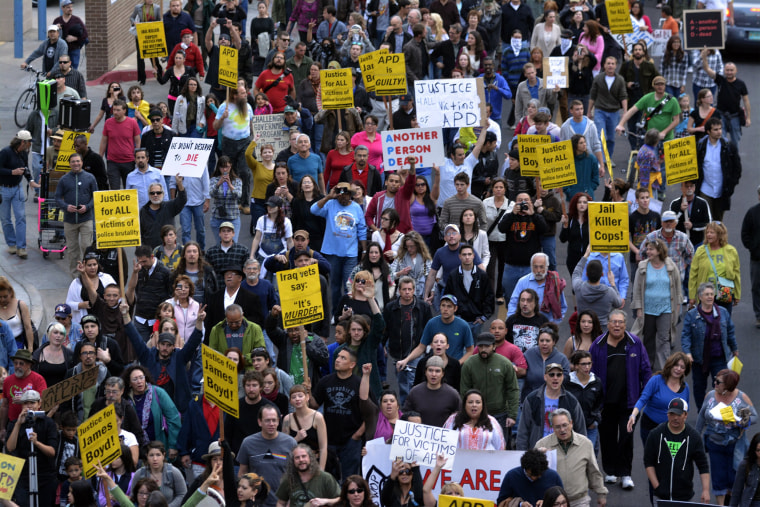 The two officers accused of murdering Boyd, Dominique Perez and Keith Sandy, shot the man to death on March 16, 2014, after a several hour standoff when he refused to leave his campsite.
Bernalillo County District Attorney Kari Brandenburg, who filed first-degree murder charges against the men earlier this year, withdrew from the case after her office was disqualified over an appearance of a conflict of interest, NBC affiliate KOB reported.
Brandenburg appointed a special prosecutor, Randi McGinn, who filed the second-degree murder charges. Perez and Sandy are also accused of voluntary manslaughter and involuntary manslaughter, as well as aggravated assault and aggravated battery, respectively, according to documents filed in Bernalillo County District Court.
A lawyer for Perez, Luis Robles, told NBC News that the officer was "relieved" that the first-degree murder charges were dropped. In court, Robles added, Perez will show that "he did what he was supposed to do and acted in conformity" with the law.