A recent death isn't deterring intrepid treasure hunters in New Mexico from searching for a chest supposedly stuffed with unimaginable riches.
While state police told NBC News they are urging people to give up on any quest for the king's ransom because of the dangers involved, some thrill seekers say they'll continue to look for the haul hidden by antiquities dealer and author Forrest Fenn.
"So ever since the chase started in 2010, (Fenn) has always emphasized that he was 80 years old when he hid the chest. It's not in a dangerous place — it's a place you can take your kids," said unrelenting adventurer Cynthia Meachum, 63. "You don't need to rappel, you don't need to climb up a cliff face. It's just not a dangerous place."
Fenn, 86, claims in his 2010 self-published memoir "The Thrill of the Chase" that he stashed a trunk filled with gold coins and nuggets, ancient artifacts and precious gems in a secret location somewhere amid the Rocky Mountains. In the book, Fenn includes a poem that he said has clues to help people discover the loot.
He came up with the idea for the hunt when he was diagnosed with kidney cancer, according to The New York Times.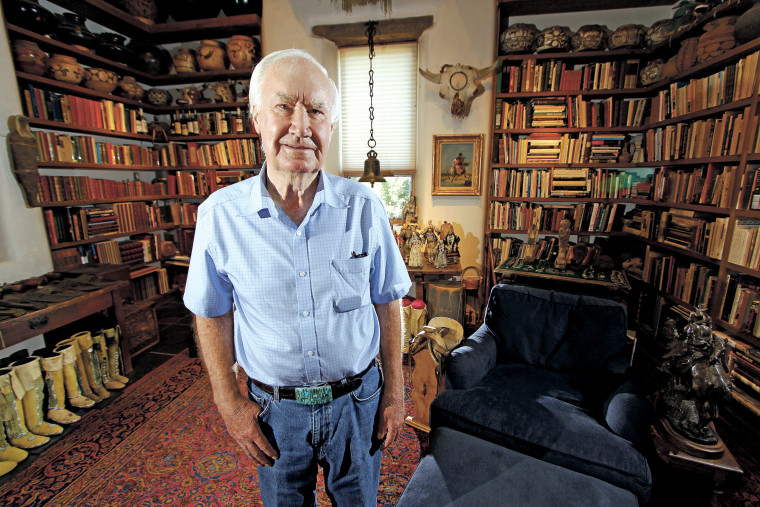 Fenn estimates that more than 65,000 people, including treasure hunt enthusiasts and tourists, have traveled to the region where they believe the wealth is buried — spanning Montana, Wyoming, Colorado and New Mexico, The Times said.
Fenn told the newspaper last year that the treasure is likely worth $2 million. He reportedly became a millionaire from selling art and collecting it from famous people.
Related: Body Found After Pastor Searching for Famed 'Fenn Treasure' Goes Missing
Interest in the excursion only grew in 2013 when Fenn was interviewed on TODAY, but no one has successfully found the 10-by-10-by-6-inch Romanesque chest — and two people have reportedly lost their lives during journeys for it.
The body of Paris Wallace, a pastor from Colorado, was found last week by investigators along the Rio Grande just west of Santa Fe, according to The Albuquerque Journal. He was reported missing after he told his family that he was going to try to find the treasure.
His death follows that of Randy Bilyeu, who more than a year ago disappeared after venturing into the Rocky Mountains. The remains of his body were also found in the Rio Grande seven months after he vanished, The Times said.
New Mexico State Police Chief Pete Kassetas has since asked Fenn to discourage people from searching for the chest.
"People start to make decisions that aren't based in good sound judgment when it comes to money," Kassetas said.
Bilyeu's ex-wife, Linda Bilyeu, echoed Kassetas' concerns, telling NBC News that the hunt is "ludicrous, out of control, dangerous and it should be stopped."
But Meachum disagrees, and said Fenn's treasure has actually encouraged people to visit New Mexico — spurring a sort boon for tourism.
"In 2015, Santa Fe Mayor (Javier) Gonzales presented Forrest with a proclamation to the city because of all the tourism he was bringing into Santa Fe and northern New Mexico," she said.
When Bilyeu went missing, Fenn orchestrated a personal search for the hiker. He has yet to say publicly whether he would call off the treasure hunt after the recent death of Wallace.
Fenn suggested in an email this week to The Times that he'd like for people to keep searching.
"If someone drowns in the swimming pool we shouldn't drain the pool," he wrote, "we should teach people to swim."