Authorities removed a statue of Confederate President Jefferson Davis in New Orleans early Thursday, as protesters both for and against the monument carried out tense protests nearby.
Following demonstrations and lengthy legal wrangles, the statue is one of four monuments relating to the Confederacy that's in the process of being removed by the Louisiana city.
Demonstrators carrying Confederate flags and chanting "President Davis" argued with protesters shouting "take 'em down" — referring to the monuments they see as totems of racism and white supremacy.
Police were forced to separate the two groups and there were reports of altercations. Some public transport was disrupted.
Some of the pro-monument demonstrators chanted "Mitch for prison" — a reference to New Orleans Mayor Mitch Landrieu who is backing the monuments' removal.
Due to the risk of repercussions, crews wearing masks and protective helmets arrived in the dead of night with no warning or announcement, and the company name on their truck had been blacked out. The monument was protected in bubble wrap, attached to a crane and lifted off its plinth.
A large cheer erupted when the statue was finally lifted into the air. The term "Jefferson Davis" was also the top-trending term across the U.S. on Thursday morning.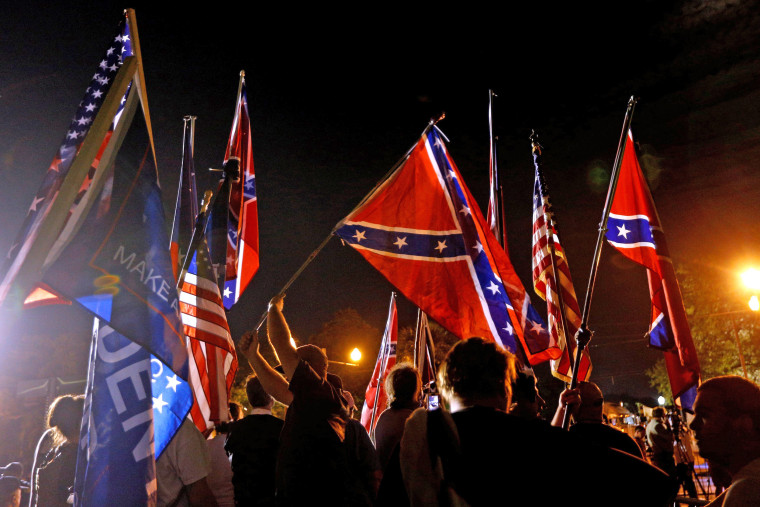 The statue is the second of four monuments that the city is removing because its says they fail to "appropriately reflect the values of diversity and inclusion that make New Orleans strong today."
Campaign group Take Em Down NOLA calls the statues "monuments to slavery."
The first of these, the Liberty Monument erected in 1891, was pulled down last month. It honored the Crescent City White League, which battled the racially integrated local government after the Civil War.
It was also removed in the dead of night by crews wearing masks and body armor, The Associated Press reported.
State and federal court battles have delayed the four monuments' removal for more than a year, with the last appeal rejected just last week, the AP added.
That case was in reference to a bronze statue of Confederate Gen. P.G.T Beauregard, who is depicted on horseback at the entrance to New Orleans City Park.
The fourth statue slated for removal is of Gen. Robert E. Lee, commander of the Confederate Army.
The city said it wants to relocate them to a museum or another suitable facility.
"The removal of these statues sends a clear and unequivocal message to the people of New Orleans and the nation: New Orleans celebrates our diversity, inclusion and tolerance," Mayor Landrieu said in a statement last month.