GAITHERSBURG, Maryland — Police on Tuesday named a 57-year-old former carnival ride operator as a person of interest in the case of two young sisters who disappeared while going to an Easter exhibit at a shopping mall in 1975.
Police are looking for information on Lloyd Lee Welch, who has been imprisoned in Delaware since 1997 on pedophilic convictions. They described him at a press conference as a former drifter, carnival employee and landscaper in numerous states from the 1970s through the 1990s.
Montgomery County Police Chief Tom Manger said the department believes Welch was at Wheaton Plaza mall, near Bethesda, on March 25, 1975, when Katherine, 10, and Sheila Lyon, 12, disappeared.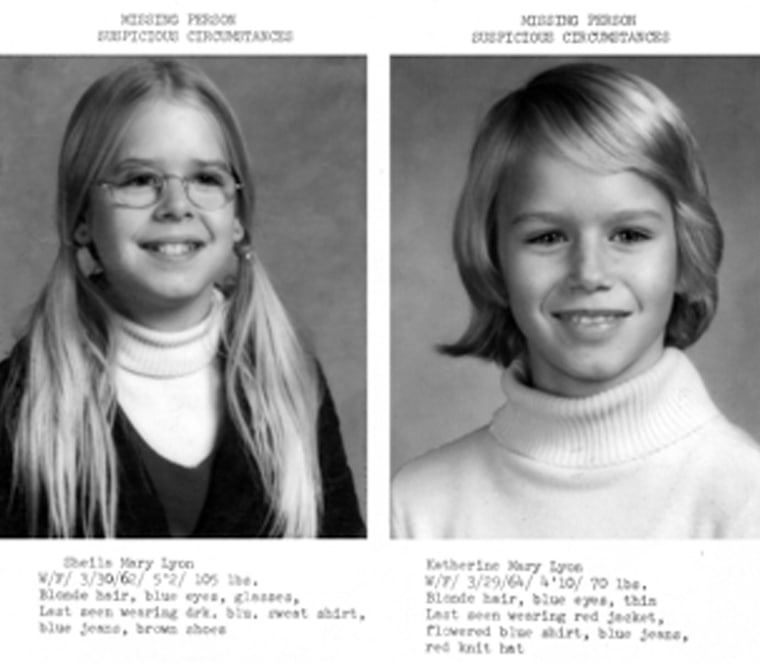 Manger said police became interested in his possible involvement recently, but declined to discuss why, or, whether they interviewed him.
Police said Welch, a Washington, D.C. area native, who used aliases "Michael" and "Mike," was "observed paying attention" to the sisters at the mall on that day. Whether Welch's carnival company, which often visited malls, set up there, is unclear.
Investigators are seeking information from anyone who may have had contact with Welch during his travels through Maryland, Florida, California, South Carolina, Virginia and Iowa or his girlfriend, Helen Craver, a late employee of the same carnival company, and security guards working on that day.
Police released a 1975 composite sketch of a long-haired mustachioed man, in his late teens or early 20's from a witness's description, of "a man that was following and may have had contact with the Lyon sisters," Manger said.
"The fact that so many people still care about this case means a great deal to us," said the Lyon family in a statement released by police. "We are grateful for any information the public can provide to help bring this story to its conclusion."
— Reuters