The U.S. drone strike that killed the Taliban's leader has also set up a potential leadership struggle between two of the terror group's up-and-comers — and may signal more attacks on Western targets.
When the Taliban issued a statement Wednesday confirming that its top man, Mullah Akhtar Mansour, was killed in a recent U.S. strike, it also announced a new leadership team.
The new Taliban number one was identified as Mawlawi Haibatullah Akhundzada, who had been a deputy to Mullah Mansour and is believed to be about 60 years old.
But perhaps more significant, according to a U.S. intelligence official, were the promotions of his two new deputies — Sirajuddin Haqqani and Mullah Muhammad Yaqoob.
Yaqoob is believed to be in his early to mid-twenties, but is the son of perhaps the Taliban's most important leader, Mullah Muhammad Omar, who disappeared several years ago. The Taliban confirmed Omar's death last summer.
The other new deputy has been identified as Sirajuddin Haqqani, another top Taliban figure who is well known to U.S. officials as a battlefield commander and terrorist linked to some high-profile attacks in the region.
The U.S. official told NBC News that intelligence agencies are now gathering more information about how the new team might change the already complicated dynamics in the region — including whether it will bring more violent attacks on Western interests.
The Taliban, which has its roots in northern Pakistan, controlled Afghanistan from 1996 until the U.S. invasion in 2001. It continues to operate in large chunks of Pakistan and Afghanistan, and to launch deadly attacks on both civilian and military targets.
The official said it is possible the Taliban is grooming Yaqoob to run the organization some day.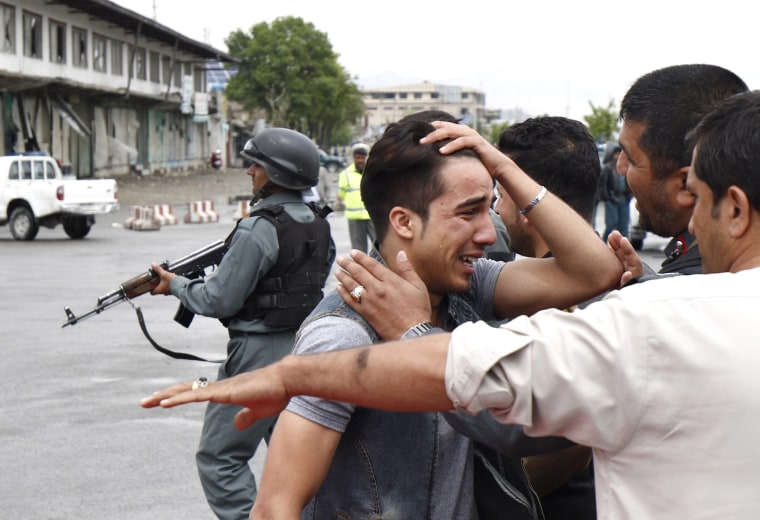 But Haqqani, believed to be in his late 30s, has already been in a leadership position of sorts. "I wouldn't be surprised if he takes an active role," the U.S. official said. "Even when Mansour was alive, Haqqani was active with all the Taliban groups, talking to the relative commanders in an effort to work together."
"This is a wait-and-see situation," the official said.
Haqqani is known for integrating his own militant faction, known as the Haqqani network, into the broader Taliban insurgency and political structure, and for using it to launch lethal anti-U.S. military and terrorist strikes.
The U.S. State Department has listed Haqqani as a "specially designated global terrorist" who was instrumental in introducing suicide bombing to Afghanistan and for maintaining close ties with al Qaeda. He is also suspected of coordinating and participating in cross-border attacks on U.S. and coalition forces in Afghanistan from Pakistan.
The U.S. official told NBC News that authorities are keenly interested in seeing if the new Taliban team, especially with Haqqani in a more visible position, signals an increasing focus on attacks against Western interests in Afghanistan and possibly elsewhere.
The U.S. government has offered a $5 million bounty for Haqqani, saying he is wanted for questioning in connection with a January 2008 attack on a Kabul hotel that killed an American citizen and five other people.
"The Haqqani Network has been a terrorist organization for some time and is very, very lethal to Western interests in the region," said the official, who wasn't authorized to discuss intelligence matters on the record. "We don't know yet what this means. But it's never a good thing because the terrorist organization continues to thrive."
The Russian government also views Haqqani as a significant threat, with a top Russian diplomat saying before Wednesday's announcement that there would be "hell to pay" if he had been picked as the new Taliban leader.
Russia's special representative on Afghanistan, Zamir Kabulov, also told Russian state-run media that Haqqani was "the most radical figure" in the Taliban leadership, who could escalate military tensions in Afghanistan and complicate ongoing political negotiations.
U.S. officials, including President Obama, had confirmed Mullah Mansour's death in Pakistan's Baluchistan region. Photos of the car he was riding in, demolished by a drone strike, have been widely circulated in social media and media reports. But until Wednesday, the Taliban had not officially commented.