A white woman accused a 9-year-old black boy of sexually assaulting her in a Brooklyn deli and appeared to call police last week while a bystander shot video. He hadn't.
Two days later, a black man in St. Louis recorded on his phone as a white woman tried to keep him from entering an apartment building because she didn't believe he lived there. He did.
The incidents highlight a trend — white people being recorded and held accountable for calling police on black people who have done nothing wrong.
Often these 911 callers become memes — like BBQ Becky, Permit Patty and ID Adam — and the woman in Brooklyn has become the latest, with the nickname Cornerstore Caroline.
The woman, identified by a Brooklyn official as Teresa Klein, was recorded accusing a 9-year-old boy of grabbing her backside last Wednesday and then claiming to call the police to report the incident.
"There's videotape. The son grabbed my ass, and she decided to yell at me," Klein says into the phone, referring to the boy's mother. Then she pauses before saying, "White lady calls the cops on a black lady, I get it."
Children can be heard crying and bystanders can be heard yelling in the background of the video that Jason Littlejohn recorded and posted to Facebook. The video has been viewed more than 7 million times.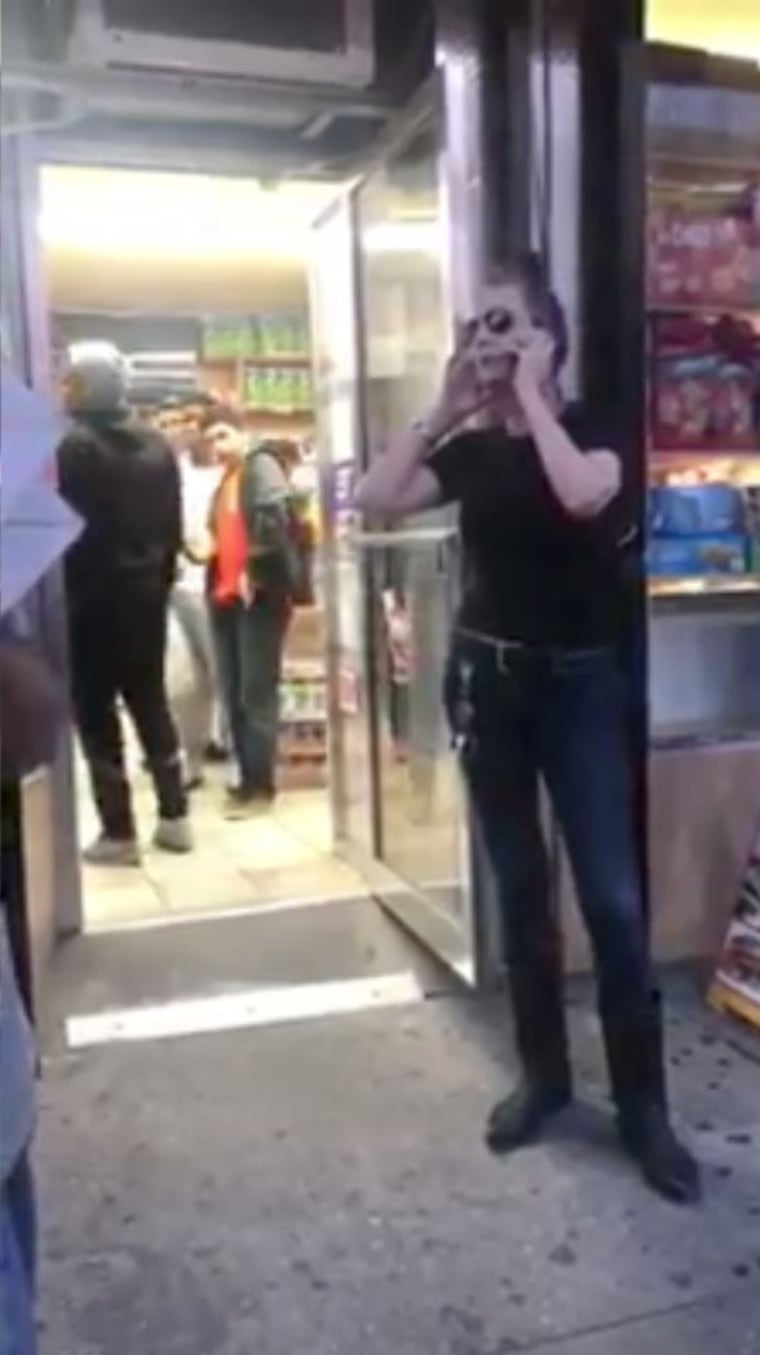 Klein waves to the camera, and adds on her phone call, "I just was sexually assaulted by a child."
Someone shouts: "Cornerstone Caroline. We got a new one. Make her go viral."
Before engaging angrily with various onlookers and walking away, Klein turns to Littlejohn's camera, and says, "Now why don't you upload that to Worldstar," referencing WorldStarHipHop, a video aggregating site.
Klein returned to the deli Friday night to watch surveillance video of the evening in question, with local media crews and community members looking on. Littlejohn was there filming again.
The surveillance footage, which the New York Post has obtained and has no sound, shows Klein bending over the checkout counter of the deli, appearing to look for a clerk, when the young boy, his sister and mother pass behind her and leave the store.
The young boy clearly doesn't touch Klein, but it's possible that a bag he is carrying brushes up against her. Klein turns around swiftly, points toward the family outside and waves goodbye.
But then she taps her backside and gyrates toward the door. That's when the boy's mother re-enters the store, engages Klein and pulls out what appears to be a badge. Klein then begins to dial on her cellphone.
The New York Police Department said there was no record of a call to police from the deli on Wednesday, but that doesn't mean a call wasn't made.
After watching the footage Friday, Klein admitted, "The child accidentally brushed up against me."
"Young man, I don't know your name, but I'm sorry," she added. Someone in the store yelled that an apology is not enough.
"We cannot dismiss false complaint calls to the police with mere apologies, sincere or not," Brooklyn Borough President Eric Adams said in a statement. "We need to be clear: There are consequences for outlandish and threatening public behavior that seeks to intimidate innocent bystanders, especially children."
Adams said his office is offering emotional support to the family, and the New York Police Department is investigating whether Klein broke the law by impersonating a police officer. It's not clear from the videos whether Klein claimed she was a police officer, but she does say that the boy's mother had claimed to be a police officer.
Brooklyn officials and community members attended a rally Monday night, attended by the little boy and his mother. "
"What happened to us respecting one another? Having unity and being neighborly? Did we forget that?" the mother asked. She said the incident led to hard conversations with her 9-year-old about sexual assault and racism. "That day, this fear was placed into my children's heart," she said.
Littlejohn said he didn't expect that the recording would go viral, but he said he was glad it did so that the world can see that racism exists not just in the South or Midwest, "it is also in New York City."
"If the recording were not there, I honestly believe a lot of people would have been arrested. A lot of people would have gone to jail for things they have not done," Littlejohn said, referring to a recent incident in which a black man recorded a white woman blocking him from entering his apartment building.
If "he didn't have that recording, she would have said he tried to bust into the apartment building. He would have been arrested, right? Without evidence, right? And that's what we have to stop. We have to stop this," Littlejohn said.
But D'Arreion Nuriyah Toles did start recording Friday night in St. Louis. He recorded outside when a woman with a small dog blocked him from entering the building's front door, demanding he share his apartment number and show his key fob, telling him she's "uncomfortable."
Toles recorded after he managed to get into the building and the woman asked, "Are you kidding me?"
He recorded as she entered the elevator with him, questioning, "Who are you going up to the fourth floor to see?"
And he recorded when she followed him to the door of his apartment. When he entered his key into the door, the woman's demeanor changed. "As a record, I just wanted to say hi. What is your name?" she asks.
"Have a good night ma'am. Don't ever do that again," Toles responds.
In another video, the woman is trailing Toles, saying, "I would like to introduce myself."
"I do not want to speak with you. Please stop following me," Toles asks before saying he is planning to call police. Toles wrote on Facebook that police did end up at his door "because she called!"
"Never really thought this would happen to me, but it did," Toles wrote.
St. Louis Police said a call was made to the apartment building, but no report was written.
The woman has since been fired from her job, according to a statement from the luxury apartment building company she worked for. The company, Tribeca-STL, does not own the building where the incident happened.
"The Tribeca-STL family is a minority-owned company that consists of employees and residents from many racial backgrounds. We are proud of this fact and do not and never will stand for racism or racial profiling at our company," a statement from the company said.
In a Facebook post Saturday, Toles implored his followers to send the woman "positive waves of energy."
"I will turn this negative into a positive Future for the world I influence," he wrote.
Toles' and Littlejohn's videos are just the latest to gain attention in a stream of countless videos and accounts detailing black people going about their daily routines but running into resistance from a white person. Often, the white person threatens to call police or actually does.
Last month, Florida A&M University students faced a gun, held by a white man who denied them access to an apartment building.
State Rep. Janelle Bynum, from Oregon, was approached by a sheriff's deputy in July while she canvassed a neighborhood she represents. The deputy said a resident called him because Bynum appeared to be casing the neighborhood.
In June, a white woman called police on a black 8-year-old girl selling water on a San Francisco sidewalk because the child didn't have a permit.
And last week, a white woman called police on a black Georgia man who was baby-sitting two white kids because she had a "funny feeling."
"I just hope America realizes that this is a problem and we have to fix it," Littlejohn said.