New York City is shaking off the coronavirus cobwebs.
Some 100 days after the first case was confirmed and went on to claim nearly 22,000 lives, phase one of Gotham's grand reopening got underway Monday.
"We're back," Gov. Andrew Cuomo said. "Our mojo is back."
Nearly 400,000 workers were expected to begin returning to retail stores, factories and dormant construction sites as part of the state's plan to get the mighty economic giant moving again.
"This is a triumphant moment for New Yorkers who fought back against this disease," Mayor Bill de Blasio said. "We were the epicenter and we got here only because New Yorkers went the extra mile."
Cuomo said, "This is not reckless reopening."
"Why are we reopening?" Cuomo asked. "Because the numbers says we can."
The number of hospitalizations was down to 702 statewide in recent days from a record-high of 18,825 during the peak of the pandemic, the governor said.
But Cuomo warned that "if New Yorkers get sloppy" and the number of coronavirus cases start going back up, the state will clamp down again.
"We're going to keep a special eye on New York City to see what happens," he said.
Cuomo also urged the thousands of people who have been protesting the death of George Floyd at the hands of the Minneapolis police to get tested for the coronavirus at one of the 240 testing sites across the city.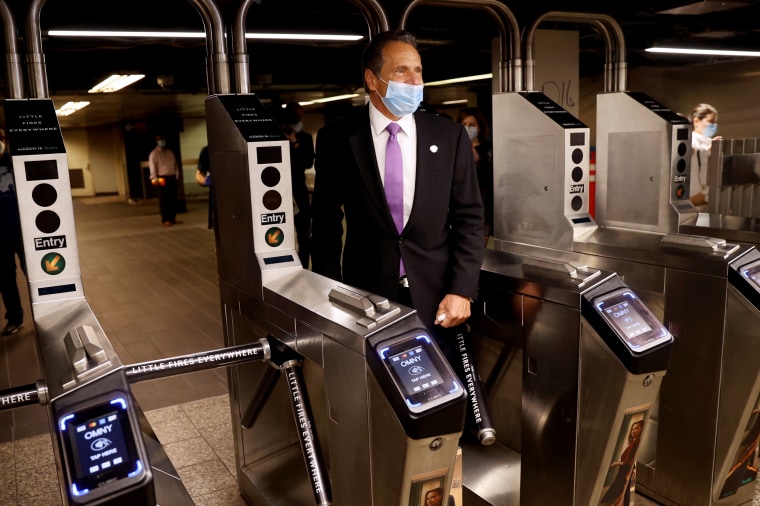 "Please, go get a test," he said. "One super-spreader in a crowd could have infected dozens of people."
Just as they did after the 9/11 attacks, the workforce is returning to a city transformed
More than 205,000 New Yorkers were infected and to prevent the virus from spreading much of the city was ordered to shelter in place.
Now, retail stores starved for business will only be offering curbside or in-store pickup. The days when a shopper could casually browse through a store will remain a memory for now.
Among the stores that are re-opening is Macy's flagship store in Herald Square, the site of some sporadic looting during the days of rage that swept through New York City and the nation following Floyd's death on May 25.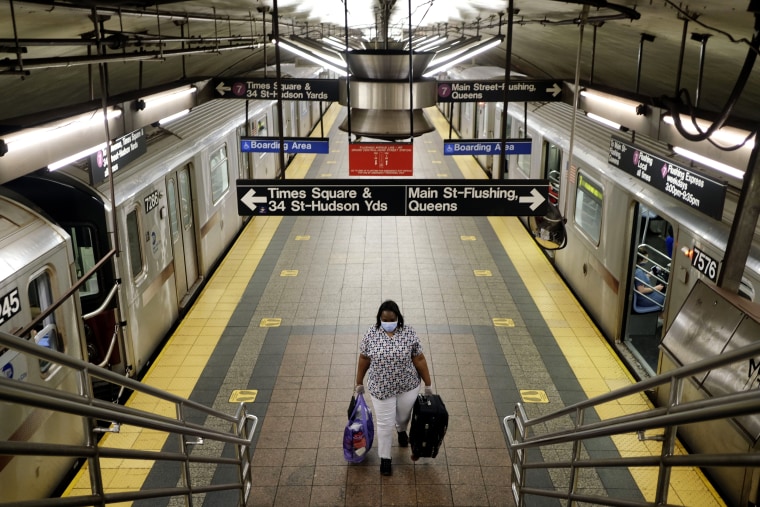 Subway commuters will be met by school safety agents who have been deployed to the busiest stations to hand out face masks and to remind people to try and keep their distance from one another.
"We still need to have New Yorkers wearing face masks consistently," said Dr. Oxiris Barbot, the New York City health commissioner.
De Blasio said the role of the safety agents will be to provide "education" and that the NYPD will not be enforcing social distancing or demanding that people wear masks.
Cuomo was wearing a mask Monday when he, accompanied by news anchor Roma Torre of NY1, took a ride on the No. 7 subway train and chatted with surprised straphangers. The subways have been open throughout the crisis, but the ridership was greatly reduced and it was closed at nights for cleaning.
"I told Roma if the subway wasn't safe, I wouldn't ask anyone to come along," he said.
Cuomo said it is "state law that everybody on public transit wear a mask, employees and customers."
"We surveyed slightly under 50,000 customers in the last week, and mask compliance, according to that survey, a physical survey of our customers, actually on the subway, reported that mask compliance was 92 percent," MTA chairman Pat Foye said an interview with WCBS. "That's an incredibly high level, we want to get it even higher."
The city is also unrolling several new bus lines to ease some of the congestion in the city's subways.
Construction workers will also be wearing face masks in addition to hard hats and working 6 feet apart whenever possible.
"Construction is part of the foundation of New York City and will be crucial to our economic recovery," Carlo Scissura, president of the New York Building Congress trade group, said earlier. "The health of our workforce is paramount, and as all sites reopen across the five boroughs, it is essential that they operate in a safe manner."
New York City is still way behind the rest of the state, which has already moved on to phase two which means most stores, hail salons and offices have reopened, although with restrictions on capacity and social distancing requirements in place.
And the city faces the daunting task of replacing the 885,000 jobs that were lost when it went on lockdown and a $9 billion budget shortfall over the next year.
And while the Floyd demonstrations were largely peaceful, hundreds of stores across the city were damaged by looters and will remain closed Monday, especially some of the high-end stores in Manhattan which remain boarded-up with plywood.
"That was just criminality," de Blasio said. "We have to keep this city safe."
Cuomo said New York City had "two bad nights" during which there was some looting, but said that was the work of a handful of criminals not the vast majority of protesters.
"New Yorkers know how to calibrate that," he said.