Editor's note: This story has been updated to include the woman's lawyer later saying he had a receipt showing the woman rented the bike.
A New York City hospital employee was placed on leave after a viral video appearing to show her trying to take a rental bike from a group of young Black men garnered millions of views online.
The incident, which was first posted to Twitter on Saturday, appears to show a white woman in NYC Health + Hospitals scrubs arguing with a young man over a Citi Bike that he says he has already rented. The man has his hand on the bike while the woman screams, "Please help me."
NYC Health + Hospitals operates Bellevue Hospital.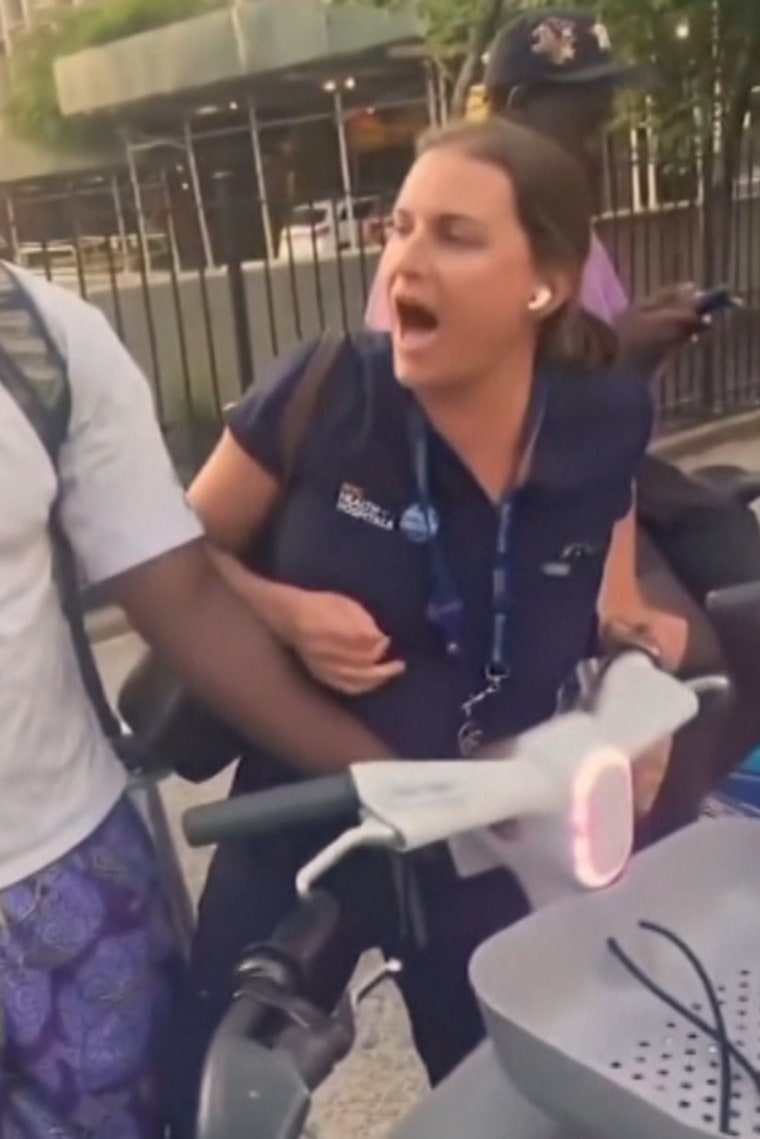 A lawyer for the woman later shared a receipt for the bike with NBC New York, saying it shows his client paid for the rental.
It's unclear what happened before the minute-and-a-half video began, but the young man doesn't appear to touch the woman in the posted clip, nor does he appear to verbally threaten her.
At one point, the woman takes off her work identification badge and tries to push the man off the bike with her body.
"This is my bike. It's on my account," the man holding the bike says.
The woman also appears to cry, although another person on the video accuses her of faking it.
"You're acting," the man recording the video says. "She's fake-crying. Stop fake-crying."
At one point a bystander can be seen trying to intervene. About a minute into the video, the woman steps away from the bike, and the recording stops.
The woman was not identified by Bellevue Hospital, which is operated by NYC Health + Hospitals. Bellevue apologized in a statement the day after the video was posted and said it was reviewing the incident. In a follow-up Tuesday, the hospital called the video "disturbing."
"The provider is currently out on leave and will remain on leave pending a review," the hospital's statement Tuesday said. "As a health system, we are committed to providing an environment for our patients and staff that is free from discrimination of any kind."
The video had been viewed on Twitter more than 40 million times by Wednesday afternoon, with many social media users pointing out the risk placed on the young Black men being accused of wrongdoing in situations involving white women.
Civil rights attorney Ben Crump was among many who posted the video and commented on Twitter.
"She grossly tried to weaponize her tears to paint this man as a threat," Crump wrote. "This is EXACTLY the type of behavior that has endangered so many Black men in the past!"
NBC New York tried to reach the woman at her Brooklyn apartment, but no one answered or returned calls for comment. 
The man who posted the video did not immediately respond to a request for comment.