A New York mother traveling home from Miami said she was surprised that her flight was packed in the midst of the coronavirus pandemic and concerned that a lot of the travelers were not wearing face masks or coverings.
Angie Wong, 42, said she boarded an American Airlines flight Wednesday morning at Miami International Airport headed for LaGuardia Airport in New York. She and her children have spent the past few weeks quarantining in Florida with her husband, but Wong had to return home for an urgent matter.
She told NBC News in a phone interview on Friday that when she checked in at the airport, she was told that there would be empty rows on the plane for passengers to space out a bit.
But when she got on, she said the first 10 rows had a few empty seats and the rest, including where she was seated, was "packed, packed, packed."
"It was quite surprising because I've been in quarantine for the last four weeks with my children and to be forced to sit shoulder to shoulder with two other passengers was a little bit daunting," she said.
Wong snapped photos of the crowded flight, which was first reported by the New York Post. A few of the images showed passengers seated next to each other, some of whom were without masks.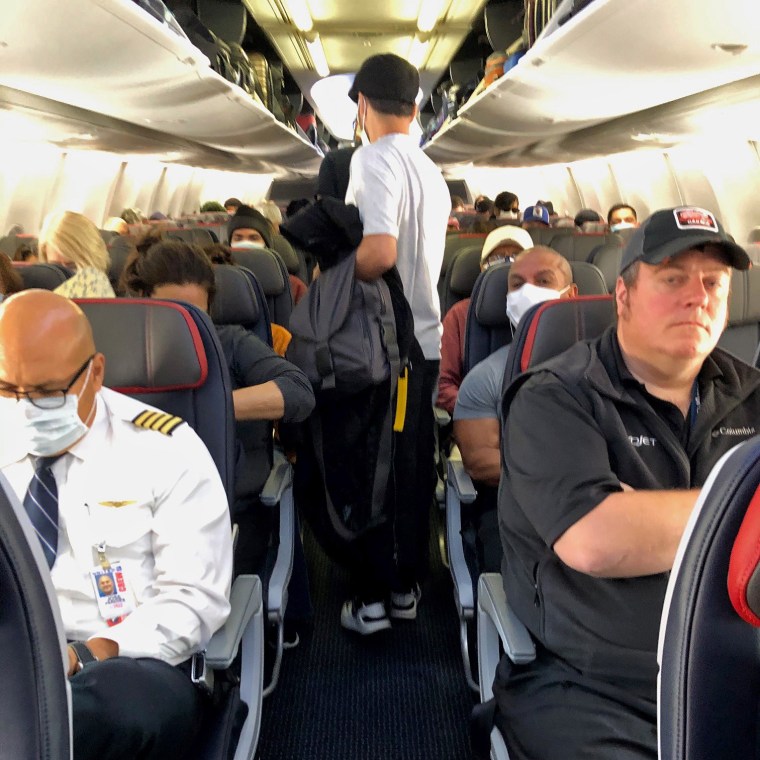 Another photo of the busy terminal showed travelers standing around without any sort of protection.
The mother-of-two estimated that just over half of the passengers were traveling without a mask or face covering. At least two people had on full hazmat suits, she said.
Wong, who wore a surgical mask, face shield and gloves, said she questioned staff about the crowded flight and was given a number she could call to change her reservation.
"This is all brand new for a lot of people and we're trying to figure out what's going on and how to do it, I was just hoping that the airlines would take a little bit of leadership on this and not wait for a government mandate to do what's sensible," she said.
American Airlines said in response to the social distancing guidelines by the Centers for Disease Control and Prevention it has implemented "temporarily relaxed seating policies."
"To encourage social distancing, gate agents will reassign seats to create more space between customers," the company said in a statement. "Once on board — provided there aren't any aircraft weight or balance restrictions — customers can move to another seat within their ticketed cabin subject to availability."
The airliner said it also blocks 50 percent of standard middle seats and monitors flights to ensure social distancing can be maintained. It pointed out, however, that the CDC does not require passengers to wear face masks when traveling.
"The safety of our customers and team members remains our top priority," American Airlines said. "We are in close contact with the Centers for Disease Control and Prevention and public health officials and will continue to coordinate with them on any required health and safety-related measures."
Wong said many people on her flight seemed nervous, and during the roughly three-hour trip the pilot apologized if people were uncomfortable.
"It was a very strange situation having come from a whole month of being told stay six feet apart, don't leave your house, do all this stuff and then having to be crammed on a plane," she said.
Wong is supposed to fly back to Miami on Saturday but said she's now considering driving to avoid another crowded flight. She urged American Airlines and other companies to consider making temporary adjustments to keep passengers safe.
"There was no temperature taking upon boarding the flight. There was no hand sanitizer," she said. "There should be a little bit of a policy change, even if it's temporary."