New York City police want the public's help to find nine people involved in a brawl between far-right "Proud Boys" supporters and protesters, following an appearance by the conservative group's leader Gavin McInnes, officials said Monday.
The NYPD released video of the men who fought on Manhattan's Upper East Side just after 8:20 p.m. on Friday night.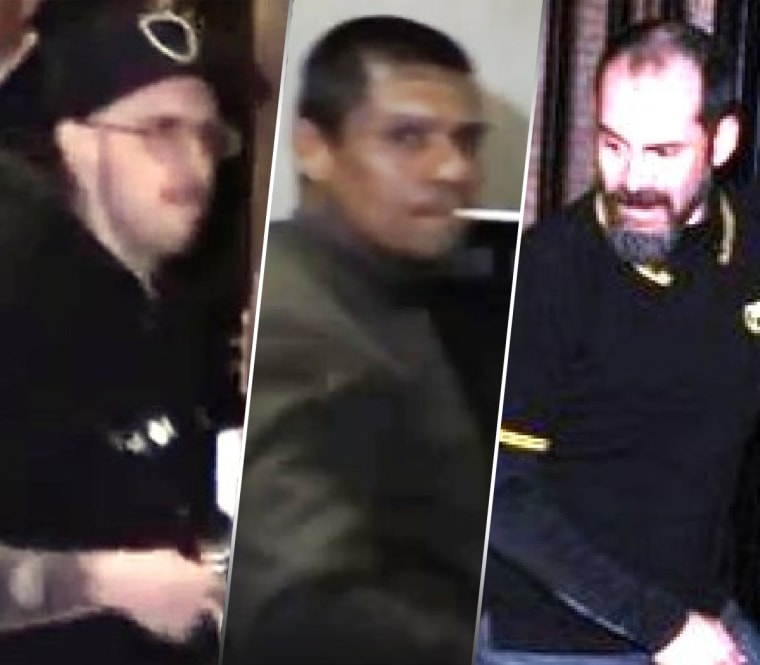 Supporters of McInnes had just emerged from his appearance at the Metropolitan Republican Club on East 83rd Street and were being directed by police to walk south on Park Avenue away from protesters, police said.
But some of the far-right supporters' stragglers were met by masked protesters, sparking a brawl that spilled on the the streets, police said.
"At some point we have six individuals wearings masks ... we believe yelling at the group going south on Park Avenue and some of the [Proud Boy] members from the Park Avenue side begin to go on to 82nd Street and interact" with protesters, NYPD Chief of Detectives Dermot Shea said.
Surveillance video released by the police appeared to show one of the anti-fascist protesters throwing a bottle at the Proud Boys, who rush in to throw punches. Several of the men fell to the ground and were kicked, the footage shows.
Shea said of the nine wanted by police: "We feel confident we can sustain charges of riot of attempted assault."
Another brawl, also connected to McInnes' speech, broke out nearby a short time later, Shea said. Three protesters were arrested in that separate incident.
Some city leaders were upset on Monday that three protesters had been arrested but none of the Proud Boys had been nabbed.
"New York City is tougher than the Proud Boys," tweeted City Council Speaker Corey Johnson. "We are the most proudly diverse city in the world and we will not be intimidated."
Police said the investigation into Friday night's mayhem was ongoing.
"We will not tolerate any violence on the streets of New York City, and anyone, from any group, who participates in violence will be vigorously investigate," Shea said.