In New York City, protesters leapt onto police vehicles in Manhattan parks and marched down main Brooklyn thoroughfares on Saturday evening, as demonstrations around the country over the death of George Floyd entered another night.
The protesters spanned several city blocks as they marched down Flatbush Avenue in central Brooklyn, chanting, "No justice, no peace" and "Hands up, don't shoot." Similar chants were heard on the streets of Las Vegas and Los Angeles, as mayors of major cities issued curfews on Saturday evening and pleaded with residents to stay home.
Los Angeles, Philadelphia, Denver and Cleveland were among the cities that enacted curfews. California, along with 11 other states and Washington, D.C., had activated National Guard troops in response to protests.
New York: 'A lot of anger and frustration'
Near Barclays Center arena in Brooklyn, protesters blocked an NYPD vehicle, which then accelerated into the crowd; one person jumped on the hood. After law enforcement officials saw viral video of the incident, some tried to explain by saying the officers decided to push the barrier into the crowd instead of confronting the protesters outside the car.
"It's inappropriate for protesters to surround a police vehicle and threaten officers," Mayor Bill de Blasio said Saturday night. "The video was upsetting and I wish the officers hadn't done that but they had to get out of that situation."
Unrest also edged into violence around Manhattan's Union Square, according to several videos broadcast on television or posted on social media. A large vehicle was shown to be ablaze outside the Regal Cinemas movie theaters a few blocks from the park and later several people appeared to jump on top of a police vehicle with smashed windows.
The New York City Police Department arrested more than 100 people as of Saturday evening, a senior police official said, adding that 15 police vehicles were burned in Manhattan and in Brooklyn. Two Brooklyn residents and one Greene County, New York, resident were charged with attempting to use flammable bottles, known as Molotov cocktails, to damage NYPD vehicles, according to a statement from the Department of Justice.
After midnight near the Brooklyn Academy of Music, near the downtown section of the borough, protesters threw glass at police, who responded with tear gas and some arrests.
Earlier in the evening, hundreds of people held up their fists outside the Barclays Center while staring down the NYPD officers who stood in front of a subway station entrance. Protesters participated in a moment of silence for Floyd, who died after a Minneapolis police officer pinned him to the ground for more than eight minutes.
Nella Mueier, a black Brooklyn resident, said she joined the protests for the first time on Saturday.
She held a sign that said, "Good cops speak up" and said she came out because too many black men and women had been killed by police.
"I know there have to be some good ones out here but they should be out here with us protesting against what we're seeing," she said of the police officers guarding the subway station. "We need them to keep our communities safe, but we don't feel safe because they don't see us as human beings."
She continued, "A lot of people are out here for different reasons. There's a lot of anger and frustration. There's a lot of people wanting to stand in solidarity."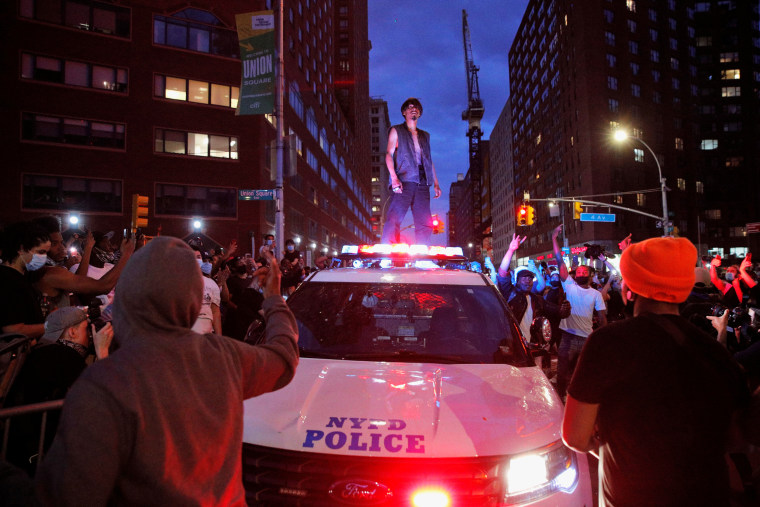 The marchers had come from south Brooklyn and shut down Atlantic Avenue, a major city thoroughfare, to traffic. Many drivers held up by the demonstration honked their horns in solidarity — some even holding up their fists.
Full coverage of George Floyd's death and protests around the country
Alicia Fox, a white Brooklyn resident, held a sign that read, "Defund the police."
"It's ridiculous I can't even remember everyone's name anymore," she said of all the people who had been killed by police. "The chant and idea is always remember his name, remember her name, but who can? That's a genuine question because so many people have died at the hands of police."
Protesters went from the Barclays Center to the Target store at Atlantic Terminal where an argument broke out, as organizers pushed back against attempts to damage the store. Some yelled, "Why are we protecting corporations?" before a sudden police movement drove protesters away from the store's entrance north toward the Fort Greene neighborhood.
As marchers headed toward that neighborhood, some residents cheered the demonstrators on from their windows.
Earlier in the day, NYPD Commissioner Dermot Shea said police in New York City had already been the target of some violence, some of which involved bricks. Shea cautioned that they were still sorting out the addresses of those who had acted violently, but "at least 20 percent are from out of town," he said.
"It's probably higher, maybe much higher," Shea said, adding that he suspected some of those taken into custody might have given false Brooklyn addresses.
Las Vegas: 'I could only take so much'
In downtown Las Vegas, hundreds of people arrived at Container Park, where they stood outside the shopping center built from old shipping containers and held signs that read "Silence is complacent" and "No justice, no peace." Demonstrators marched from the shopping center down Las Vegas' famed Fremont Street, walking pasts the neon signs, bars and restaurants. They chanted Floyd's name along with "I can't breathe," raising their fists in the air.
The demonstration, organized by a local Black Lives Matter group, began around 7 p.m.
Las Vegas resident Jasmine Wharton, 23, was among those outside Container Park. She said she's been posting on social media about the injustice of Floyd's death — but it wasn't enough.
"You really need to come out and represent," Wharton said. "I could only take so much."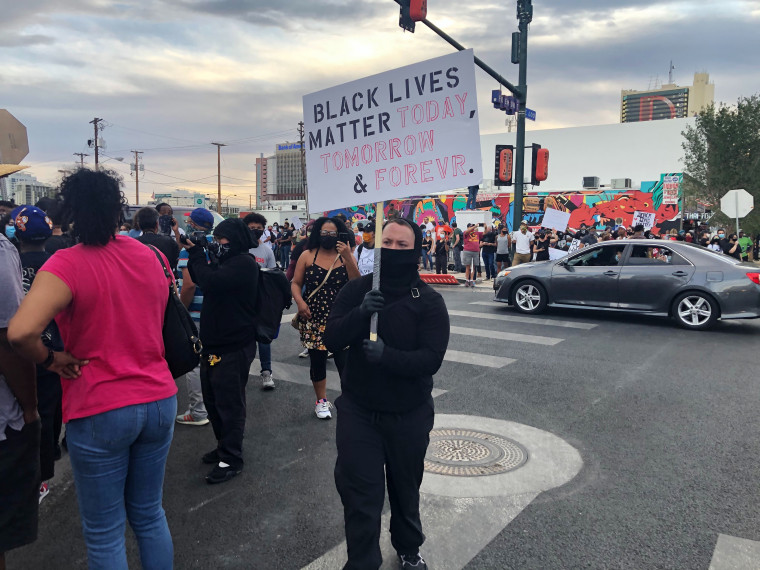 Christian Williams, 9, stood on a downtown Las Vegas sidewalk near the county jail, holding a sign that read, "Stand up for Floyd." The march was Christian's first.
He said the scene was sometimes a lot to take in, with the chanting crowds and honking cars, but it felt good. "Because maybe when the cops see this, they will know not to do this again," he said.
Christian came to the protest with his mother, Dee Young, 29. She said she brought her son to educate him about Floyd's death and police shootings.
"He's got to see this because he's a little black boy in America and he needs to be aware," Young said.
She looked over at the crowd of hundreds of protesters, then she turned to her son.
"Look at this," she said to him. "All these people from all these different races coming together for the cause."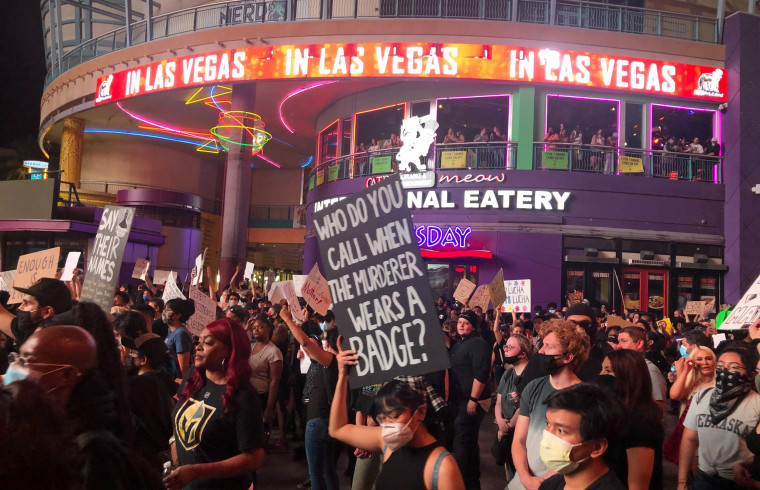 As the evening wore on and grew darker, the demonstration grew larger, with cars clogging the streets and accompanying those on foot. A few had guns strapped to their waist or around their upper thigh.
Protestors cheered as at least one person sprayed graffiti on a downtown building.
Police officers lined the intersections of many streets, standing side by side, wearing face shields and zip ties attached to their duty belts. Police cars went whizzing by, sirens flashing, while helicopters hovered overhead.
Los Angeles: 'I want to live in a world...'
In Los Angeles, Mayor Eric Garcetti announced an 8 p.m.-to-5:30 p.m. curfew Saturday night for downtown, where businesses were damaged, looted and vandalized Friday night.
Hours before the curfew, Jo Nesha Kelly, 43, said she joined protests out of frustration and the desire to do more than comment on social media.
Download the NBC News app for full coverage and alerts on this story
"I feel great about what I've seen, the part of the rally I was a part of was very peaceful," she told NBC News while in the Fairfax neighborhood. "It wasn't until I came down other streets where I saw a little bit more of the anger and frustration."
"What's great about being here is that there are so many different ethnicities and cultures out here participating for change," said Kelly, who is from Palmdale in Los Angeles County. "And it's not just black people. It's brown people, it's white people, Asian people, and it's really great to see."
Nearby, Andrina Dominguez said she had joined the demonstrations out of concern for her family, particularly for her sister, stepfather and others who had darker skin tones than her. "I want to live in a world where I don't have worry about if they're going to go home and be safe at the end of every day," she said.
Buddy Burch, 26, meanwhile, said she felt a particular obligation as a white American.
"As a white person living in the United States … like I'm physically sick from police violence," Burch said. "It's important for me to put my body between police and people of color."
Phil McCausland reported from New York, Anita Hassan from Las Vegas and Brock Stoneham from Los Angeles.