New York Gov. Andrew Cuomo said Wednesday that the state would begin reporting probable coronavirus deaths to the Centers for Disease Control and Prevention based on new guidelines as the nation grapples with how to count the mounting death toll while there is still very limited testing.
Cuomo said the state would "rationalize those new reporting requirements with local governments and get that information out as soon as we can."
The state will also get in contact with nursing homes and facilities to find out whether there were other people who died from COVID-19, the disease associated with the coronavirus, who were not necessarily in hospitals or nursing homes at the time, he said.
"There is a sense that there may be additional people who have passed away and they weren't included in the count because they weren't in a hospital, they weren't in a nursing home, so we'll be going through that," he said.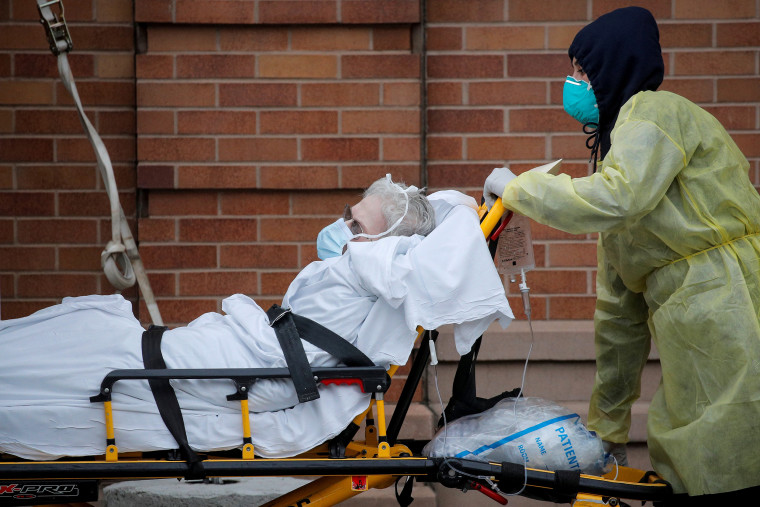 There were more than 213,000 known positive cases of coronavirus in the state as of Wednesday, with more than 11,500 confirmed deaths thus far. But that does not include thousands of probable deaths that New York City started reporting this week.
The city said that as of Tuesday evening, it had more than 111,400 known cases, with 6,840 known deaths and 4,059 probable deaths.
Mayor Bill de Blasio said Wednesday that he thought reporting the number of probable deaths was important "to portray the larger reality" and "sheer totality" of the crisis.
The city also released data showing that from March 11 to April 13, there were 8,184 deaths that were not known to be confirmed or probable coronavirus cases.
Full coverage of the coronavirus outbreak
Asked about the numbers Wednesday, Dr. Oxiris Barbot, commissioner of the city Health Department, said the "unfortunate reality is there have been people who have died either directly because of COVID or indirectly because of COVID."
Barbot said that it was important to take the number of more than 8,000 and compare it to the number of deaths during the same period last year — and that there were "roughly 3,000 deaths above what would have been anticipated."
Barbot said only time would tell what that number really meant. Some deaths, for example, could have been registered as having been caused by heart attacks because people had not yet developed coronavirus symptoms, when they should have been counted as probable COVID-19 victims, she said.
"I don't know that we will ever be able to answer that question fully," she said.
The city said a death was classified as probably due to the coronavirus if the deceased had no known positive laboratory test for the virus but the death certificate listed the cause of death as "COVID-19" or an equivalent.
A death was classified as not known to be confirmed as or probably coronavirus-related if the deceased had no known positive lab test and the death certificate did not list COVID-19 or an equivalent as a cause of death.
In a statement to NBC News on Tuesday regarding the probable death count, Barbot said, "We are focused on ensuring that every New Yorker who died because of COVID-19 gets counted."
"While these data reflect the tragic impact that the virus has had on our city, they will also help us to determine the scale and scope of the epidemic and guide us in our decisions," she said.
As the crisis continues, state data regarding deaths and probable deaths are likely to be available more quickly than national data because of all of the coordination involved, said Dr. Jason Farley, a professor of nursing and a nurse practitioner in the division of infectious diseases at the Johns Hopkins University schools of nursing and medicine.
There were more than 632,800 confirmed cases in the United States, with 27,850 known deaths, according to data from John Hopkins.
In terms of probable deaths, clinicians would have to decide whether a patient was positive and had another health issue and whether the virus contributed to the patient's death, Farley said.
When it comes to reporting deaths to the CDC, medical professionals have to make a decision at a patient level, then report at a facility level, then at a city and/or state level and then eventually to the CDC, he said.
"All of those steps have to occur in order to get us what we appear to believe to be national death or mortality related to COVID," he said
Download the NBC News app for full coverage and alerts about the coronavirus outbreak
Farley said case fatality rates were a "moving target" and would continue to be uncertain until more testing was available.
He said current death percentages could be skewed, as only patients with known symptoms were being tested. In addition, people may be tested late in their symptom spectrums or too early and test negative, but they could have still had the disease, he said.
Another challenge would be analyzing potential indirect deaths related to the coronavirus, such as those of people who were not able to get treatment until late into their health complications.
"Because it's hard to monitor, 'Is this a ripple effect of the current pandemic?' is an extremely important question," he said.
"We know that late presentation to care for serious, chronic illness can result in increased both morbidity and mortality," he said.
Farley said that to successfully combat the virus and begin to reopen the economy, antibody testing would need to be "widely available" to the public.
"We just need to make this testing available to as many people as possible," he said.