New York Gov. Andrew Cuomo announced Friday that the state will sue the Trump administration over its decision to bar New Yorkers from enrolling in Global Entry and other programs that allow travelers to pass quickly through airport security and customs.
"It's an abuse of power. It's extortion. It is hurting New Yorkers to advance their political agenda and we're going to fight back," Cuomo, a Democrat, said at a news conference.
The Department of Homeland Security announced late Wednesday that it was suspending New Yorkers' ability to enroll in Global Entry and other Trusted Traveler Programs, including FAST and NEXUS. The decision comes after New York passed a law allowing undocumented immigrants to obtain driver's licenses.
New York passed its so-called Green Light law last year which allows New Yorkers over the age of 16 to apply for non-commercial driver's licenses or learner's permits regardless of their citizenship or legal status in the U.S. That law also prevents Immigration and Customs Enforcement and Customs and Border Protection from accessing information in the state's Department of Motor Vehicles database without a court order or a judicial warrant.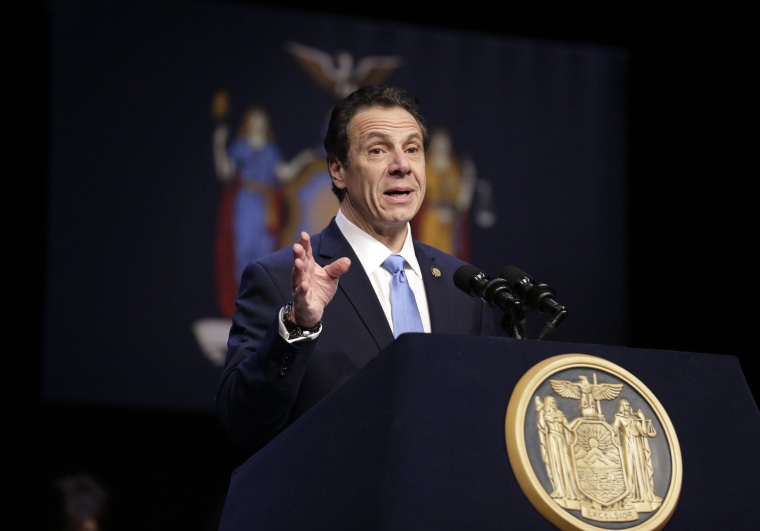 Acting Homeland Security Secretary Chad Wolf said New Yorkers would no longer be allowed to enroll or re-enroll in the Trusted Traveler Programs "because we no longer have access to make sure that they meet those program requirements."
Cuomo said the Trump administration could not "use the government to come up with an arbitrary policy that hurts hundreds of thousands of New Yorkers to make your political point."
He said DHS did not need access to the state's DMV records to determine if people should be allowed into such expedited travel programs.
"When you go for this clearance, you present yourself to a federal official, you have to go in person and provide the information to the federal government," he said. "They ask you for documents, they interview you and then they decide. They don't have to go to a DMV database."
Cuomo also said more than a dozen states and Washington, D.C, have already passed laws similar to the New York law.
New York Attorney General Leticia James called the admiration's decision "political retribution."
"This is political retribution, plain and simple, and while the president may want to punish New York for standing up to his xenophobic policies, we will not back down," she said in a statement.
Wolf said in a statement he "made clear to the governor that if the State of New York restores access to mission-critical law enforcement information, then New Yorkers will once again be able to enroll in CBP Trusted Traveler Programs."
"The reality is the New York law has a crippling impact on integrity of these travel programs, and without access to New York records systems, our personnel are unable to conduct risk assessments to screen-out criminal histories," he said.
Ken Cuccinelli, DHS' senior official performing the duties of acting deputy secretary, said in a news teleconference Thursday morning that by the end of 2020, about 175,000 New Yorkers will be removed from the programs because they are not eligible for renewal. Meanwhile, another 50,000 who were conditionally approved but had not completed their interviews and 30,000 who were awaiting vetting will not be accepted into the programs, he said.
The Department of Justice declined to comment on the planned lawsuit.