The New York Times parted ways with its newly hired editorial board member Quinn Norton just hours after discovering that she had sent tweets with slurs in past years.
The news organization has been trying to broaden the perspective of its editorial board by hiring writers who are outside of the conventional mold, but its latest attempt was torpedoed by the Twitterverse.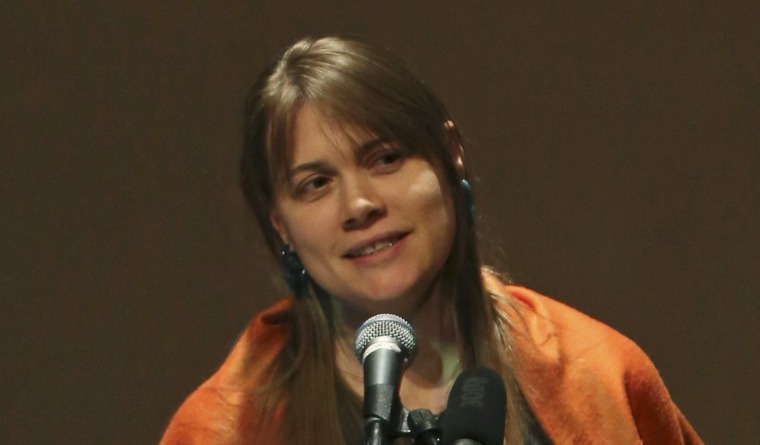 On Tuesday, the newspaper announced that it had hired Quinn Norton, a technology and culture writer, who covered the Occupy movement for Wired magazine. Ironically, she was hired to cover "power, culture and the consequences of technology," but hours later it emerged that Norton had shared on Twitter that she is friends with neo-Nazi hacker Andrew Auernheimer, a self-styled internet troll who also goes by "weev." It was also found that Norton had used the "N-word" and a gay slur in tweets in 2013 and 2014.
Norton described herself as a "queer activist" and said on Twitter that "when I speak to communities I use their language to do it." She said in a separate tweet that she felt "all people are redeemable." Norton has written 83,000 tweets and has 24,100 followers on Twitter, but the Times was widely criticized on Twitter for failing to unearth the comments.
Related: New York Times' Glenn Thrush suspended after sexual misconduct accusations
The newspaper initially said it was investigating after the comments came to light. Later on Tuesday night, with what it called "new information," the newspaper confirmed that Norton has been let go.
"Despite our review of Quinn Norton's work and our conversations with her previous employers, this was new information to us. Based on it, we've decided to go our separate ways," James Bennet, editorial page editor, said in a statement.
Several Twitter users said they would cancel their subscriptions to the newspaper if she remained. Norton, for her part, tweeted that she had anticipated that her writing would not be to everyone's taste.
Times readers have had a strong reaction to some of the newspaper's recent attempts to broaden the conversation on its opinion pages. Among the more conservative opinion writers are Bret Stephens, Ross Douthart and David Brooks.
Bennet, the editorial page editor, responded to criticism of a Stephens column about future climate change issues by explaining that the Times wanted to house many views.
"If all of our columnists and all of our contributors and all of our editorial agreed all of the time, we wouldn't be promoting the free exchange of ideas and we wouldn't be serving our readers very well," he said
Another columnist, Bari Weiss, has been criticized by The Intercept's Glen Greenwald for being too harsh about marginal movements. Weiss also came under fire this week for a tweet about Olympian Mirai Nagasu in which Weiss referred to the skater as an immigrant. Many on social media were quick to point out that Nagasu was born in California and is not an immigrant.