When students at the Self-Reliance Saturday School of Ukrainian Studies, in the heart of New York City's Little Ukraine neighborhood, gathered Saturday for weekly classes, the meeting held special weight.
This time, there were not only lessons about the culture, traditions, history and language of the faraway country that many of their relatives still call home, but there were also tears, prayers and deep reflection as students, teachers and administrators tried to process the chaos following Russia's invasion of its democratic neighbor.
"This week, we're at war," Principal Ivan Makar said as he held a bell decorated with gold and blue ribbons in the colors of the Ukrainian flag. "So, we're doing it for unity. We're doing it so that the children realize that today, something is going on."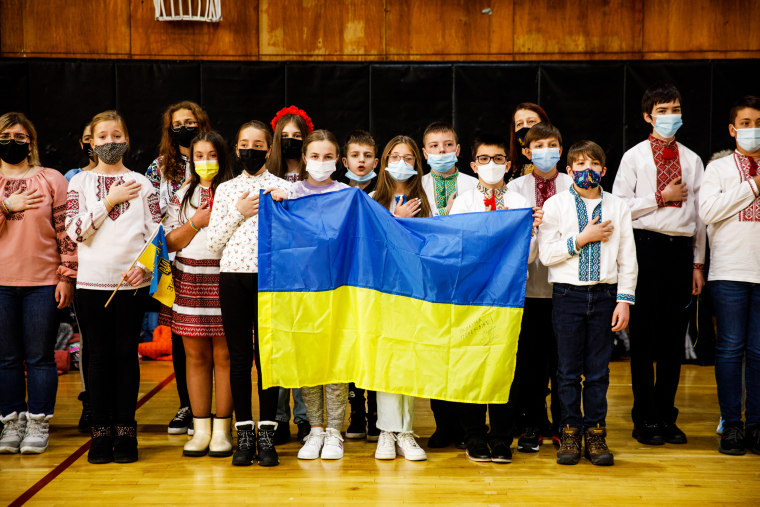 Teachers spent part of the day trying to explain the conflict to children from pre-K through 11th grade, many of whom were dressed in traditional Ukrainian embroidered clothes — a stream of white shirts with bright geometric patterns and flowers of reds, greens and golds. Some wore embroidered masks made in Ukraine. 
"We as a community are shattered, devastated. But we're not surprised on some level because it's what our history is," Makar said. "We try to speak to our students about what's going on, try to dissect what's going on."
In one room, a kindergarten teacher huddled with children sitting on a blue rug and pointed out Ukraine and its capital city, Kyiv, on a world map. Earlier, the children colored in Ukrainian flags and the national trident symbol, their blue and yellow crayons not quite staying in the lines. They also practiced the Ukrainian alphabet.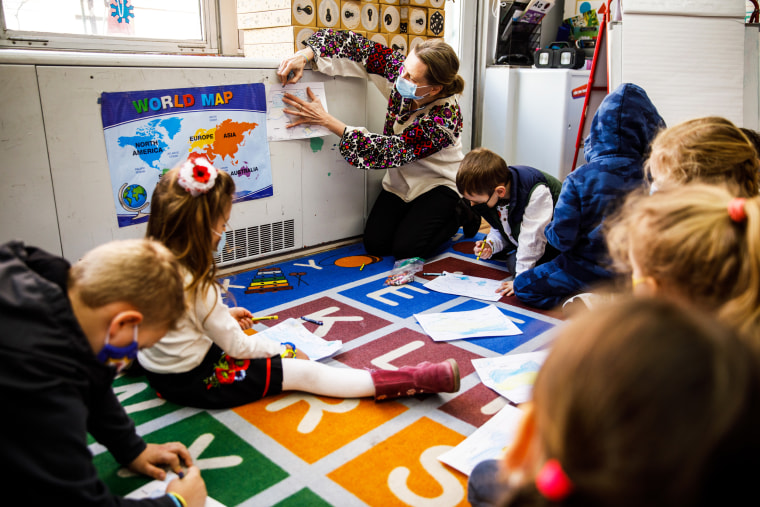 Elsewhere, teachers encouraged older children to share their feelings about what they had been hearing in the news and weaved in lessons about the history of Ukraine.
Lev Ferencevych, 11, who is in the school's sixth grade class, said he knew it would be hard to go to school this week, "because people are going to be talking about their families and I have family in Ukraine."
"It's just sad, hearing all the stories from my friends telling about their family hiding or being injured or they can't get out," he said.
Sofiia Zelena said she was grateful to have a place express her feelings about the ongoing conflict.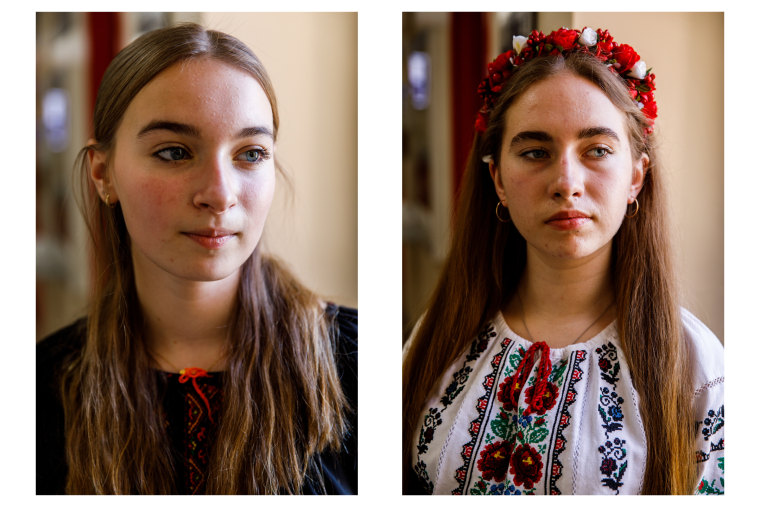 "I'm very glad that we have this community especially in these kinds of situations, we have people to talk to, people to share our feelings with. We're all a big family because you're from one heritage that we're all proud of," said Sofiia Zelena, 16, a 11th grade student at the school. "This is the one thing that connects us all, our culture, our homeland." 
Ruslana Makar, the principal's 15-year-old daughter and a student of the school, became emotional as she said in a classroom Saturday that "now that everything's happening, it's really important that we know our language and our traditions."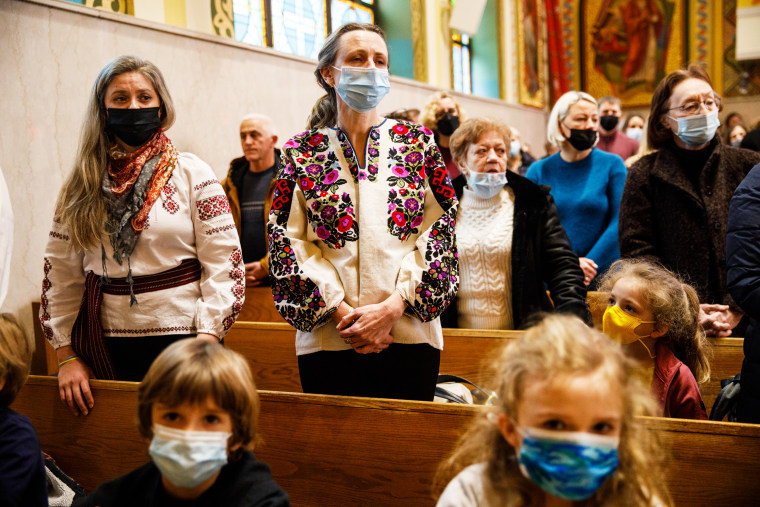 Yulia Holiyat, 11, said she has been "devastated" by the news of the invasion and doesn't know what to say to other children. 
"All of us here in this room have a big family from Ukraine," she said, breaking down in tears as another student came over to hug and comfort her.
"Little kids at the park are asking like, 'What's happening? Why is this happening?' I'm like, 'I can't answer that because I don't know what's going to happen and what's going to happen to our country,'" she said.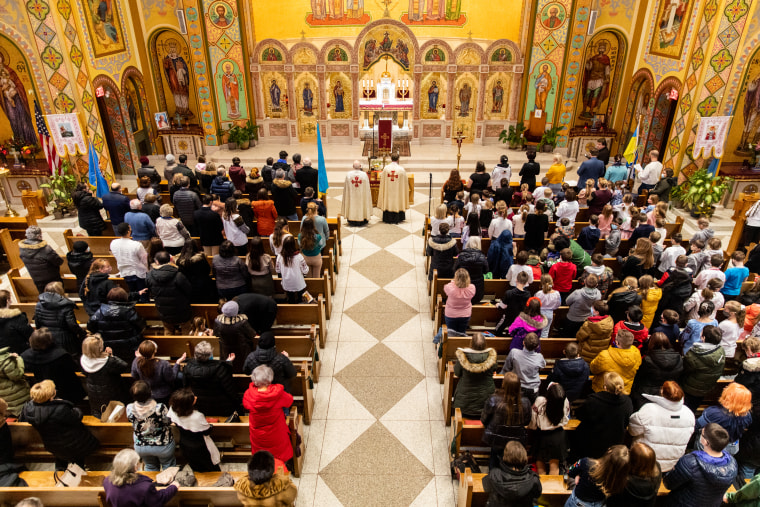 Iryna Chuyan, the principal of the neighboring School of Ukrainian Studies CYM, said it is important for heritage schools to be a source of emotional support during the conflict.
"What can we do? What can we say? The main idea of the school is to have everything under control. No panic because panic will never help you," she said. "We try to calm them down because sometimes they are scared for their families."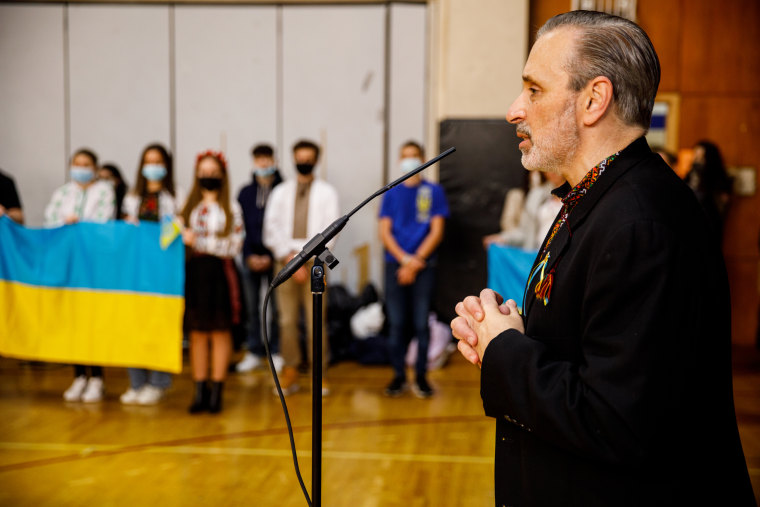 Makar, the principal, also sought to reassure his students at a school assembly that preceded a prayer service at the St. George's Ukrainian Catholic Church. 
"We're all gathered here today in strong support for our brethren in Ukraine. The fact that we are here symbolizes that we will never be broken," he said. "This is nothing new in our history. It happened many times from the Russian aggressor."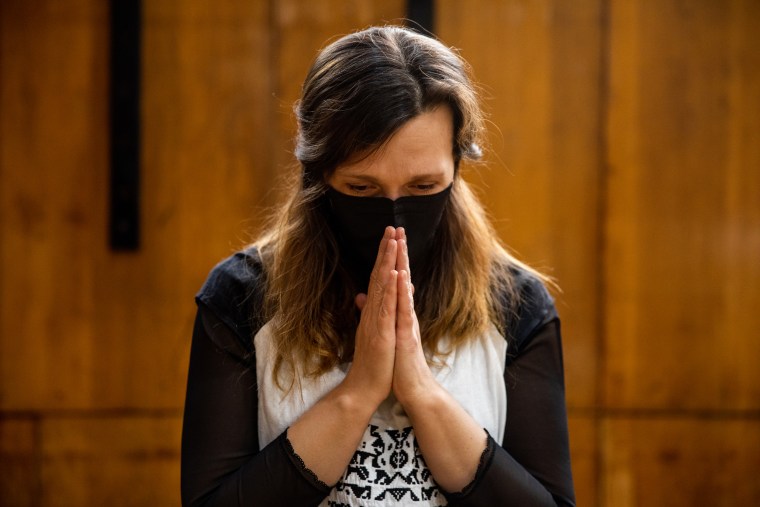 "The fact that you are here in school, the fact that you come on Saturdays to learn the Ukrainian language, your Ukrainian history, your culture, your tradition, your religion, everything about you shows the world that we will not let this happen. We will not disappear," Makar said.
Lidiya Volosyanko, a sixth grade teacher at the School of Ukrainian Studies CYM, said she asked her class to draw pictures with messages about how they felt and then gave a presentation on the history of Ukraine.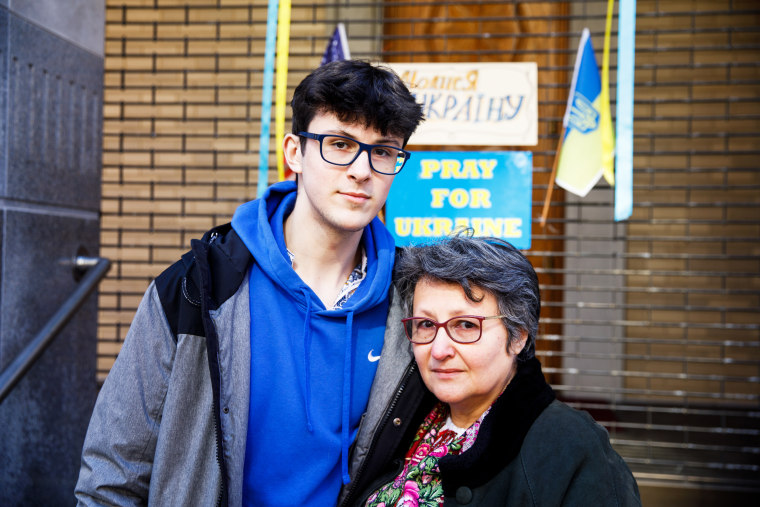 On the white board in class, she wrote her own message: "No War."
The children wrote messages such as "I love Ukraine. I believe in Ukraine. I believe in the win," Volosyanko said.
"I just want to ask them, 'What do you feel?' It's very important for kids," she said. "It was a very emotional lesson today, very emotional, but we have to do it because it's time."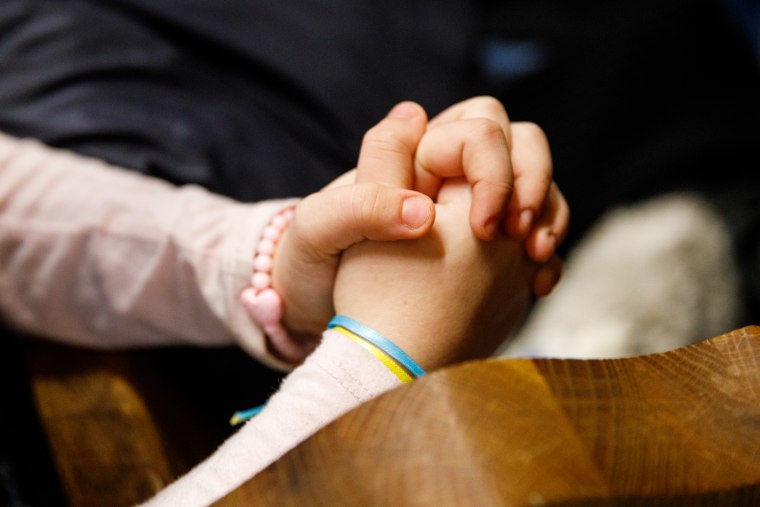 Her son Bogdan Gelevan, who also attends the school, said "going to Ukraine school, it's like the most important thing ever right now. It really helps because you're around people that are Ukrainian, as well."
 "We all have to be together as one family," he said.