Texas lawmakers who reviewed dashcam footage of the arrest of Sandra Bland confirmed Tuesday that she was "threatened" with a Taser during a traffic stop — and believe that she should never have been arrested.
"Once you see what occurred, you will probably agree with me that she shouldn't have been taken into custody," state Sen. Royce West said at a news conference held before the dashcam video was made public.
Bland, a 28-year-old black woman from suburban Chicago, was found hanged from an apparent suicide in her Waller County jail cell three days after her July 10 arrest, authorities said. Her family has asked for an independent autopsy after doubting that Bland would have committed suicide.
Related: Sandra Bland's Death Will Be Investigated as Thoroughly as Murder Case: DA
The Texas Department of Public Safety on Tuesday released a 52-minute dashcam video showing the heated traffic stop that ended in Bland's arrest. The department said it is committed to a thorough and impartial investigation.
"DPS has been working closely with the family of Ms. Bland during this investigation, and the department extends our sincere condolences for their tragic loss," DPS Director Steven McCraw said in a statement, adding that the department has cooperated fully with the FBI and the Texas Rangers.
Late Tuesday, the department was looking into questions about whether the video had been edited before its release.
At several points in the video of Bland's arrest, posted Tuesday to the department's YouTube channel, video of a person walking or a car driving by are cut or repeat themselves as the audio continues uninterrupted.
The video shows state trooper Brian Encinia stopping Bland in her silver Hyundai Azera after he says she failed to signal a lane change.
"You OK?" Encinia asks Bland.
"I'm waiting on you, this is your job," Bland responds. "I'm waiting on you."
"You seem very irritated," Encinia adds.
Bland acknowledges that she's annoyed because he was tailing her, then pulled her over. Encinia then asked Bland to put out her cigarette. When she refuses, he tells her to step out of the car. "I don't want to step out of my car," Bland says, adding, "I refuse to talk to you other than to identify myself."
"I am going to yank you out of here," Encinia says, moving his body inside her open door.
The situation escalates, and the trooper tells her she's under arrest. "Get out of the car!" he commands. Bland asks why she's being arrested, and then Encinia draws his Taser.
"Get out of the car! I will light you up," he continues, prompting her to exit the vehicle.
Encinia then moves to arrest Bland on the sidewalk, where she is heard telling him that he is hurting her wrists after she is forced on the ground. The dashcam doesn't capture the actual arrest.
As Bland is heard crying, another officer arrives on the scene. "You are yanking around," Encinia says to Bland. "When you pull away from me, you're resisting arrest."
The trooper said in the arrest affidavit that Bland was "swinging her elbows at me and then kicked my right leg in the shin. I had a pain in my right leg and suffered small cuts on my right hand." Encinia, who claimed Bland was "combative and uncooperative," arrested her on a charge of assaulting a public servant.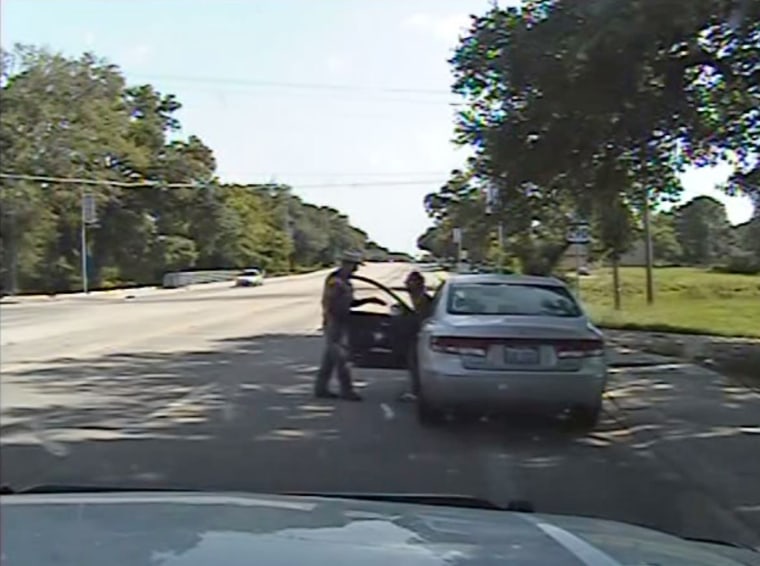 The Texas Department of Public Safety has placed Encinia on administrative duties after officials found "violations of procedures regarding traffic stops and the department's courtesy policy."
Bland had gotten a $5,000 bond, and was attempting to collect the money from her family to get out of jail before she was found dead on July 13. While an autopsy says Bland died of apparent "self-inflicted asphyxiation," local authorities said they are looking into her death as if it were a homicide — which is a routine procedure, officials said Tuesday.
The FBI and the Department of Justice have also been asked to help investigate, and lawmakers promised an "ethnically diverse" grand jury to review the case.
"There's a tragedy that happend here," Texas Lt. Gov. Dan Patrick said at the news conference. "Regardless of who's at fault at the end, a young lady lost her life. That's always a tragedy."