Seattle Seahawks defensive end Michael Bennett claimed on Wednesday that Las Vegas police officers commanded him to the ground and held him at gunpoint "for doing nothing more than simply being a black man in the wrong place at the wrong time" after the Mayweather-McGregor fight last month.
The onetime Super Bowl champion alleged via a lengthy statement on Twitter that after hearing what sounded like gunshots after the fight he and others began to run, but police officers quickly singled him out and forced him to the ground. No shots were fired and the report of a shooter turned out to be unfounded, police said.
"[The police officer] placed his gun near my head and warned me that if I moved he would 'blow my f---ing head off,'" Bennett said in the statement he posted to Twitter. He added that another cop placed a knee in the center of his back, making it difficult to breathe.
According to Bennett, the officers never answered when the football player asked what he had done, but they released him once they confirmed his identity.
His statement concludes that he has retained famed civil rights attorney John Burris, who is well known for his work in police brutality cases — most notably the Rodney King case. Burris is to look into Bennett's "legal options including filing a civil rights lawsuit for the violation of [Bennett's] constitutional rights."
The Las Vegas Metropolitan Police Department said that they would be releasing a statement later in the day to respond to the allegations. Via Twitter on Wednesday they said the case is under investigation.
"Reserve judgment," the department tweeted. "We will address this publicly today."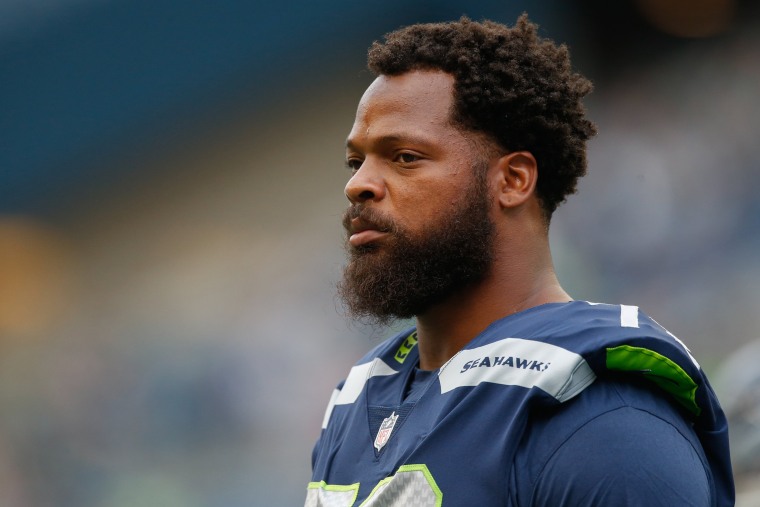 A few hours later, LVMPD Undersheriff Kevin McMahill confirmed at a press conference that the department's internal affairs division would investigate the incident. He also explained their version of events, which followed an active shooter call at the Cromwell Hotel and Casino.
According to McMahill, Bennett was arrested because officers who were sweeping the hotel found him crouched behind a slot machine. Bennett then allegedly ran out a backdoor when he saw them and jumped over a wall onto Flamingo Road where he the arrest was made. The football player was held for 10 minutes and then released, he said.
McMahill said he didn't believe race was an issue in the case.
"I can tell you as I stand here today, I see no evidence of that. I see no evidence that race was a factor in this incident," McMahill said, adding that officers helped and passed many people who were racial minorities.
TMZ Sports published a video of the altercation in which Bennett is on the ground with a police officer pushing a knee into his back. One of the officers in the 33-second clip appears to be holding a handgun.
Bennett can be seen yelling and saying, "I wasn't doing nothing man! I was here with my friends! They told us to get out — everybody ran."
The arresting officer did not turn on his body camera, and the LVMPD is now piecing together the incident from other body camera video. McMahill said there are at least 126 videos associated with body and other cameras investigators are reviewing, and he asked the public to send in any video they may have taken.
"It's a traumatic experience for me, my family," Bennett said at a media availability Wednesday. He said he believes he was racially profiled. "I know a lot of people are like, 'Oh, did he want this on himself?' he said. "I didn't ask for this moment, it just happened to be me."
The posted statement from the two-time Pro Bowler also highlighted the inequitable treatment that he and other racial minorities receive and further explaining why he sits during the national anthem.
"All I could think of was 'I'm going to die for no other reason than I am black and my skin color is somehow a threat,'" Bennett said in the statement. "My life flashed before my eyes as I thought of my girls. Would I ever play with them again? Or watch them have kids? Or be able to kiss my wife again and tell her I love her?"
The football player said in the statement that he could only imagine how those who died because of police violence felt, invoking the names of Eric Garner, Michael Brown, Trayvon Martin, Tamir Rice and Charleena Lyles.
Burris, the lawyer, told NBC Bay Area on Wednesday that for Bennett to be singled out in a crowd rushing to safety was particularity outrageous. He explained that the football star wanted to encourage others to stand up for themselves.
"Michael's really pretty much offended by the whole conduct, that it happened to him and the context that it happened to him in the social construct of the United States and policing," Burris said, noting that he gets complaints like this "all the time."
In light of the incident, many have stepped forward to say they supported Bennett.
Ahead of the Seahawk's Sunday match-up with the Green Bay Packers, the team's coach Pete Carroll made it clear during a Wednesday press conference that everyone in the organization had Bennett's back in the situation.
"We are thankful he is safe and we take this opportunity to say we stand with him and anyone facing inequalities," Carroll said.
"May this incident inspire all of us to respond with compassion when inequalities are brought to light and have the courage to stand for change because we can do better — we can do better than this," he added.
Colin Kaepernick, the unsigned-NFL quarterback who kneeled during the national anthem as a member of the San Francisco 49ers last year, tweeted his support for Bennett.
Other celebrities, athletes and sportswriters also said they stood with Bennett.