Super Bowl champions Kansas City Chiefs offered a symbolic gesture of support for racial injustice ahead of the NFL's first game of the season Thursday.
Before kickoff, the Chiefs stood with locked arms along their goal line as the national anthem was played on screens at Arrowhead Stadium.
At least one Kansas City player, defensive end Alex Okafor, appeared to kneel, and the Houston Texans remained in the locker room.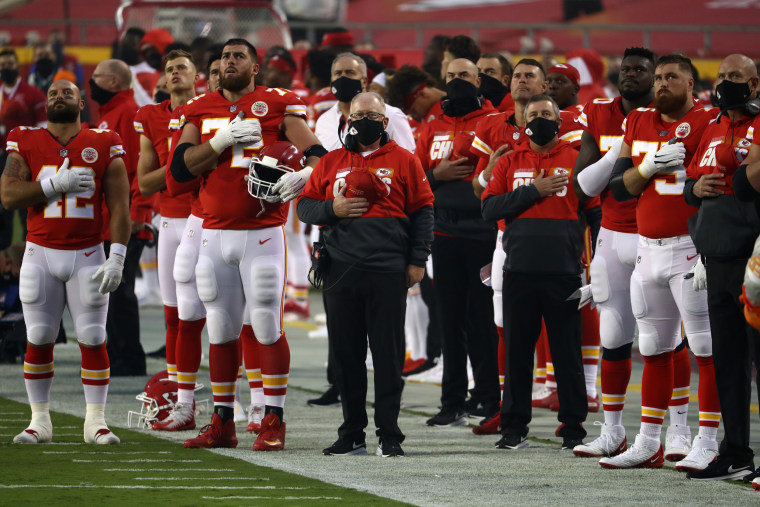 Prior to the anthem, Alicia Keys sang "Lift Every Voice and Sing" through a video feed.
"Lift Every Voice and Sing" has often been referred to as the Black national anthem and will be played before every Week 1 game this season.
When the Texans returned to the field to lock arms with the Chiefs in a show of unity, some Chiefs fans were heard booing and performed the celebratory "Arrowhead Chop."
After Kansas City's 34-20 victory, star Chiefs quarterback Patrick Mahomes thanked the Texans and their standout QB Deshaun Watson for that pre-game moment.
"Obviously with everything going on in this country, we wanted to show that we're unified as a league and we're not going to let playing football distract us from what we're doing, making change to this world," a masked Mahomes told NBC Sports moments after the final gun.
Mahomes didn't immediately mention the booing, but Houston defensive end J.J. Watt called the crowd's disapproval "unfortunate."
"The moment of unity I personally thought was good," Watt said.
"I mean the booing during that moment was unfortunate. I don't fully understand that. There was no flag involved. There was nothing involved other than two teams coming together to show unity."
Kansas City Mayor Quinton Lucas conceded there was booing over the calls for unity, but insisted his constituents embrace calls for social justice.
"We're a good city of good people. I heard boos too," Lucas tweeted late Thursday night.
"But we also have hundreds of thousands more around here who respect the message the players are sharing; who respect the rights of our players and people to voice a strong message and who are working to make us better each day."
The chopping gesture is not banned by the team but is under review as the Chiefs consult with Indigenous leaders on how to better celebrate American Indian cultures without presenting it in stereotypical or derogatory manners.
The team last month officially banned headdresses and face paint that appropriates American Indian culture.
Several Miami Dolphins players, including veteran Bobby McCain and linebacker Elandon Roberts, released a video that said they would stay inside for the "publicity parade," calling the decision to play the song a "way to save face."
"If you speak up for change, I'll shut up and play," McCain said in the video, obtained by ESPN.
Dolphins coach Brian Flores appeared at the end of the video in a t-shirt that read "Vote" across his chest.
"Before the media starts wondering and guessing, they just answered all your questions," Flores said. "We'll just stay inside."
Critics told NBC News in July, after the NFL made the public announcement about the song playing this season, that the gesture falls short of meaningful support for racial justice initiatives. The move is "pandering" Rodney Coates, a football fan and sociologist and a professor at Miami University in Ohio, said.
"There are so many ways to show its commitment," Coates said. "If it were serious it would open pathways for opportunities in a number of ways. But a song? No."
The NFL kicked off its 101st season Thursday night amid a pandemic, raging wildfires and ongoing protests for racial justice. The game looked and sounded different from any other in recent memory.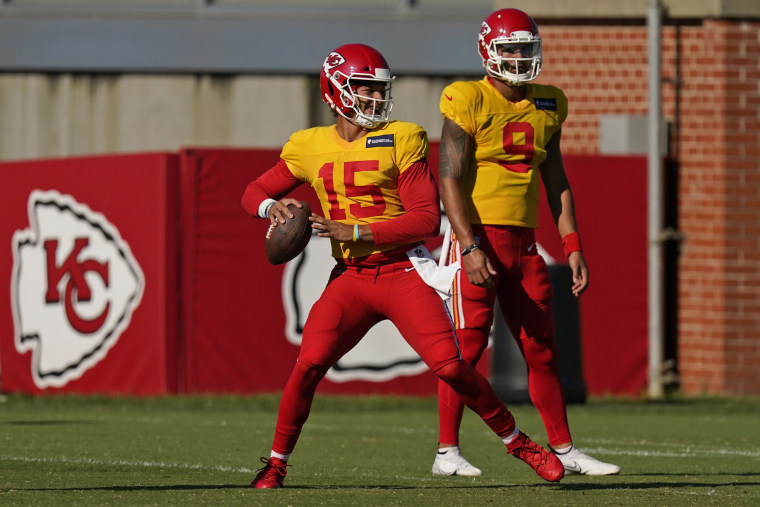 The Chiefs allowed only a smattering of socially distanced fans into their stadium, long regarded as one of the NFL's loudest and most raucous.
Because of the coronavirus, only 15,895 spectators, as announced by the team, were allowed in the stands, a little more than 20 percent of Arrowhead's capacity of more than 76,000.
Even with so few fans in attendance, Mahomes said he was grateful for even that shred of normalcy.
"It's fun to be back out here (after) the off-season that we had as a world, as a nation, and to be doing something normal again," Mahomes said. "Obviously we got to have some fans out here."
The rest of Week 1 will kick off Sunday, and fans will see games that will look totally foreign to any ever played before this season.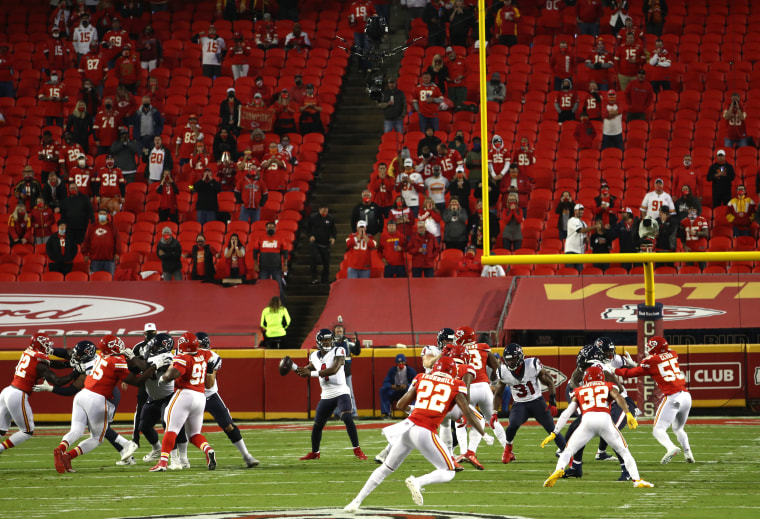 That empty feeling of fans
The Chiefs are among only a handful of teams planning to allow any paid spectators.
Fanless games will look particularly jarring when the Las Vegas Raiders, the Los Angeles Rams and the Los Angeles Chargers play in their glimmering, brand new stadiums.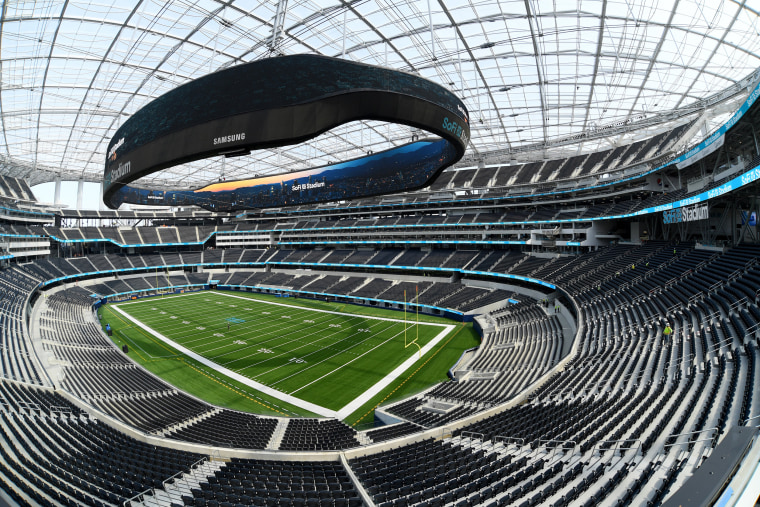 The Rams play host to the Dallas Cowboys on Sunday (8:20 p.m. ET on NBC) at sparkling SoFi Stadium in Inglewood, California. The Rams' housemates, the Chargers, get their first chance to play at empty SoFi Stadium, against Kansas City, a week from Sunday.
This season will be the Raiders' first in Las Vegas, and their home opener at Allegiant Stadium is set for "Monday Night Football" on Sept. 21 against the New Orleans Saints.
The New York Giants and the New York Jets, playing in America's largest metropolitan region, have no immediate plans to allow any spectators into 10-year-old MetLife Stadium in East Rutherford, New Jersey.
The San Francisco 49ers are scheduled to open the season Sunday against the visiting Arizona Cardinals, but league officials are keeping a close eye on air quality in the Bay Area, which has been severely compromised by raging wildfires.
San Francisco coach Kyle Shanahan this week compared the setting to an apocalyptic state straight out of "The Book of Eli."
Benched by coronavirus
More than five dozen NFL players opted out of the 2020 season because of concerns over the virus, which has killed more than 190,000 people in the U.S.
Kansas City offensivelineman Laurent Duvernay-Tardif, a medical school graduate, is among those taking the season off. He is spending the fall working at a long-term care facility in his native Canada in hope of treating elderly patients most at risk of COVID-19.
Spending twilight years in Florida
All-time great quarterback Tom Brady will lead the Tampa Bay Buccaneers in what will be a strange sight for even the most casual NFL fan.
Brady, 43, broke into the league in 2000 with the New England Patriots and led the franchise to nine Super Bowls, winning six of them.
He signed with Tampa Bay in March and, despite a couple of odd bumps in the off-season road, will open his Bucs career Sunday against another all-time great quarterback, Drew Brees, and the Saints.
Black Lives Matter and the NFL
Dallas running back Ezekiel Elliott said he expects some players on his team to kneel for the national anthem this season in protest of police brutality and systemic racism. Cowboys owner Jerry Jones has long taken an emphatic anti-kneeling posture.
It's not clear how the Black Lives Matter movement will materialize in other manners this season, but the social justice push will surely have an increased presence in the league in which Colin Kaepernick once played.
The nation has taken a renewed look at systemic racism since the death of George Floyd in the custody of Minneapolis police on May 25. A Black Lives Matter flag flies over the 49ers' home, Levi's Stadium, in Santa Clara, California.
Hail to the Washington Football Team
The Washington Football Team will play under that generic moniker after announcing in July that it would remove its name, which had long been identified as racist toward Native Americans.
Washington hopes to have a new name by the 2021 season.
The Chiefs this offseason also announced that they would ban fans from wearing faux-Native American headdresses or offensive face paint to home games.
Fewer fans, more playoffs in 2020
This will be the first season of a new playoff format that will include 14 teams in the postseason tournament, up from 12.
The eight division winners, four in each conference, will qualify along with six wild-card entrants, three each in NFC and the AFC.
The first weekend of postseason play will include 12 teams — all contending clubs, minus the No. 1 seed in each conference — and they will play down to six survivors. The remaining teams and the top two seeds will play for two more weekends to determine who plays in Super Bowl 55, which is set for Feb. 7 at Raymond James Stadium in Tampa, Florida.