Nick Chubb's injury underscores why running backs want better contracts and why NFL teams are reluctant to pay them.
Chubb's season ended abruptly when he suffered the devastating knee injury that was too gruesome for replay in Cleveland's loss to Pittsburgh on Monday night. The four-time Pro Bowl pick faces a long, arduous road to recovery with no guaranteed money coming his way beyond the $10.85 million he's making this season.
Chubb will be attempting his second comeback from a significant injury to the same knee at age 28 with a non-guaranteed salary of $12.2 million due in 2024. The Browns would assume a $4 million dead cap hit if they release him next year, according to Spotrac.com.
Running backs have been arguing for bigger contracts and more guaranteed money in recent years because they're underpaid in comparison to their peers. Only kickers and punters had a lower franchise tag than running backs ($10.1 million) in 2023. The franchise tag represents the average of the top five salaries at the player's position for the current year. It was $32.4 million for quarterbacks, $19.7 million for wide receivers and $18.2 million for offensive linemen.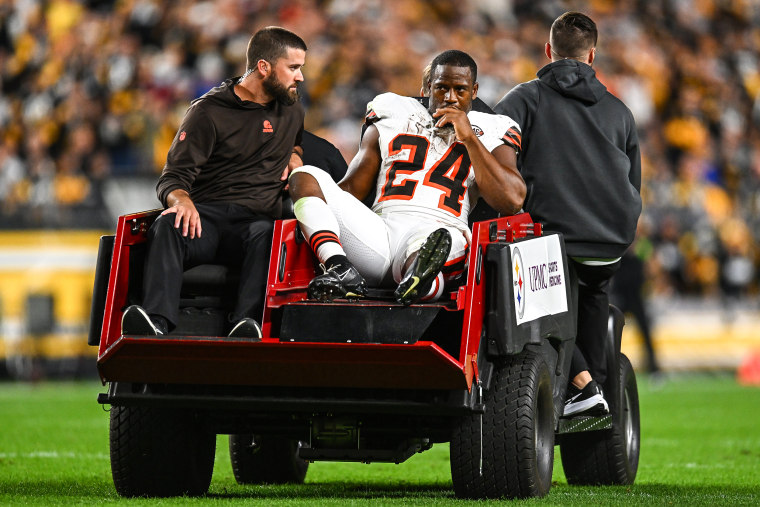 Five years ago, the franchise tag for running backs was significantly higher at $14.5 million. The devaluing of the position became a contentious issue for top running backs over the past offseason. Giants star Saquon Barkley and Raiders All-Pro Josh Jacobs refused to sign their franchise tags and were unhappy about not getting long-term contracts. Pro Bowl running back Tony Pollard signed his franchise tag with Dallas.
"Every player wants to have that longevity, that contract to ensure you're safe longevity-wise," Pollard said on the AP Pro Football Podcast. "But, it is what it is. We couldn't get a deal done within the deadline. So at this point, I'm just playing ball, going out there trying to win games."
"Every player wants to have that longevity, that contract to ensure you're safe longevity-wise."
Said pro bowl running back Tony pollard
Jonathan Taylor, a 2021 All-Pro, has been locked in a contract dispute with the Colts and was placed on the physically unable to perform list to start the season because he's recovering from offseason ankle surgery.
Many backs, including, Chubb voiced their concerns about the disparity in pay throughout the summer. The NFL Players Association agreed to the franchise tags in the collective bargaining agreement.
"Right now, there's really nothing we can do," Chubb said in July. "We're kind of handcuffed with the situation. We're the only position that our production hurts us the most. If we go out there and run 2,000 yards with so many carries, the next year they're going to say, you're probably worn down. It's tough."
Last Monday, the NFL filed a grievance against the NFLPA, alleging that union leaders, including President JC Tretter, have advised running backs to "consider feigning or exaggerating injuries" to help increase their leverage in contract negotiations.
The grievance will be reviewed by an arbitrator.
Meanwhile, legitimate injuries are piling up for running backs.
JK Dobbins suffered a season-ending Achilles tendon injury in Week 1. Barkley was ruled out for New York's game against San Francisco on Thursday because of an ankle injury. Austin Ekeler and Aaron Jones missed games last week. David Montgomery and Jamaal Williams left their last game with injuries.
Injuries are part of the sport. They're common regardless of position. But running backs absorb more hits than anyone else on the field. They're tackled when they carry the ball or when they catch it. They have to block when they don't get the ball. The average career length for an NFL player is 3.3 years, per Statista. It's 2.7 years for running backs.
Teams view running backs as interchangeable. Many clubs aren't willing to invest big money on running backs because late-round picks and undrafted free agents have had plenty of success. Only three Super Bowl champions in the past 15 years had a 1,000-yard rusher in the regular season compared with 11 in the 15 seasons before that.
When Chubb went down, Jerome Ford stepped in and ran for 106 yards on 16 carries. Ford, a fifth-round pick in 2022, got 69 of those yards on one run. The Browns also brought back Kareem Hunt to take Chubb's roster spot.
Filling Chubb's shoes won't be easy, however. Chubb, a second-team All-Pro last season, has averaged 5.3 yards per carry over his six-year career. That's the second-highest in NFL history among running backs with at least 1,000 carries.
"You don't replace Nick Chubb. You just don't do that," Browns coach Kevin Stefanski said. "Great players in the league, you look around, they go out. It's always not one person that replaces a player of his caliber. So everybody's got to do a little bit more, a little bit more everywhere."
Do more for less. That's been life for running backs in the NFL.